THE seven fatalities resulting from the derailment of a Croydon tram has sent shockwaves through the public transport industry.
The incident happened on a sharp bend with the tram travelling at three times the permitted speed.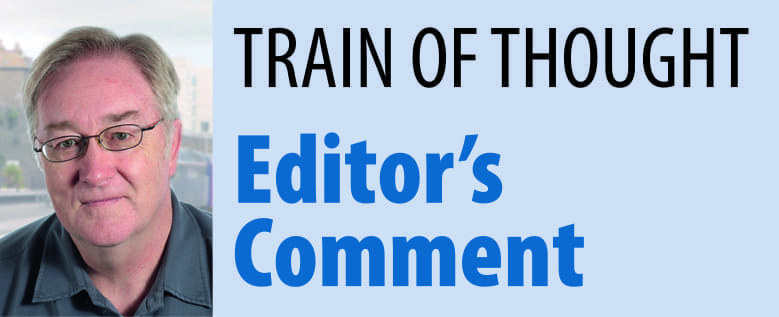 It is the worst rail or tram accident on the UK network since the Ufton Nervet level crossing crash in November 2004.
Although modern trams are fitted with a myriad of safety equipment, including a 'deadmans' device, they do not have a system like TPWS to detect overspeed on the approach to bends or junctions, leading to the application of brakes, because trams are driven on line of sight.
Such rules could now be under scrutiny, especially if the driver suffers a medical or other event. Even though footage has emerged, supposedly taken six months before the accident, showing a driver allegedly dozing while on the move, hopefully there will be no knee-jerk reaction to implement a raft of new legislation or equipment as trams remain a very safe form of travel.
While the RAIB will undertake its usual thorough and diligent investigation, it may be some time before we know the real whys and wherefores.
Approaching the seasonal time of the year, the scale and desperate sadness of the accident will weigh heavily, and while thoughts are with the families and friends of the bereaved and injured, immense tribute must be paid to the emergency services, recovery team members and other agencies, which have had to work in such harrowing and challenging conditions.
And let's not forget the valuable support provided by the Red Cross, Salvation Army and Railway Chaplains in the aftermath of this terrible incident.
Electrification: Another fine mess?
News that a major electrification scheme is being cut back because of spiralling costs is another headache the rail industry could do without.
Ongoing cost and delay issues mean that Bristol, Bath and Oxford, plus the commuter towns of Henley and Windsor, will miss out on electrification – for the time being.
No wonder the DfT was keen to add diesel engines to the non-electric Class 800/801s.
A National Audit Office (NAO) report highlights a £2.1billion rise in Great Western electrification costs since 2013, with delays of up to three years.
The NAO is highly critical of the DfT for having no business case for all elements of the GW scheme until two years after the train order was placed – and then had to re-design the electrification! A case of cart before the horse?
Even the multi-million pound electrification train has been a total disaster because no one knew where the signalling cables were.
Article continues below...
---
---
With work on HS2 yet to begin, electrification from Selby to Hull has been axed and there seems a lack of commitment to electrify the Midland Main Line beyond Corby. I'd wager that the 'electric spine' from Southampton to Nuneaton could also fall victim to rising costs, because Network Rail and the DfT cannot clearly define projects nor control costs.
Has the situation been caused because the industry has haemorrhaged so many talented individuals due to early retirement that might have prevented the problems, or is there too much interference from a barrage of civil servants battling with Network Rail chiefs, each with their own agenda?
Sadly, we've been in this situation far too many times before. How many can remember that the cost of the West Coast Main Line upgrade quintupled from £1.5bn in 1996 to £7.5bn in 2001, with Network Rail being forced to bring in project management specialists to get them out of the mess they'd created?
As much as HS2 is needed to provide vital additional passenger and freight capacity, what has happened with GWML is pure ammunition for the anti-HS2 groups, and shows again how adept the industry is at shooting itself in the foot.
And its goodbye from him…
It's crew change time at The RM and this December issue marks the final one for deputy editor Nick Brodrick.
Nick had been with the magazine for just over 2½ years, but has been tempted by a competitor, where he will take over the editor's chair.
We are sorry that Nick is leaving as he has penned some great features, exclusive news stories and brought new aspects to the magazine, but leaves with our very good wishes as he ventures on to the next stage of his career.
On a positive note, I am delighted to announce that Gary Boyd-Hope has been promoted to deputy editor. Gary has proved to be a valuable asset to the magazine since he joined in September 2015, and as someone with a wide interest in all aspects of railways, his elevation is richly deserved.
In January, another talented railway journalist will be joining the team, and I can promise some great features from a very experienced team, backed up by fabulous photographs, in what will be our 120th anniversary year.
 CHRIS MILNER, Editor
Enjoy more of The Railway Magazine reading every month.
Click here
to subscribe.