The Railway Magazine welcomes digital images, colour prints and transparencies for consideration for publication, and we would appreciate it if these simple guidelines are followed. These are effective from March 29, 2012, and replace any previous instructions.
Please do not send emails with photos attached to the 'Railway' mailbox or any other mailbox after this date. 
Digital images
Initially, a small, low resolution file of no more than one megabyte in size should be emailed to [email protected] with the email subject title clearly stating what's attached. (eg: Class 66s at Newport….), rather than a bland title of 'photos' or 'images'.
Please do not email large high-resolution files 'on spec', as they clog up our inbox.
Should we require your image(s) for further consideration with a view to publishing them, we will ask you to email us a high resolution image. Jpeg or Tiff files are fine. Please do not send camera raw files, unless specifically asked to.
All files emailed should also contain your name or initials as part of the file name.
Perhaps the single most important thing is that is now absolutely essential to complete the 'File Info' section of each file submitted with the caption or subject details, including the date and location as well as the loco number and train details. This is because we are unable to keep every email and so we are often unable to publish (and therefore pay for!!) photos that have no caption details! The file info section should also include your full contact details.
Think of it as a slide or print – you wouldn't send it off without writing your name and basic details on it, yet it's surprising how many digital files we receive with no details embedded into them except those the camera has recorded automatically – which unfortunately isn't enough for publication!
Please note that because of the sheer volume of digital submissions, we may not be able to acknowledge each email.
Supplying your own scans of transparencies or negatives
We can accept your own high quality scans as jpeg or tiff files, provided they are suitable for reproduction, but again, a low res version should be submitted first. Please try not to make any material digital alterations to the image – but if you do, please tell us what they are.
Colour Prints
Please do not send photographs that have been produced on a domestic ink jet or laser printer. Our experience is that the quality of such prints is not sufficient for magazine reproduction, and we can usually do so much more with a digital file, should you be able to scan it.
Prints or transparency should contain your name and subject details, and be posted to:
The Railway Magazine
Media Centre
Morton Way
Horncastle
Lincolnshire
LN9 6JR
Material is submitted at the owner's risk. Mortons Media Group Ltd cannot be held responsible for loss or damage, however caused.
Note: All print and slide submissions should include an appropriate SAE for return of material.
In common with most websites, we are unable to make a payment for images that appear on www.railwaymagazine.co.uk – however, all images that appear in the printed magazine are eligible for a highly competitive reproduction fee, which is paid for after publication. We also reserve the right to use submitted images for internal marketing or promotional purposes.
Many thanks.
The RM team
Inserting File Info
Using Photoshop or Photoshop Elements
With the image open, select the 'File' tab at the top of screen and from the drop down menu select 'File Info'.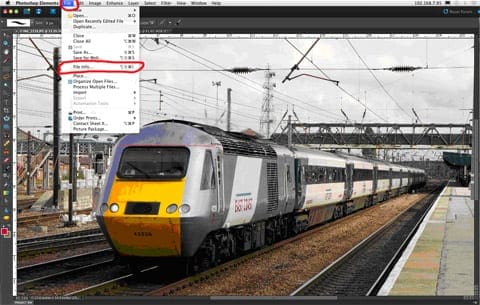 This will open a new dialogue box, and author, description and copyright fields should be completed. Inserting keywords related to the image and location is not essential, but allows us to search for certain term and does help us with picture research.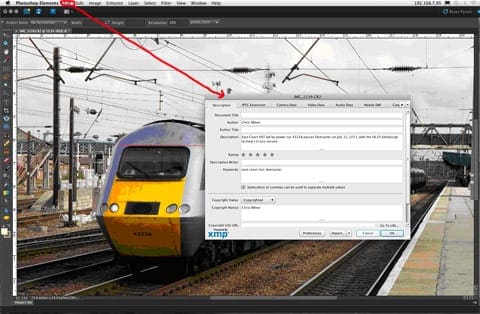 When the information has been entered, click 'OK' and then save your file and email it to us. That's it!
Non-Photoshop users
For non-Photoshop users with a Windows PC, you can still insert the File Info by using what's called an EXIF writer. This link provides a good example of some free software that will insert caption and name info:
Part way down the page is a link to download the Freeexif editor called Exif Pilot 4.4 (for Windows XP/Vista/7).
Install the software
Start the application, select your image and from the menu bar > select 'Edit Exif/IPTC', and from the drop down, select 'edit exif'.
A new window will open with three tabs on it. Using the tab 'Exif General', complete the image description field with what the photo is, where/when, etc, and then enter your name, address and phone number in copyright field.
Click OK to save file, and finally click CLOSE, then send the file(s) to us.