JUCHE Travel Services, a UK-based travel agency specialising in tours to North Korea (Democratic People's Republic of Korea), is delighted to announce the return of it's Grand Rail Tour, departing Sunday, October 27-Wednesday, November 6, 2019 (10 nights in the DPRK + 2 nights on the train).
This is a unique opportunity for enthusiasts and intrepid travellers alike to travel in our private charter train as it winds its way through the picturesque Korean countryside to some of the most popular and scenic tourist destinations.
Following on from our successful tours since 2013, we are excited to once again offer rail devotees a chance to embrace a pioneering spirit of adventure and travel along routes rarely taken by foreign tourists.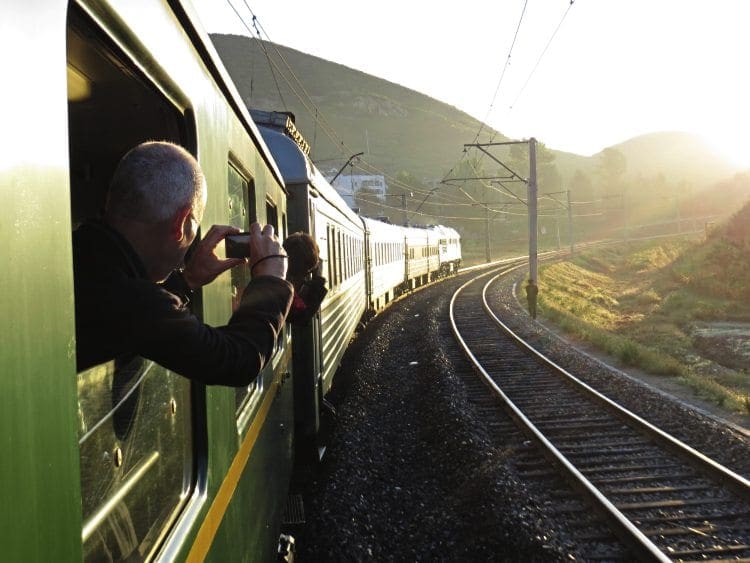 Our private charter train, hauled by a Chinese Dong Feng 'DF5' or 'M62' derivative diesel locomotive (to be confirmed), will feature comfortable seated and sleeper carriages, bar service and restaurant cars, and will provide customers with a great 'spotting' opportunities as well as unique views of the country from ground level.
The tour combines travel all over the country and begins in Beijing. From there you will take the overnight sleeper to the North Korean capital Pyongyang, where you can enjoy the city and view some of the major tourist sites, including the Metro and Railway museums, as well as rides on the Pyongyang Metro, bus, trolleybus, and tram networks.
From Pyongyang the tour heads north towards the beautiful Myohyang mountain range.
At Hyangsan railway station we will be met by the first steam locomotive of the tour, a 'JF' 2-8-2 Mikado.
The next sector travels eastwards on the spectacular Hyangsan-Kujang-Kaechon-Sunchon- Wonsan line, rarely taken by tourists, towards Wonsan and Hamhung.
In Hamhung you can see the industrial rail line in action and enjoy photo opportunities of the Hamhung to Hungnam narrow gauge commuter rail line, a first-time experience for foreign tourists and rail enthusiasts.
The tour then travels along the scenic eastern coast of Korea towards Chongjin, where on arrival you can travel on the Chongjin trolley bus, followed by another steam locomotive, a 2,000 HP 'Mika-6' for a journey from Chongjin to Sungam.
In the afternoon, we are then met by four smaller 'Puruso' Japanese-built steam locomotives, which are normally assigned internal duties inside the nearby Chongjin steelworks; they will perform some shunting activity for our delight and delectation.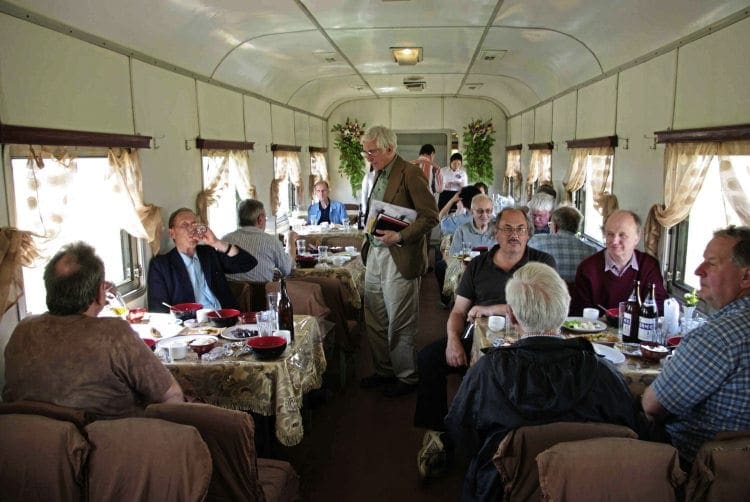 From Chongjin you can elect to depart the DPRK via the Trans-Siberian railway, exiting at Rason. Alternatively, you can also depart by rail or flight back to Beijing.
The basic tour cost is €2,995 per person, and includes the return overnight international train ticket between Beijing and Pyongyang, all charter train journeys in the DPRK, all metro, bus, trolleybus, and tram rides, all meals every day (with one drink), all accommodation (in 4* and 5* hotels), all entry fees to the place of interest to be visited, all road transport inside an air-conditioned coach, the use of English-speaking tour guides, plus a western JTS representative.
Interest in this unique tour has been high, and we recommend registration at the earliest opportunity, as places are limited.
For more information or to book, please visit the dedicated rail tour page on our website: www.juchetravelservices.com or email us at info@juchetravelservices.com
Article continues below...
---
---
Juche Travel Services was founded in 2011 and is a UK-based North Korea travel agency specialising in transport based tours.
Hundreds of customers visit the DPRK with us each year, and we have built up an excellent reputation with our Korean hosts.
We are endorsed by the state Korea International Travel Company as an officially recognised DPRK travel agent.
We have a long list of satisfied customers from all over the world, and are only too happy to provide references to interested parties.
See you in Pyongyang!

Enjoy more of The Railway Magazine reading every month.
Click here
to subscribe.