The removal of a locomotive's rolling chassis from a workshop might appear on paper like a straight-forward task, but for the Tanfield Railway (TR) the extraction of Andrew Barclay 0-6-0ST Horden (1015/1904) from the railway's works on November 14 was a true demonstration of logistical planning.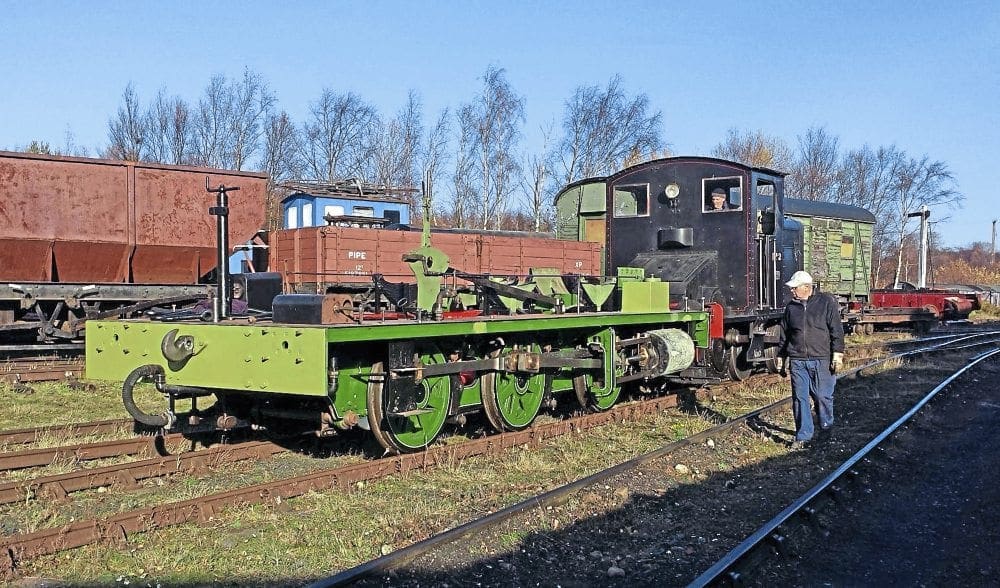 Restoration of the ex-Horden and Shotton Collieries' loco has been underway at the TR's Marley Hill works since 2012, and represents one of the most challenging loco projects tackled by the railway to date. 
After 69 years heavy use, including damage sustained with a head-on collision with an NER 'Q6' 0-8-0, and almost 40 years of open air storage, Horden was in a sorry state when work began.
The 'bottom end' has now been completed, the work including replacement of the tyres, crankpins, bearings, brake gear, suspension, buffer beams and footplating. 
A concealed mechanical lubrication system and vacuum brake equipment have also been installed, while almost all of the rods, valve gear and the other motion parts have had to be straightened to make good. 
Repainting has also been completed into the 'as-built' 1904 livery of middle green, lined black picked out in white, just as delivered to Horden Colliery.
Much of the work has taken place in a small workshop building directly behind the historic Marley Hill shed, and with the rolling chassis complete it could be removed for storage elsewhere on site while work is concentrated on the boiler. 
Rail access to this shed is at the rear, with the exit road linked to the rest of the yard by means of an operation, if seldom-used, traverser. 
However, before any moves could take place, the traverser pit had to be cleared of a few years' worth of vegetation and mud using a mini-digger, and the traverser's wheels and rails freed up. 
The flangeways of the exit road from the workshop then had to be cleared with shovels before the digger was able to drag Horden's chassis outside and onto the traverser. Once in place the little earthmover, with assistance from a tele-handler, pushed the traverser over and Horden was taken out of the way by the line's Armstrong Whitworth diesel.
With Horden out of the way the loco's boiler was removed from the workshop and lifted from its transport dolly onto the ground. 
Some boiler work has already been undertaken on site, but it will soon be sent away for riveting and welding before final completion at the railway.
The following day, Horden's saddle tank was taken off the wagon, where it has been stored, upturned and lifted onto the dolly that had previously held the boiler. 
This subsequently entered the works and will become the next focus of the restoration.


Enjoy more of The Railway Magazine reading every month.
Click here
to subscribe.