BRITAIN'S rail freight companies are facing a crisis.
In the past 18 months coal traffic has taken a substantial downturn, with the latest quarterly figures showing a 61.4% drop, not helped by the Government's doubling of carbon tax and the decision to close all coal-fired power stations by 2025.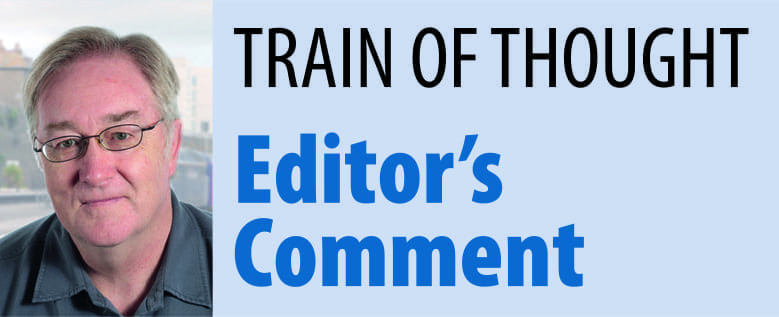 With UK manufacturing facing an uncertain future, and HS2 still in the starting blocks, steel traffic is also down 13.4%.
It is worth adding these are pre-Brexit figures, and the reality today is certainly worse, triggering
DB Cargo's decision to scrap 893 jobs, including 371 driver positions; earlier in the year, Freightliner Heavy Haul axed 145 jobs.
DB Cargo seems to be moving more locos abroad. Nearly one third of its Class 66 fleet – bought for the UK – is working in Europe.
While these are worrying times, the country is on the cusp of three major infrastructure projects – first phase of HS2, a new runway at Heathrow, and the construction of Hinkley Point power station.
All three will need steel and aggregates as well as spoil moving away, yet there is hardly a public mention of how rail can and should play a part in the construction supply chain.
The real worry, however, is that if DB Cargo, Freightliner and GB Railfreight continue to struggle for volume traffic, more locos worth millions of pounds are likely to be stored or sent abroad, with staff laid off.
When these infrastructure projects do finally kick off, the rail industry will be unable to respond with the right resources and the winner could well be the road haulage companies, with thousands of HGVs choking our already congested roads.
Is that what this dithering Government really wants?
Deal or no deal?
FRANCHISING the railways has produced far too many flaws in its process and execution.
Rather than new awards, the DfT has continued to make a number of direct franchise awards as 'stop gap' measures, with these awards normally including certain enhancements and incentives that provide a win-win for the passenger. However, the recent direct award to CrossCountry, allowing Arriva to continue operating the franchise for the next three years, raises a few questions.
I can't see anything of real substance for the passenger.
I don't feel that 39,000 extra seats A YEAR on trains between Edinburgh and Plymouth is anything to be excited about. Neither is the promise of free wi-fi on all trains by April 2018 – which is still 18 months away.
Article continues below...
---
---
The product of shorter journey times from Manchester to Birmingham will be achieved by removing schedule padding or maybe using all engines on the 'Voyagers', which along with a few minor goodies like abandoning the £10 charge to change advance tickets are questionable components for a direct award.
The HSTs will get power-operated doors, but let's be frank here, there's absolutely nothing for passengers who use CrossCountry's Nottingham to Cardiff or Birmingham to Stansted routes: no extra carriages to ease overcrowding, still no early or late trains to connect with the budget flights from Stansted. Are they to be considered Cinderella routes?
While CrossCountry (which is in revenue support from the DfT) has tinkered with 'Voyager' seating layouts to house more passengers, in reality it has not managed to keep pace with demand and any new, longer trains will be the responsibility of the next franchisee, which effectively puts any additional or replacement trains at least four years away.
The DfT has let passengers down badly with this 'no deal' award, and considering the fares being charged by CrossCountry, passengers deserve better.
RM cover price
IT'S with regret that the cover price of The RM has increased by 10p from this issue.
The last price rise was nearly two years ago, but substantial increases in paper costs and distribution charges are the causes.
With 132 pages and a free DVD this month, we believe The RM is still great value for money.
Subscription prices will also rise soon, but by taking a subscription now, you are guaranteed a copy of the magazine directly to your door as well as immunity from cover price rises during the term of the subscription.
And for a small extra fee, you can have access to 120 years of railway history through our online digital archive.
To take a subscription, call our customer services team on 01507 529529; they will be pleased to help you.
Enjoy more of The Railway Magazine reading every month.
Click here
to subscribe.