Welcome to the world of Inside Track.
We are committed to creating and developing quality holidays throughout the UK and Europe with an exciting and varied range of destinations.
Being only a small organisation we are able to offer a personable service to each and every client – and that's the way we like it!
In 2019's programme we have our usual array of English, Scottish, Welsh, Manx and Irish holidays, with new ventures to Chester, Yorkshire, Buckinghamshire, London and Derbyshire. Further afield our continental forays are boosted by trips to Paris and a fantastic Dutch addition taking in the outstanding VSM steam festival.
You might be interested to know we have a brand new 'all singing and dancing' website to accompany the new programme so check it out – we are really excited about it: www.railwayholidays.com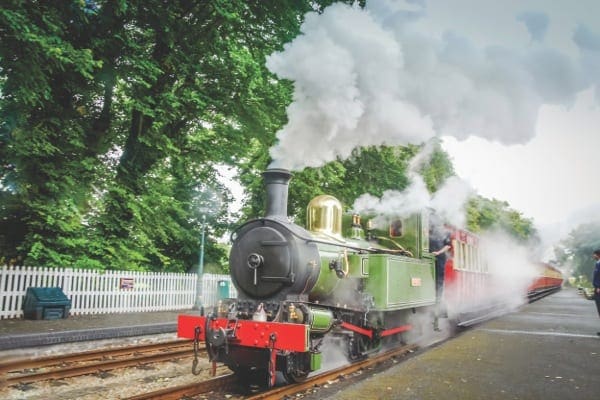 What is an Inside Track holiday?
Well, they range upwards from four days in duration and are based in three/four star hotels. The central theme to all of our holidays is nostalgic transport ,and in particular steam trains.
Beyond that we always include scenic attractions, museums and local interest – variety is our forte. These holidays are exceptionally innovative, varied in their content, never boring and, above all… FUN!
Who makes up the Inside Track team?
Our tour guides all represent Inside Track exclusively and so are completely committed to making sure your holiday goes as smoothly as possible.
It is their aim to ensure you are so thoroughly satisfied you will, like many others before you, come back again and again. They also work in the office preparing the holidays and so are completely aware of all aspects and possible pitfalls.
What will the days out involve?
Each day's excursions are planned to invigorate, excite and involve multiple forms of transport following a carefully planned itinerary.
There will be coach travel of course, but only so you can ride on local rail/bus/tram services, boats and anything else that moves as we travel between attractions.
Each day is designed to be full and fun with all visits and journeys included in the holiday price.
We are proud of our flexible planning and where options do occur there is no additional cost to you – we simply don't do hidden extras.
Article continues below...
Advert
So, why not make contact and request our free 2019 brochure – it's a cracking read to boot.
www.railwayholidays.com email: info@inside-track.net tel: 01869 255777
Article continues below...
Advert

Enjoy more of The Railway Magazine reading every month.
Click here
to subscribe.