Preservation of electric multiple units can be overlooked, despite the fact they are often the backbone of commuter operations. Martyn Hilbert looks at the history as well as an update on the work to restore a Class 502 EMU – a type first introduced by the LMS in 1940.
When the Lancashire & Yorkshire Railway electrified the Liverpool Exchange to Southport Chapel Street route in 1904, they created the world's first inter-urban electric railway. A short extension along the line from Southport to Crossens via Meols Cop was also energised in 1904, and the line from Ormskirk to Liverpool Exchange followed in 1913.
The self-contained electric system handled heavy commuter and residential traffic, and by the 1930s the fleet of original L&Y electric sets were becoming increasingly frail, appeared very old-fashioned, and needed urgent replacement.
Supplementing the original L&Y sets, the Ormskirk route had a fleet of slam-door, three-car EMUs supplied new in 1927, and were known locally as 'Lindbergs' because of their introduction at the same time as the famous aviator (Charles Lindbergh) was making news headlines.
The 11 sets were conventional suburban, traditional compartment-style units; the LMS were a tried and tested design and were a case of 'more of the same'. Similar looking units were supplied for the 1,500v DC Manchester to Altrincham line in 1931.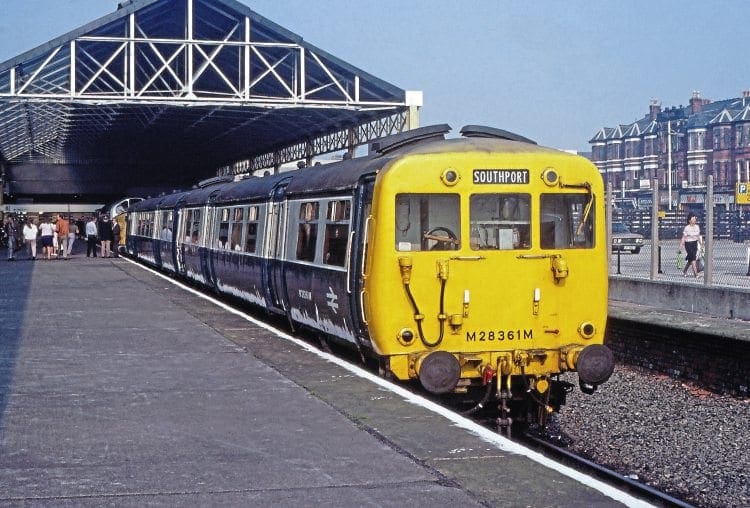 The LMS had proposed a radical change in EMU design as far back as 1933, when a drawing was prepared at Derby that was way ahead of its time. Gone were the individual compartments, and instead an open saloon layout was proposed with banks of seats either side of a central isle, and two pairs of double power-operated sliding doors on each side of the car that opened into a wide vestibule area, so prams, bicycles (and standing passengers) could be accommodated with ease.
It was perhaps too radical for the company at the time, but nevertheless the proposal was put on the back burner for future use. When the LMS began constructing the new fleet for the electric lines radiating from Liverpool Exchange in 1938 at Derby Carriage Works, it was clear the drawing prepared some five years earlier had had the dust blown off it.
Article continues below...
Advert
The new order was for 152 individual cars, each being 66ft 6in in length, with a maximum speed of 70mph, with the build split into 59 Driving Motor Brake Seconds (DMBS 28311-28369), 50 Trailer Seconds (TS 29545-29594), nine Trailer Composites (TC 29812-29820), and 34 Driving Trailer Composites (DTC 29866-29899).
Read more and view more images in the October issue of The RM – on sale now!
Article continues below...
Advert

Enjoy more of The Railway Magazine reading every month.
Click here
to subscribe.