Headline News
Fares to rise by 3.2% in January, ScotRail puts Class 385s into passenger service and receives first refurbished HST, 11 Class 50s for SVR Golden Jubilee gala, GWR introduces Class 802s on Penzance route, Locomotive Services Ltd buys HSTs and Class 90s for charter work.
Track Record The Railway Magazine's monthly news digest
Steam & Heritage
Replica 'Saint' breaks cover, Tyseley to restore Thornbury Castle, four 'Castles' and Bahamas for Tyseley open day, Green BR '2MT' makes first moves at KWVR, Bluebell '5MT' set for West Somerset gala, 'Sutherland' to visit Swanage.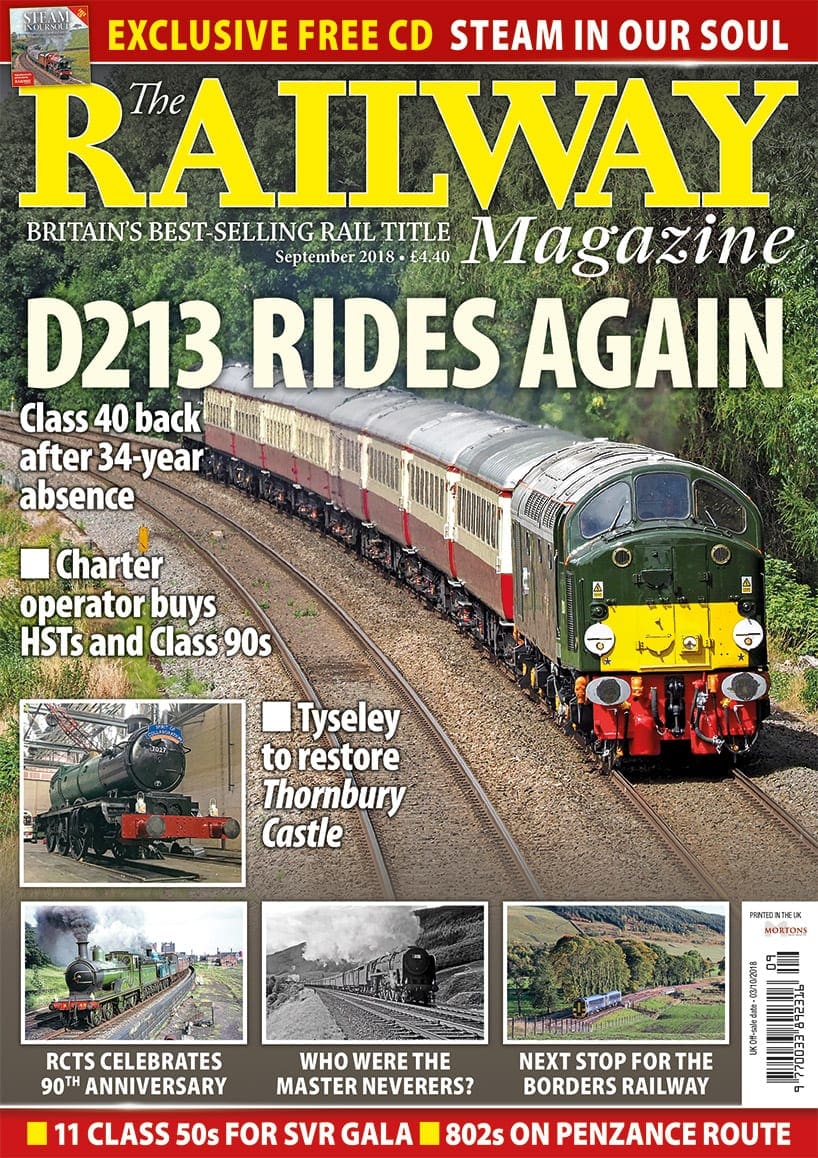 Industrial
Steam Portfolio
Irish
Miniature
Narrow Gauge
Classic Traction
Classic Traction Portfolio
World
Railtours
Metro
Network
Traction & Stoc
'Euro 66' arrives in UK for repairs, TPE Class 802/2 and Mk5s on test, October 28 launch for new Caledonian Sleeper stock, fresh look for West Midlands units, first Marston Vale Class 230 unveiled, Class 60s start work with GBRf.
Stock Update
Traction Portfolio
Operations
Regulars
Multiple Aspects: With Lord Berkeley.
Railways in Parliament
Subscription Offer
Subscribe today to receive your monthly copies of
The Railway Magazine from only £20.
Readers' Platform
Reviews
Heritage Diary
Details of when Britain's unique collection of heritage railways and railway museums are open.
Panorama
Our regular gallery of the best railway photography from around the world.
From The RM Archives
Meetings
Reader Services
Crossword & Where Is It?
Features
Concrete and China Clay
Practice & Performance looks at a selection of recent operations, including loco-hauled trains in northern England and GWR's short-formed 'Castle' HSTs.
Article continues below...
---
---
Next Steps for the Borders Railway
Ashley Butlin reports on proposals to build on the success of the reopened Edinburgh-Tweedbank line with further extensions and service improvements.
Narrow Gauge Preservation Stalwart
Nicola Fox meets John Bate, an octogenarian engineer who has spent most of his adult life volunteering at the Talyllyn Railway.
Never Again…
As we mark the 50th anniversary of the end of BR steam, Chris Milner looks back at a group of photographers whose exploits became legendary at the time – the Master Neverers.
90 Years of Railway Enthusiasm
The Railway Correspondence and Travel Society (RCTS) is celebrating its 90th anniversary – Rodney Lissenden and Paul Chancellor look back at the society's early days, and how it has adapted to a changing hobby.
Tracks to the Trenches 3
Cliff Thomas reports from deepest Staffordshire and the third instalment of an event commemorating the role played by narrow gauge railways during the First World War.
FREE AUDIO CD – Steam in our soul, how Bahamas was saved and restored – told in words, song and voice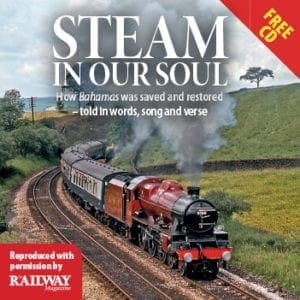 TO COMMEMORATE the imminent return to steam of Bahamas 50 years after its first steaming in preservation (March 1968), 50 years after it steamed to Dinting Railway Centre (November 1968) and 50 years after the end of BR Steam (August 1968), the Bahamas Locomotive Society ismaking a special offer. BLS Membership to December 31, 2019 is available for the special price of £15.75… equivalent to the price of a ticket on BR's 'Fifteen Guinea Special' final steam train (August 11, 1968), and a saving of £14.25 on the normal price. Simply download a Membership Form from the BLS website, enclose £15.75 and write 1T57 on the form… then return it beforeOctober 31, 2018. www.bahamas45596.co.uk
Listen to a sample:
ON THE COVER
MAIN IMAGE: Back on the main line after more than 30 years, Class 40
No. D213 Andania hauled its first railtour since 1984 on August 27. On one of a series of test runs prior to the big day, the EE Type 4
passes Albrighton on the Shrewsbury to Wolverhampton line on August 9. GEOFF GRIFFITHS
INSET 1: The RCTS celebrates 90 years of railway enthusiasm. COLOUR-RAIL
INSET 2: Behind the legend of the 'Master Neverers'.
INSET 3: Building on the success of the Borders Railway reopening.
The October 2018 issue of The RM will be on sale on October 3 – order your copy now!

Enjoy more of The Railway Magazine reading every month.
Click here
to subscribe.