A FEW readers felt my comments last month about problems on the Borders Railway were unfair.
The £300million project has been well-covered and supported by The RM, and while it is a superb achievement in so much as passengers have flocked to the line in far greater numbers than envisaged, the performance of trains and infrastructure has been woeful at times, which has tarnished the overall success.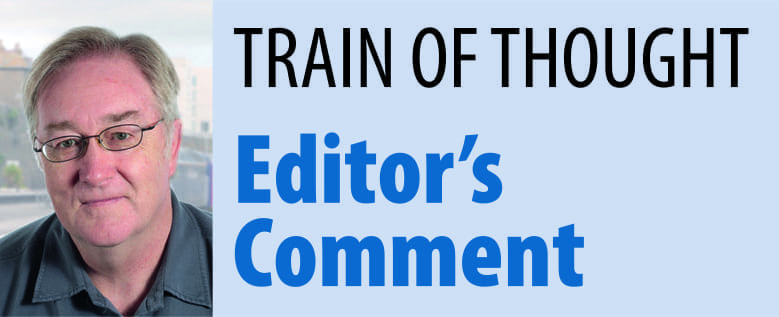 I've seen weekly analysis of right-time arrivals in Edinburgh and Tweedbank since day one and it does not make good reading. At best, on-time arrivals recorded in a single week at Tweedbank are 66.2%,
at worst 23.9%. Right-time arrivals in Edinburgh
are even lower, which gives passengers a poor view of rail.
Poor performance
You could argue that the poor performance is not surprising given that the route is operated mainly by 25-year-old DMUs, which the line will be stuck with for two more years until sufficient Class 170s can be cascaded to the route.
Some of the problems are also equipment related, to which ScotRail Alliance managing director Phil Verster has responded by saying "it takes time for equipment to bed in – very often it does not work out of the box".
This is not just 'out-of-the-box' equipment, it's commonly used, plus it's a more than a year old and still failing. Why?
As you will see from this month's Headline News section, improvements are coming, but whatever happened to the 'right first time' approach?
However, let's not take anything away from the overwhelming success of the line in its first year, despite the many shortcomings, and take comfort that it is winning new customers every week.
Hopefully, it will not be too long before Melrose, St Boswells and Hawick re-join the rail network and passenger numbers soar past the two million mark.
That will be a measure of success.
Is there a case for refreshing and re-using Eurostars?
IT IS nearly 22 years since the first Eurostar trains ran to Paris and Brussels, and yet the first set is about to be sent for scrapping.
Just eight sets will survive sfter the cull.
At just over half the age of many HST sets, these sleek 186mph trains have revolutionised cross-channel travel, winning the hearts and minds of passengers with their city centre to city centre services, avoiding all that's unpleasant about flying.
Article continues below...
---
---
From conversations inside and outside of the industry, some believe there is far more life in them, subject to a modest refurbishment. Others say their complex technical nature – quad voltage, multiple signal and safety systems, plus their power-hungry nature and parts obsolescence – are key factors against another life for the trains.
Yet, in Germany, the first generation of ICE trains, which are not much older than the Class 373 Eurostar trains, are still in daily service.
Because the trains are owned by Eurostar and not leased, the scrapping decision is that of the operator, and I suspect many readers will be shocked that such an iconic train faces a premature end.
Let us know your views.
Time to sort out driver-only operation – once and for all
AS THE RMT's dispute with Southern rolls into another month, with 14 days of strikes announced and no immediate resolution in sight, the whole concept of driver-only operation (DOO) needs fully re-examining from operational and safety aspects.
On one side, the Department for Transport is trying to force the issue through its management contract with Southern. An Invitation to Tender for the new West Midlands franchise indicates that
any new trains ordered must be able to work as driver-controlled only, so you can see where the DfT's intentions lie.
London Underground and Overground are run as DOO operation, as are some, but not all,
Abellio, ScotRail, c2c, GWR, Chiltern services, so why have rail unions accepted some DOO operation, but refuse to accept others?
What is the difference? Strikes over DOO trains first arose when the Class 317s were introduced in 1981, and 35 year later arguments are still raging.
It is time for some clear definitions and agreements over DOO between the industry and the rail unions so that this issue can be put to bed – once and for all.
Chris Milner, Editor
Enjoy more of The Railway Magazine reading every month.
Click here
to subscribe.