This month's Practice & Performance has an international flavour as John Heaton FCILT rides on the first timetabled Eurostar service from England to the Netherlands.
The list of departures on the Eurostar screens at St Pancras International on April 4 provided a welcome tonic to observers who had sought expansion of direct daily services to European mainland business and tourist hubs beyond the regular destinations of Paris and Brussels. There it was, the 08.31 to Amsterdam calling at only Brussels Midi, Rotterdam Centraal and Amsterdam Centraal, right next to the romantic canals of the Dutch capital city.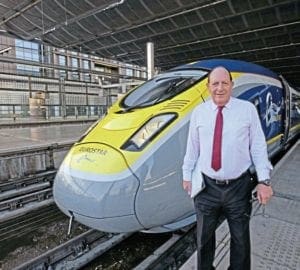 In recent years Deutsche Bahn has unsuccessfully attempted to launch Frankfurt services using German ICE trains, and Eurostar itself has run relatively infrequent trains to ski resorts and the Rhone valley. The exception has of course been the daily trains to Marne-la-Vallée for Disneyland Paris.
The Amsterdam train has been a long time in its gestation with serious efforts to reach the Netherlands by through trains from London for the Christmas market of 2016 using its new 'Velaro' Class 374 e320 16-coach EMUs. Unlike the Class 373 original Eurostar sets, the Class 374s have 'distributed power'.
A press taster train, which ran on February 20,
was judged a resounding success, with a record fastest run to Brussels in 108min 4sec timed by David Haydock. The omission of intermediate stops on this leg was determined by the imperative of reaching Rotterdam in 3hrs from city-centre to city-centre to provide competition with up to seven daily flights from London City airport that take an hour from terminal to terminal, but a good deal longer for access at each end, unless one happens to start from Docklands.
Those who were fortunate to be invited to sample Business Premier on the first day of regular timetabled services were ushered into the lounge area and plied with croissants, fresh orange juice and hot drinks from the smartly dressed hosts, before being escorted to set Nos. 4013/4014.
Business Premier was in the leading coach, which had the first few rows facing backwards, presumably for safety reasons at such high speeds.
Article continues below...
Advert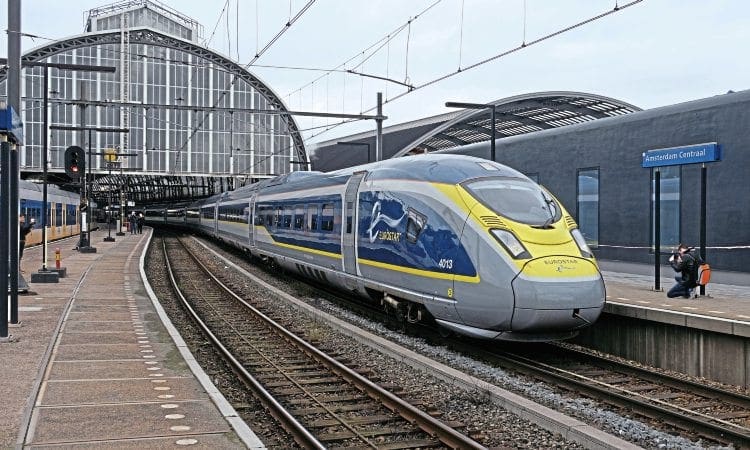 The problem with train timers is they are fussy over whether the window is central to their seat, whether it is forward-facing and if it is at the correct side for the kilometre posts. GPS does not work in the passenger accommodation and the posts swap sides regularly. Seat 11 in coach 16 met some of the criteria, but was incapable of switching from one side to the other. I resolved to time structures and mileposts and content myself with average speeds, thereby missing some of the minima and maxima that one can record on High Speed Line 1 with GPS from a Class 395 'Javelin', if only to Ashford and albeit up to no more than their 225kph (140mph) limit.
Departure was spot on time, always a good sign everyone is 'switched on' to the importance of the trip; a pedant might say 2sec early. The start seemed slow compared to a Class 395, taking 2min 21sec to enter the London No. 1 tunnel compared to a typical 'Javelin's' 1min 50sec. The 400m length of the train needs a lot more time for the back end to clear low-speed restrictions than a single Class 395, of course.
Read more in the May issue of The RM – on sale now!
Article continues below...
Advert
Enjoy more of The Railway Magazine reading every month.
Click here
to subscribe.