IN THE August 2016 issue of The RM we reported around 35 miles of siding space was needed to store the carriages being made redundant by new trains.
Further new train orders, coupled with the fact greater weighting is given by DfT to franchise bids involving new trains, has increased the uncertainty of existing and proven rolling stock.
No one, it seems, wants to acknowledge the 'elephant in the room' – just how and where nearly 4,000 redundant carriages will be disposed of in line with strict environmental rules: the recycling industry doesn't appear to be geared up to handling wholesale scrapping on a scale never seen before.
The latest estimate is within the next four years, more than 52 miles of sidings will be needed to store surplus stock waiting for homes or disposal – more than the length of the St Pancras to Bedford journey. It is a space resource not currently available.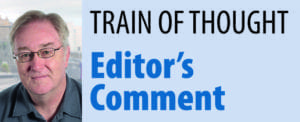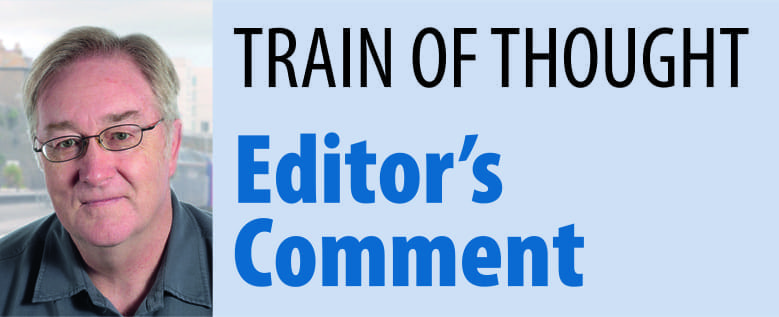 Disposing of stock well past its best-by date is one thing, but what about multiple units and carriages that become surplus, yet have some residual life remaining?
While leasing companies are working hard to find new users for its assets, between now and 2021 there will be five new franchise awards – CrossCountry, Southeastern, Midland Main Line, Chiltern and Wales & Borders. It is likely all of these will involve some new train orders to cope with growth, so the current situation of unwanted stock will merely be exacerbated.
With large quantities of decent quality rolling stock on the verge of being sent for store, here is a great opportunity for the railway industry, collectively, to 'cherry pick' the best of that surplus stock and keep it in reserve for spot hire purposes.
The current ScotRail Class 385 crisis shows there are few spare trains should there be a serious rolling stock issue. Newer units, such as Class 319 or 707s, have dual-voltage capabilities, while a Class 185 is a very solid DMU and could go almost anywhere. We've reused and recycled the HSTs, too.
A niche fleet of, say, 20-24 trains would also provide much needed capacity for FA Cup finals, rugby union internationals, music festivals, relief trains for exhibitions at the NEC, and use on diversions and line closures, rather than buses. In four years time there is the Commonwealth Games in Birmingham, too.
A small fleet would take the pressure off scheduled services and cut down the bad press rail gets from overcrowded trains for big events.
While there would be cost implications and other matters – secure storage, maintenance, crewing and route knowledge, and path availability – these are factors to be planned for and managed, plus it provides a starting point for discussions.
Would the DfT even sanction such an idea or remain laissez faire, and leave quality rolling stock to end up as scrap?
Will costs kill off new station plans for West Midlands?
News that West Midlands Trains has identified locations to build seven new stations in the Birmingham area as part of plans for the city to host the Commonwealth Games in 2022 are very welcome.
However, given the recent experiences of station cost overruns, construction delays and commissioning woes at Kenilworth (proposed in 2008, opened April 30), Coventry Arena, Bermuda Park and Marsh Barton (proposed in 2004 and not yet built), the work to plan, design, and build seven stations – three on a freight-only line and one on a heritage line – is a very ambitious task to achieve in four-year timescale.
Before I am accused of pouring cold water on good ideas, I am very supportive of new stations as they benefit communities. However, there is valid concern over just how ridiculous the construction costs have become. Blocks of flats have been built for less.
Article continues below...
---
---
For all seven proposed stations, the price will be £80-100million, and at the risk of repeating myself, if costs cannot be controlled or capped, it threatens this idea and many other potential station schemes and line reopenings. Still no one is able to offer a plausible explanation over the costings.
It is a situation not helped by the opaqueness and lack of accountability by Government and local authorities when spending taxpayers' money.
Heart-breaking failure for 'A1' Tornado
After so much painstaking hard work, lengthy preparations, and monitored trials that reached 100mph, it was so heart-breaking and disappointing for the team of A1 Steam Locomotive Trust and its many followers when Tornado failed on its first official 90mph run.
While the reasons for the failure appear to be lubrication-based and could have occurred at 75mph, the trust has been offered a replacement part from Blue Peter, a magnanimous gesture from the 'A2's' owner Jeremy Hosking (see p7).
In its moment of need, the 'railway family' rallied around the 'A1' and dealt with the incident in a calm, professional and efficient manner, Virgin East Coast even offering passengers a free trip back to London if they wanted to abandon the tour at Peterborough.
Having followed and supported the 'A1' project since its launch some 27 years ago, I know the trust's management, staff, volunteers and thousands of supporters will pick themselves up from this blow, get the loco repaired and tested, and you can be sure Tornado will return to the main line ready to pick up where it left off.
CHRIS MILNER, Editor
Enjoy more of The Railway Magazine reading every month.
Click here
to subscribe.