Headline News
Tornado 90mph outing ends prematurely after costly failure, TransPennine Express unveils new Mk5 trains and gets ready to receive first Class 802 bi-mode from Japan, GWR orders tri-mode Class 769s for Gatwick and Thames Valley services, Heathrow Express operation to transfer to GWR, Fears over rising cost of HS2.
Track Record The Railway Magazine's monthly news digest
66 Steam & Heritage
Broadway extension doubles Gloucs-Warks visitors, 'Cromwell' booked for Cotswold Festival of Steam, No. 46441 moves 'home' to Lakeside & Haverthwaite ahead of return to steam, new build BR '3MT' is a rolling chassis, Swanage 'U Boat' back on the main line.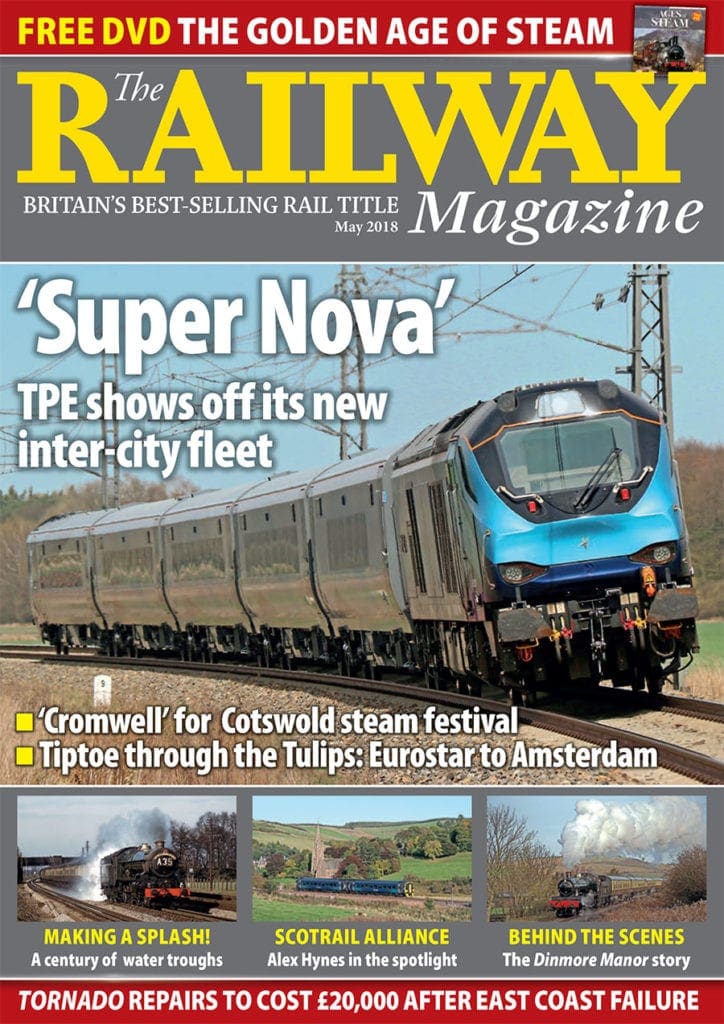 72 Industrial
73 Irish
74 Steam Portfolio
76 Narrow Gauge
80 Network
82 Railtours
86 Miniature
88 Metro
90 Classic Traction
94 World
100 Traction & Stock
Off-lease Class 365 moves to Scotland for possible E&G use, Caledonian Sleeper Mk5s tested on West Highland Line, First VTEC bi-modes arrive in UK, GC begins
Class 180 refurbishment.
Article continues below...
---
---
103 Traction Portfolio
104 Operations
109 Stock Update
Regulars
12 Multiple Aspects
With Lord Berkeley.
12 Railways in Parliament
34 Subscription Offer
Subscribe today to receive your monthly copies of
The Railway Magazine from only £20.
36 Readers' Platform
54 Heritage Diary
Details of when Britain's unique collection of heritage railways and railway museums are open.
58 Meetings
60 Panorama
Our regular gallery of the best railway photography from around the world.
64 From The RM Archives
Find out what The RM was reporting 20, 50 and 100 years ago.
122 Crossword & Where Is It?
Features
14 Tiptoe Through the Tulips
John Heaton reports from Eurostar's inaugural London-Amsterdam train – the first scheduled service between the UK and The Netherlands.
20 Making a Splash
A simple invention that revolutionised long-distance rail travel in the days of steam. Nick Pigott looks back at more than a century of water troughs.
28 Delivering a Bigger, Better Railway for Scotland
With Scotland's railway undergoing its biggest transformation for decades, Ben Jones meets ScotRail Alliance managing directior Alex Hynes to discover how his organisation is delivering improvements at the same time as trying to maintain a reliable operation.
38 Britain's Oldest Railway Photographer – Part 2
Chris Milner concludes his interview with Ron Buckley, who returned from National Service to find a railway preparing for Nationalisation.
46 Dinmore, and More and More
Despite its low profile, the owning group of this popular GWR 4-6-0 has achieved some impressive feats and good reputation for reliability and performance of their machine. Gary Boyd-Hope goes behind the scenes.
On the cover
MAIN IMAGE: The first TransPennine Express
'Nova 3' set, powered by No. 68021, races around the test track at Velim in the Czech Republic on April 12. KEITH FENDER
INSET 1: Water troughs: the story of a long-lost railway practice.
INSET 2: Building a better railway for Scotland.
INSET 3: Securing the future of Dinmore Manor.
The next issue of The RM will be on sale Wednesday, June 6 – order your copy now!
Enjoy more of The Railway Magazine reading every month.
Click here
to subscribe.