AUGUST is bad-news month for rail passengers. It is the month that the retail price index (RPI) for July is announced, which then triggers the base figure for next January's rail fare rises.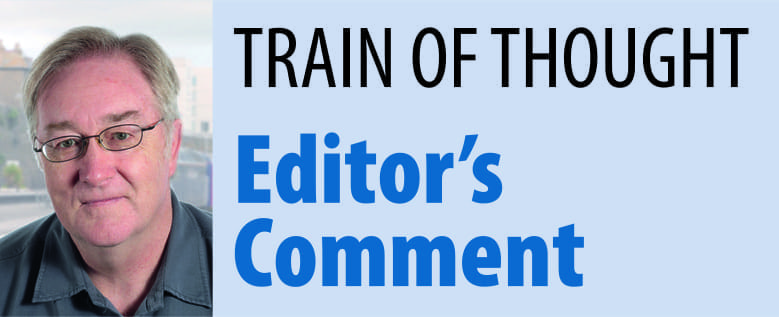 From next January regulated fares will rise by an average of 1.9%, and with many overcrowded trains, delays and ongoing industrial disputes, such a rise at this time is totally unacceptable.
Previously, the response from the industry to fare rises is investment in 'new trains and better infrastructure', yet many are still patiently waiting for these mythical new trains. This year the reason given is higher wages.
Pressure group Railfuture has produced a table showing that a rail fare costing £100 in 2004 now costs £158.49 – that's a staggering increase as wages and pensions have not risen by that amount.
Overcrowding and fare rises is a hot topic, but some operators – such as CrossCountry and Arriva Trains Wales – have not increased their rolling stock since being awarded franchises despite soaring passenger numbers.
Judging from my mailbox the overcrowding is really angering passengers – particularly as they are being forced to stand for long journeys or sit on the floor.
That's unacceptable considering the price of tickets.
Although stock is coming off lease soon, there is no obligation for an operator take on additional carriages mid-franchise. The only hope is that when franchises are re-tendered, the Government insists on new, longer trains to combat the problem.
The RM says that the time has come for the Government and rail industry to give beleaguered passengers a break by scrapping fare rises for a minimum of two years, during which time it works out a fairer way to calculate smaller fare increases.
■ A feature on rail fares appears on page 44 of this month's RM.
From flagship project to misery line
SEPTEMBER 6 marks the first anniversary of the opening of the rebuilt Borders Railway; a flagship railway project that cost in excess of £300 million.Yet while passenger numbers have exceeded all predictions, that's where the good news ends.
The 30-mile line, running through an attractive landscape, has from inception suffered from many punctuality issues that stem from the unreliability of the infrastructure and trains.
Just a few weeks ago punctuality dived to 28.4%, with some 70 services being cancelled over a 10-day period.
Reasons include crew shortages, signal failures, lineside equipment failures and DMU failures – all problems that result in the delay or cancellation of subsequent services. It's a situation not helped by the lack of passing loops.
Article continues below...
---
---
There are also issues with overcrowding on many peak-time trains and insufficient car parking at Tweedbank. It makes for a very unhappy situation if you are a passenger.
Railways create regeneration and many people and businesses have relocated to towns along the Border line because of the easy and frequent services to Scotland's capital, but are being let down by so many problems.
Campaigners gave plenty of warnings during the planning and construction phases that the double-track sections were too short and that using Class 158 units would only bring trouble – and they were right.
The politicians and 'experts' who sanctioned a flagship railway to be built on the cheap have got an awful lot to answer for.
For the passengers, however, the day-to-day ride on this £300-million misery line continues.
Recognising our sporting heroes
TEAM GB did Britain proud at the Rio Olympic Games with a haul of 67 medals.
Southeastern has many of its Class 395 'Javelin' trains named after past and current Olympians, so can we hope another operator will take up a naming policy for this year's medal winners whose names are not already carried on a train?
Virgin East Coast 'Azumas' perhaps?
Chris Milner, Editor
Enjoy more of The Railway Magazine reading every month.
Click here
to subscribe.