Many of Switzerland's mountain railways play an essential role in keeping their communities alive, as Ben Jones discovered on a recent visit to the Lucerne region.
EVERY year millions of people from all over the world squeeze into little trains in Switzerland, hoping to experience unforgettable mountain vistas and clean Alpine air. Whether they're local daytrippers making an annual pilgrimage to famous peaks such as Rigi or Pilatus, Asian tourists 'doing Europe' in a week or, more energetically, hikers and skiers, few visitors will be aware of the essential role played by railways in the daily life of mountain communities.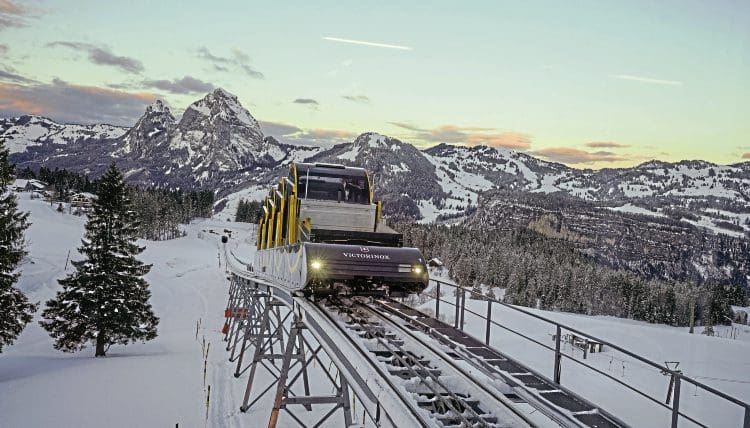 From the 18th and 19th centuries, Switzerland's economy was transformed by tourism – with British visitors at the vanguard of this new phenomenon. Travelling on foot, by horse and donkey or, for the wealthy, by sedan chair, the early 'grand tourists' helped to open up previously isolated mountain areas. Their stories created an ever-growing demand from others wanting to experience the spectacular Alpine scenery. However, while the mountains became a playground for the rich and adventurous, life remained tough for those living on the mountains – especially in winter.
As railway technology developed, lines probed deeper into the mountains, but it was not until 1871 that the first true mountain railway was built – specifically to carry tourists to one of Switzerland's most famous summits.
On the waterfront
There can be few railway depots anywhere on Earth that enjoy a better prospect than the Vitznau-Rigi Bahn's (VRB) lakeside terminus at Vitznau. One entire wall of the combined maintenance and freight depot is glazed, looking out over what the English-speaking world calls Lake Lucerne, but is known locally as Vierwaldstättersee – the 'lake of the four forest cantons'. It's a stunning view, not lost on those who work in the depot, and gives some clue as to why visitors have been coming here by lake steamer for more than 150 years. The VRB was Europe's first rack-and-pinion railway, promoted and developed by Niklaus Riggenbach (after whom the rack system is named) and opened, initially with steam traction, in 1871.
Read more in the April issue of The RM – on sale now!
Article continues below...
Advert
Enjoy more of The Railway Magazine reading every month.
Click here
to subscribe.