Headline News
GloucsWarks opens to Broadway, Lottery cash for SVR viaduct, Blackpool North reopening delayed, First TPE 'Nova 3' set on test in Czech Republic, Heavy snow causes widespread rail disruption, ScotRail Class 385s delayed again, First automatic run for Thameslink Class 700, GWR 'Castle' HST debut.
Track Record The Railway Magazine's monthly news digest
66 Steam&Heritage
-S&D '7F' stands in for 'B1' at SVR gala, 'KE1' mobile again, The RM to sponsor Gloucs Warks May gala, Tornado tops 100,000 miles during Moors visit, snow disrupts heritage operations.
72 Industrial Steam
73 Irish News
74 Steam Portfolio
76 Narrow Gauge
78 Network
-NR gets funding for Croydon remodelling, Hope Valley capacity upgrade, Midlands calls for greater rail investment.
82 Heritage Trams
83 Trams Portfolio
84 Metro
87 Railtours
91 Classic Traction
96 World
98 Traction & Stock
-ScotRail Class 170s move to Northern, CAF Class 195 on test at Velim, Class 68s take over Cumbrian Coast diagram, GN Class 717 starts testing.
101 Traction Portfolio
102 Stock Update
103 Operations
Regulars
14 Multiple Aspects With Lord Berkeley.
14 Railways in Parliament
36 Subscription Offer
-Subscribe today to receive your monthly copies of The Railway Magazine from only £20.
40 Readers'Platform
54 Reviews
56 Meetings
61 Panorama – at night
-A stunning collection of nocturnal railway photography.
64 From The RM Archives
-Find out what The RMwas reporting 20, 50 and 100 years ago.
110 Heritage Diary
Details of when Britain's unique collection of heritage railways and railway museums are open.
122 Prize Crossword and Where Is It?
Features
12 Obituary: Sir William McAlpine
The RM pays tribute to one of the Railway heritage movement's most dedicated and influential supporters, who passed away last month.
16 Ron Buckley: Britain's Oldest Railway Photographer
Chris Milner meets a centenarian photographer who has been recording Britain's railways on film since the 1930s.
26 Homeward Bound: York-Huddersfield in the 1970s
This month's Practice & Performance looks back at John Heaton's commuting journeys on the trans-Pennine route in the days of Class 40s and 'Peaks'.
33 40 Years of Rail Ale Rambles
Dave Richardson looks back on 40 years of connecting railways with visits to breweries and beer festivals.
42 Living the High Life
Switzerland's famous mountain railways provide more than just an unfortgettable day out for tourists, as Ben Jones discovered on a recent trip to the Lucerne region.
48 Then & Now: The AlnValley Railway
Alan Barnes looks back at this well-known line in Northumberland, which recently became one of the UK's newest heritage railways.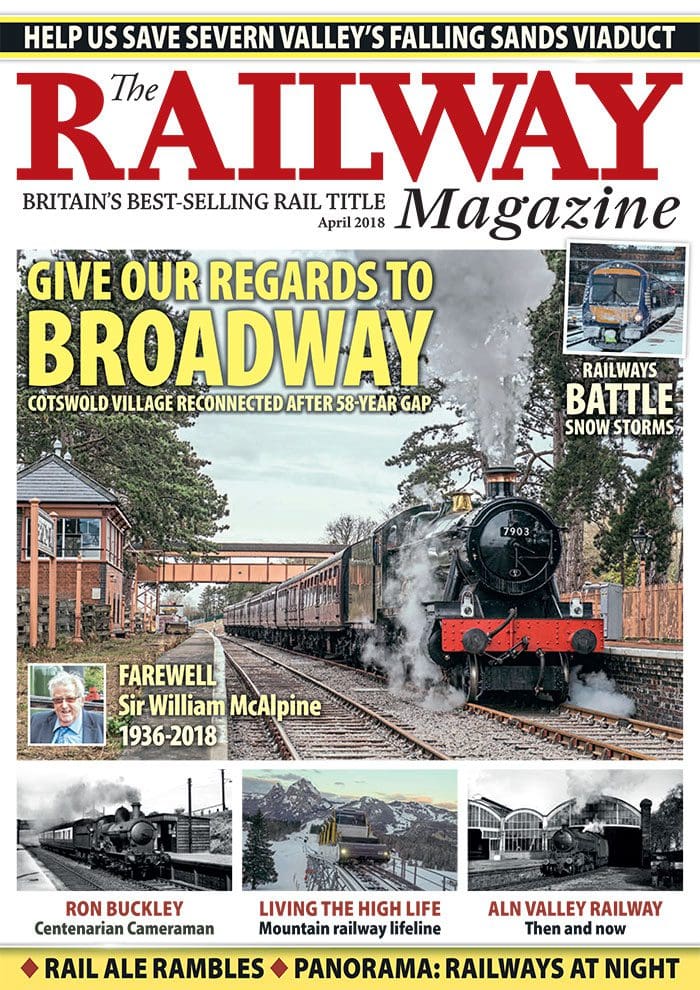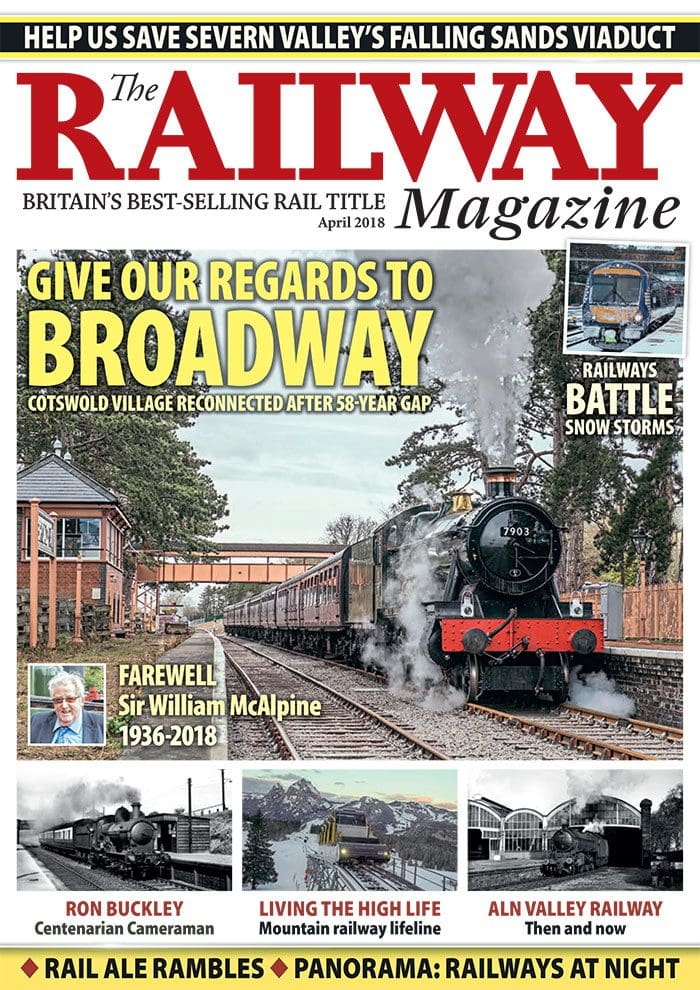 On the cover
COVER:GWR 'Hall' No. 7903 Foremarke Hall arrives at Broadway with a loaded gauging run on March 9, shortly before the official opening of the G-WR's extension fromToddington. JACK BOSKETT
INSET 1: Celebrating Britain's oldest railway photographer – Ron Buckley.
INSET 2: Mountain railways – a lifeline formanySwiss communities. STOOSBAHN
INSET 3: TheAlnwickbranch, fromclosure to rebirth.
Enjoy more of The Railway Magazine reading every month.
Click here
to subscribe.