The launch of a new project to build the 41st member of Churchward's Great Western Railway 'County' class 4-4-0 has been a long time coming, more than 10 years since the possibility was first mooted. Project manager Gary Boyd-Hope looks at the proposal in more detail and explains why these 'rough riders' hold a significant place in the annals of GWR history.
THE withdrawal of Great Western Railway 'County' class 4-4-0 No. 3834 County of Somerset from Tyseley shed in Novemb er 1933 brought the curtain down on the career of one of the GWR's most enigmatic yet maligned locomotive types.
The question as to why George Jackson Churchward felt a new class of 4-4-0 was necessary at the turn of the 20th century has been the subject of much debate over the years, often resulting in the type being branded a failure owing to its relatively short lifespan.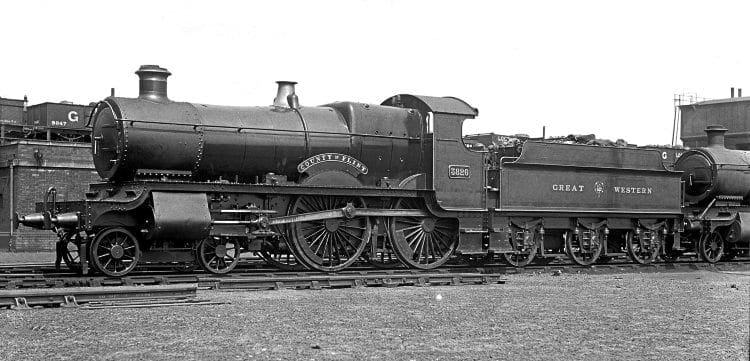 Some have even said the class was little more than a vanity project born from a desire by Churchward to see his modern 'standard' range of locomotives replace their inside-cylinder predecessors; others suggesting they were built simply because of the availability of standard components.
Such comments prompted the well-known locomotive correspondent O S Nock to describe the 'Counties' as "one of the locomotive classes around which a wealth of misconceptions have arisen, or been created and fostered by those who think they know it all".
The primary reason for their introduction, as later attested to by Sir William Stanier, was to work GWR services over the Shrewsbury to Bristol line (the North to West route), which was shared with the London & North Western Railway (LNWR) north of Hereford.
At the time when Churchward outlined his standard range of locomotives the LNWR was responsible for the maintenance of the route and would not permit the GWR's new 'Saint' 4-6-0s to work over the line. Similarly, the Midland Railway line between Standish Junction and Yate, over which the GWR had running rights, featured weight restrictions over Stonehouse Viaduct that also precluded the use of 4-6-0s.
Article continues below...
Advert
Consequently, the Bristol to Birmingham expresses became a regular turn, but the type could also be found working expresses north from Paddington, being known to deputise for 'Stars' on occasions with no loss of time.
It is true the class had earned themselves something of a reputation thanks to their less than smooth riding characteristics, gaining the nickname of 'Churchward's Rough Riders', but they nevertheless put in a number of fine performances. O S Nock spoke very highly of them, recording speeds well into the 80s and describing them as "excellent locomotives on the road".
Read more in February's issue of The RM – on sale now!
Article continues below...
Advert
Enjoy more of The Railway Magazine reading every month.
Click here
to subscribe.