DURING the Christmas and new year period, railways were very much in the news: not all of it was good.
News of the decision by Transport Secretary Chris Grayling to terminate the East Coast franchise early gained a fresh set of legs, helped in part by some vociferous tweeting by opposition MPs, including one who actually claimed the industry "has lower safety standards" despite there being no passenger deaths in an accident or derailment for more than 10 years.
The rail industry's reputation was further sullied when national media journalists jumped on the bandwagon and added the January fare rise into the mix.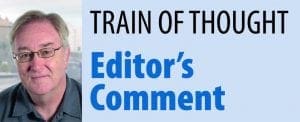 Former Transport Secretary Lord Adonis demanded Grayling be sacked, and claimed the 'bailout' decision would cost taxpayers £2billion. Again, media outlets produced half-truths, misconceptions and in some cases lies, very few actually printing the real reason for Grayling's announcement – that Network Rail, which is a Government offshoot, could not complete the agreed upgrades to power supplies and other infrastructure in the required timescale to allow a more frequent East Coast rail service with new trains that would trigger growth.
Remember, it was on that premise Stagecoach/Virgin had based its franchise bid on back in 2014. It was a serious contractual failure on the part of the Department for Transport and Network Rail, and a decision on what to do next was needed, given premium payments rise towards the end of a franchise. NR's failings were a key fact and would have given balance, but in the interests of one-sidedness, it was ignored.
It is like you or me agreeing a contract for some construction work, but the builder fails to complete to the planned timescale, quality or agreed specifications. You would demand a re-negotiation for a lower price, and not blithely hand over the money first agreed.
Virgin was simply unable to continue. It was a difficult situation, so the DfT made the decision to bring the franchise to a close early.
It is worth pointing out that by the revised end date of the franchise in 2019, Virgin will have paid around £200million of their own money into the ailing operation – money which they won't get back. There will also be reputational damage as 'another failure of the East Coast rail franchise', which you can't put a price on.
As the Government is not providing money to prop up the franchise, it is wrong to call it a 'bailout'.
With a media frenzy taking place, there was a noticeable silence from within the railway industry – including the Rail Delivery Group, which claims to represent Network Rail and the train operators. No one seemed prepared to get in front of a TV camera and say "hang on, that's not quite right".
It was not until Roger Ford of Modern Railways went into the Radio 4 studio that a balanced view began to emerge. However, the RDG's Twitter machine was still issuing 'good news' tweets – that were in all probability scheduled before Christmas – and this presented a confused view to say the least.
Immediately after Grayrigg, the last crash to have a passenger fatality, no one emerged to speak for the industry other than railway journalists with a grasp of the facts. That's a situation which still prevails today.
Many will remember seeing Richard Hope, who was often interviewed on TV and always presented a rational and balanced view as the industry provided no spokesman.
With the explosion of social media and greater public awareness of topical news, one would have thought there would be a 'rail industry spokesman' in place – perhaps like Edmund King of The AA, who speaks for the motorist.
It is a role the industry desperately needs and one that would suit, for example, a retired senior manager, someone well-versed in railway operation and practice as well as franchising, who could speak authoritatively with clarity, as well as presenting the facts.
Article continues below...
---
---
As it is, the myths and half-truths peddled about a great industry will now drift into folklore, and I suspect will be perpetuated by researchers in years to come.
Britain may run on rails, but please, can someone be found to stand up and fight the industry's corner in a proactive way?
Chris Milner – editor
Enjoy more of The Railway Magazine reading every month.
Click here
to subscribe.