By Keith Fender
THIS year's Fête de la Vapeur festival – the 10th to be held – was the biggest ever with steam locos visiting from England, Belgium, Germany and Switzerland, along with others from museum railways elsewhere in France. In total 15 different steam locos were at the event, which ran from Friday-Sunday, April 14-16.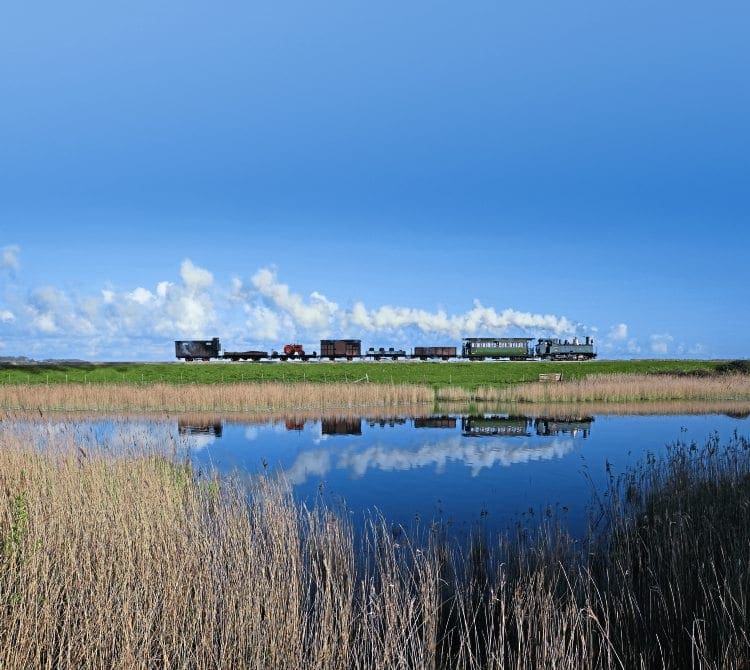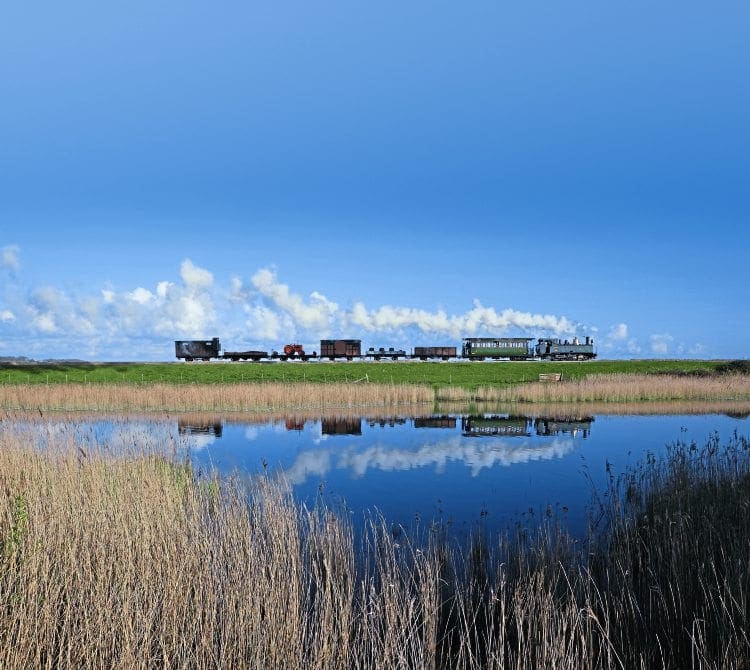 Fourteen of the locos were in steam, working or on display, on three different gauges of track.
In addition to six of the CFBS home fleet of metre gauge steam locos, three visiting steam locos were in use, including 1909 vintage 0-6-0T TIV 75 from French museum operation MTVS, with the others from much further afield.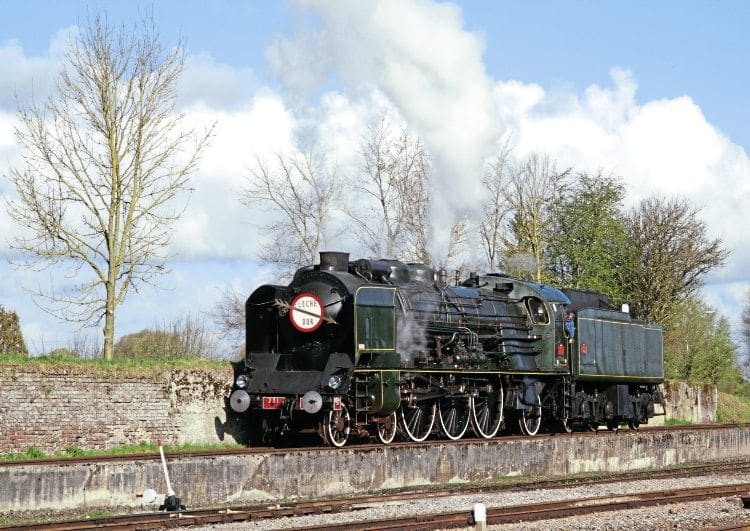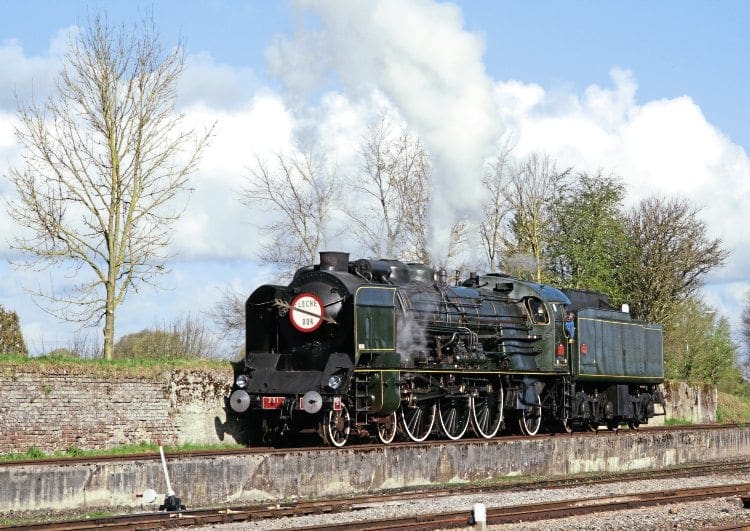 Germany's leading metre gauge steam railway – the Harz Mountain railway (HSB) – provided 1939 Krupp-built 2-6-2T No. 99 6001, which was physically bigger than all the other narrow gauge locos present, and rather more powerful too!
The Blonay to Chamby heritage line in western Switzerland sent its 1901-built 0-6-0T No. JS909.
At Cayeux a short section of 600mm gauge track had been laid down the main street, operated by Decauville-built 0-6-0T No. 5 (works number 1652); short 600mm lines were used, laid on the street here during the Second World War to transport gravel from the beach and building materials to the beach for construction of the Atlantic Wall fortifications.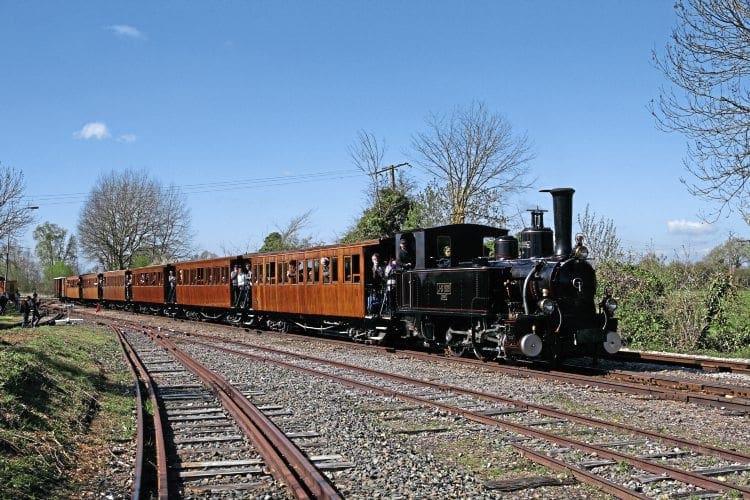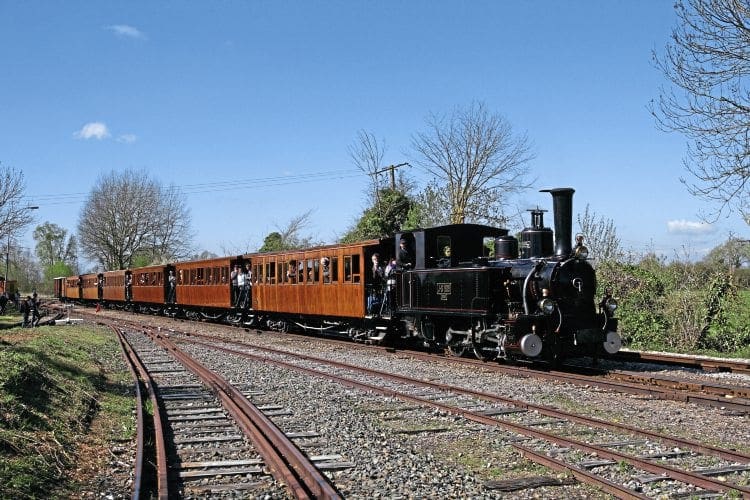 On standard gauge passenger services were operated by two trains – neither exactly typical for northern France.
The steam-operated train was operated in top-and-tail mode with ex-Norwegian State Railways 2-6-0 No. 376 (NoHAB 1163/1919) visiting from KESR in the UK on one end and British-built 0-4-0ST No. RS.16 Fred (Avonside, 1908/1925), which used to work in Buxton, but is now preserved in Belgium at the Eeklo to Maldegem line.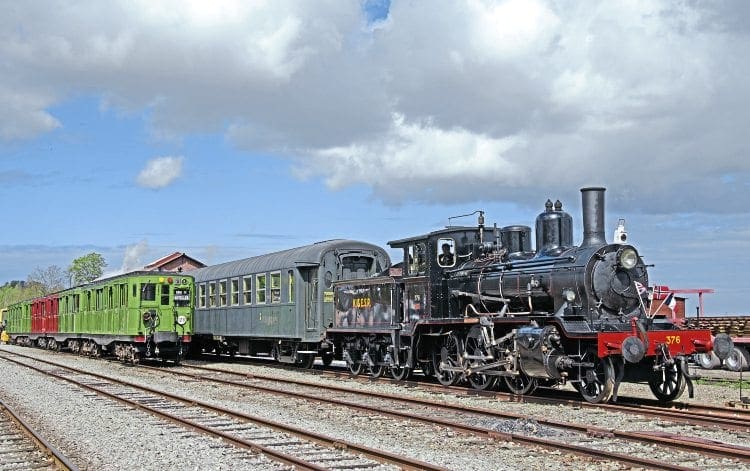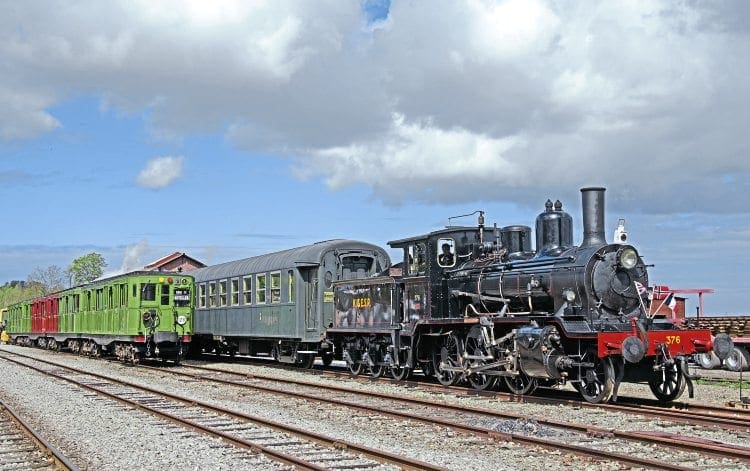 The other standard gauge train was a preserved four car 'Sprague' Paris Metro train, now fitted with a diesel engine in one car to provide power; this train is rarely seen in public as it is normally kept in secure storage in a military base at St-Cyr, near Versailles.
Several preserved diesel locomotives and multiple units were also in use over the weekend on both gauges, the highlight being ex-Belgian metre gauge 'Vicinal' diesel tram AR.86, dating from 1934, which ran shuttles in St Valéry, between Port and Ville stations.
SNCF put one of its modern X73500 DMUs on show at St Valéry Port, while on semi-static display at Noyelles were two main line steam locos: CF du Nord 4-6-0 No. 230 'D' 9, from the French NRM at Mulhouse, and SNCF Pacific No. 231 'K' 8.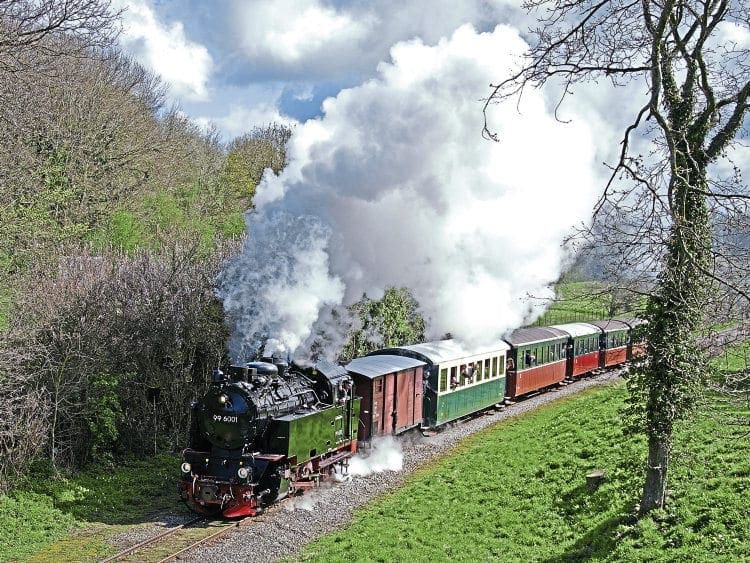 The 'K' was permitted to work light engine in steam, while the 'D' remained stationary during the weekend.
Two special trains from elsewhere in France visited the festival – the Saturday one from Rouen was steam hauled (by SNCF 2-8-2T No. 141TB424), but suffered from serious delays, due in part to poor quality coal; the Sunday one from Reims was a preserved ex-SNCF DMU.
Article continues below...
---
---
Thousands of visitors, many from France, the UK and all over Europe were at the event, which had mixed weather for the Saturday followed by brilliant sunshine on the Sunday.
More than 70 passenger trains ran over the weekend.
The three day pass was only €25 – a single day cost €18.
The CFBS produced a detailed timetable – the Guide du Spotter – which cost €3, showing exactly which locos would operate, including timetable graphs and tables showing all the light engine movements, too.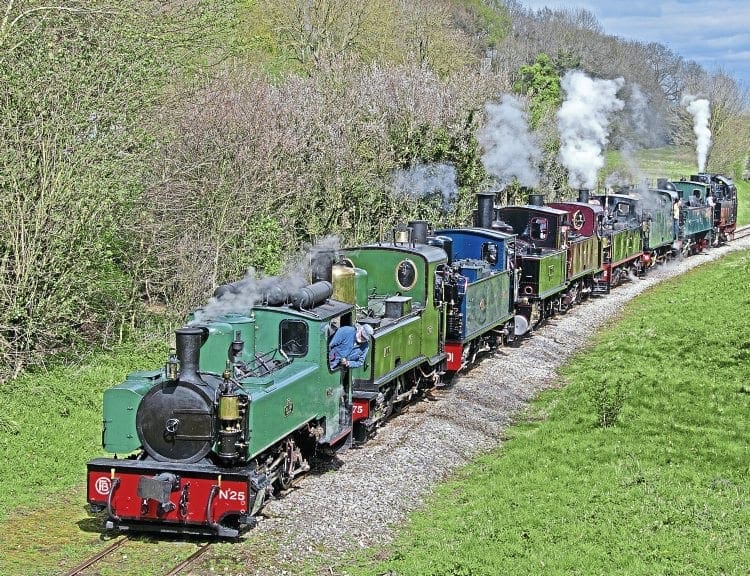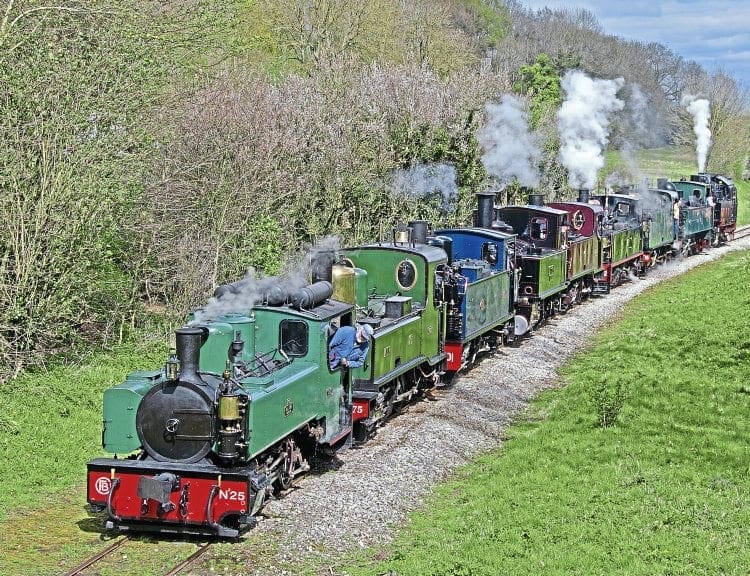 A unique feature of the Baie de Somme festivals is the operation of trains on the Friday just for photographers.
The date of next festival is not yet confirmed, but is likely to be in three years – April 2019.
THE RICH HISTORY OF THE CHEMIN DE FER DE LA BAIE DE SOMME
JUST 90km from the Sussex coast at Hastings is the French town of Saint-Valéry-sur Somme.
It was briefly famous in 1066 (and ever since in France) as the place that Duke William of Normandy left to sail to England, where, after defeating the English armies, he soon became King William I.
St Valéry, at the mouth of the River Somme, is nowadays a quiet seaside town which is also the base of one of France's (and Europe's) leading heritage railways.
The metre gauge railways in the area opened in 1887 operated by Société générale des chemins de fer économiques (SE), which had a 99-year concession.
The 23km-long system was formed of two branches towards the coast from Noyelles, north to Le Crotoy and via St Valéry, and south to Cayeux.
The route between Noyelles (on the main line from Boulogne to Paris) and St Valéry had opened earlier as a standard gauge branch in June 1858, built by the mainline Chemins de Fer du Nord company.
It was later converted to dual 1000/1435mm gauge in 1887, and unusually remains so today, enabling trains of both gauges to use this section of the line.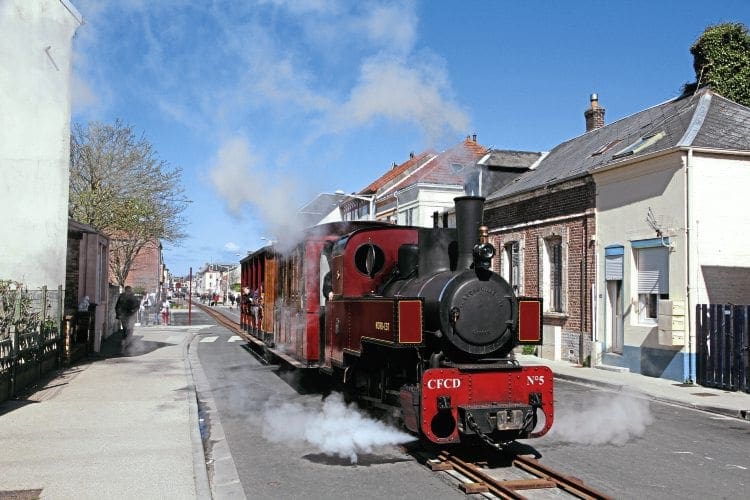 The original network of 1000mm gauge lines included now-closed routes further inland from Noyelles.
Apart from conveying local passengers the railways carried large numbers of holidaymakers to the Channel coast resorts in Cayeux and Le Crotoy, plus freight – especially gravel extracted from local beaches and agricultural products.
German occupation
During the First World War, St Valéry became an important port for supplies from the UK to the British armies on the Western Front (which at its closest was less than 80km away).
During the German occupation in the Second World War the 1000mm gauge network was expanded to enable material to be transported to build concrete fortifications as part of the Atlantic Wall defensive system.
Like many narrow gauge railways in the UK and Europe traffic declined in the 1950s and 60s as road competition from cars and buses took passengers, although some freight remained.
In 1960 operation switched from the original concessionaire to French secondary operator CFTA, and closure to passengers followed between 1969 and 1972.
SNCF, as successor to CF du Nord, operated freight on the standard gauge section until 1989; it sold the line it owned to the regional government in 1992.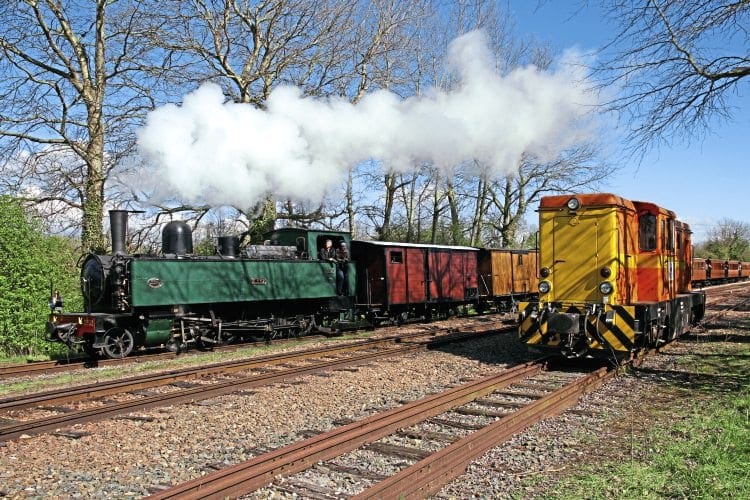 French enthusiasts had started heritage operations before the lines finally closed, operating summer trains on the branch to Le Crotoy from 1971.
Like so many UK heritage railways the new Chemin de Fer de la Baie de Somme (CFBS) experienced years of hard work and the occasional set-back, but by the early 1990s the railway was clearly established as a tourist attraction, and in a country with few steam railways it had developed a reputation as one of the best, with active preservation and restoration of a growing number of steam locos.
In 1992 CFBS held its first steam festival, in 1996 it announced a twinning partnership with UK-based KESR, and this year celebrated the 20th anniversary of this twinning, which has seen several KESR locos cross the Channel to operate on the standard gauge line to St Valéry.
The Railway Magazine Archive
Access to The Railway Magazine digital archive online, on your computer, tablet, and smartphone. The archive is now complete – with 120 years of back issues available, that's 140,000 pages of your favourite rail news magazine.
The archive is available to subscribers of The Railway Magazine, and can be purchased as an add-on for just £24 per year. Existing subscribers should click the Add Archive button above, or call 01507 529529 – you will need your subscription details to hand. Follow @railwayarchive on Twitter.
Enjoy more of The Railway Magazine reading every month.
Click here
to subscribe.