Following on from the recent analysis of steam in its final days on the former LSW main line from Waterloo, KEITH FARR puts different types of modern traction under the spotlight.
WHEN 'Merchant Navy' Pacific No. 35030 Elder Dempster Lines came to a stand at Waterloo with the last regular steam working from Weymouth on July 9, 1967, the main line to Bournemouth had already been electrified. For the third rail from Pirbright Junction to Bournemouth (Branksome) had 'gone live' in March 1967, just two-and-a-half years after authorisation.
Electrically powered trains were thus able to supplement steam and diesel workings for the last few months before the enhanced timetable started that summer.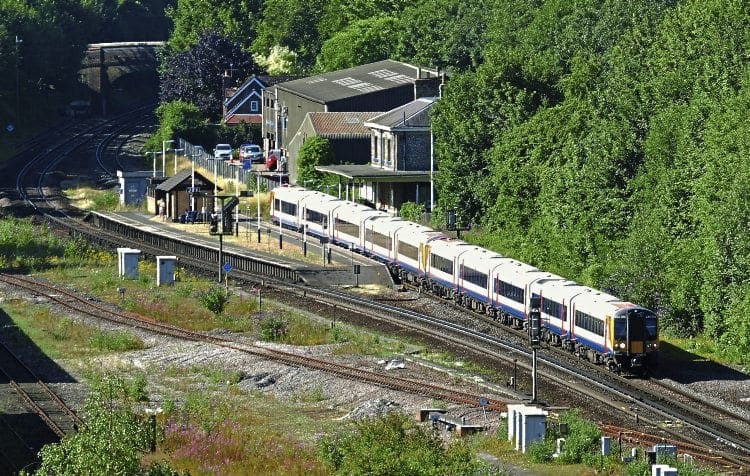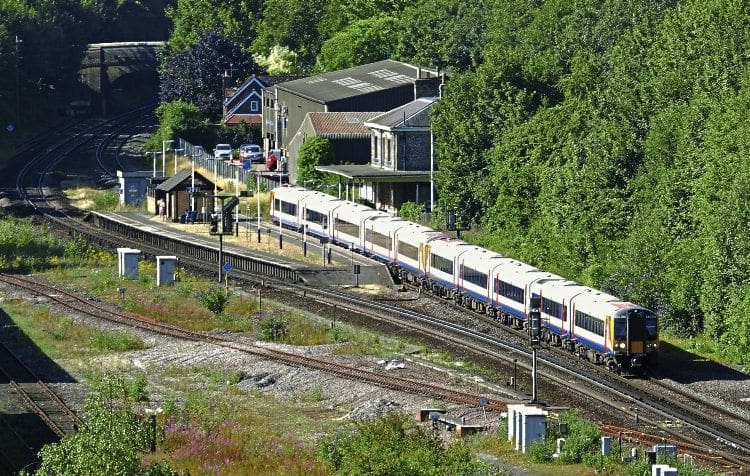 Travelling one Saturday from Basingstoke to Southampton, I found the 13.30 from Waterloo comprising three four-coach trailer sets (TCs), intended to work with the forthcoming high-powered 4-REP EMUs, but on this occasion propelled by a single 1,600hp Class 73 electro-diesel loco; another time, the 12.35pm Saturday train had a pair of TCs hauled by one of the intrinsically Southern 'Crompton'
Type 3 diesels.
Late delivery of the REPs caused substitutions of this sort to continue after the inauguration of the new timetable, which took some time to settle down. And, when it did, it relied on a robust, simple operation.
Off-peak, fast Weymouth trains left Waterloo every hour, half of them calling only at Southampton before Bournemouth. To this point, they normally comprised two 4-TC sets propelled by a four-coach 3,200hp REP unit, making 12 vehicles in all. At Bournemouth, the 4-REP would be detached, usually with one TC set, while a 'Crompton' 1,550hp Class 33/1 diesel, fitted with push-pull apparatus, backed on to the leading TC set and hauled it to Weymouth.
Another 33/1 would then arrive, propelling a 4-TC from Weymouth on to the rear of a waiting REP/4-TC formation, making a 12-coach train for Waterloo. In the summer, both TC sets would often be worked through to and from Weymouth.
Article continues below...
Advert
Apart from their cabs, REPs and TCs were barely distinguishable in appearance from BR Mk1 loco-hauled stock, from which most of the REP centre trailers and the TCs had been converted. While Southern steam had been restricted to 85mph, the REP/TCs were passed for 90, but, like their predecessors, they occasionally exceeded the official maximum.
Initially, Weymouth fast trains (headcode 91) covered the 79.2 miles from Waterloo to Southampton in 70min non-stop, reaching Bournemouth in 100 minutes. These were supplemented by hourly semi-fasts (92) to and from Weymouth and Bournemouth alternately, while third in the pecking order were hourly Waterloo to Bournemouth (headcode 93) stopping services, worked by outer-suburban 4-VEPs and, initially, 2-HAPs.
Regrettably, perhaps, trains no longer run nonstop to Southampton in 70min, but the current best time, with two stops, is only one minute longer and serves the influential commuters of Winchester and users of Southampton Airport. Off-peak, stops have also been inserted at Brockenhurst and Woking, and Weymouth has two through trains from Waterloo every hour.
Article continues below...
Advert
Read more in the December issue of The RM – on sale now!
Enjoy more of The Railway Magazine reading every month.
Click here
to subscribe.