Headline News
Thameslink 24tph timetable delayed until December 2018, Ordsall Chord completed, Autumn Budget promises more money for railways in English regions, five shortlisted for HS2 train contract, Diesel Brake Tender launched, SNCF 'Orient-Express' visits London, Final 'Electrostar' set completed at Litchurch Lane.
Track Record The Railway Magazine's monthly news digest
Steam & Heritage
Clun Castle steams again at Tyseley, NYMR launches £2.5m 'future proofing' appeal, Hosking's 'Black Five' returns to the main line, Swanage launches 'T3' restoration appeal, ELR bids to buy City of Wells,
'B1' No. 61264 booked for SVR gala.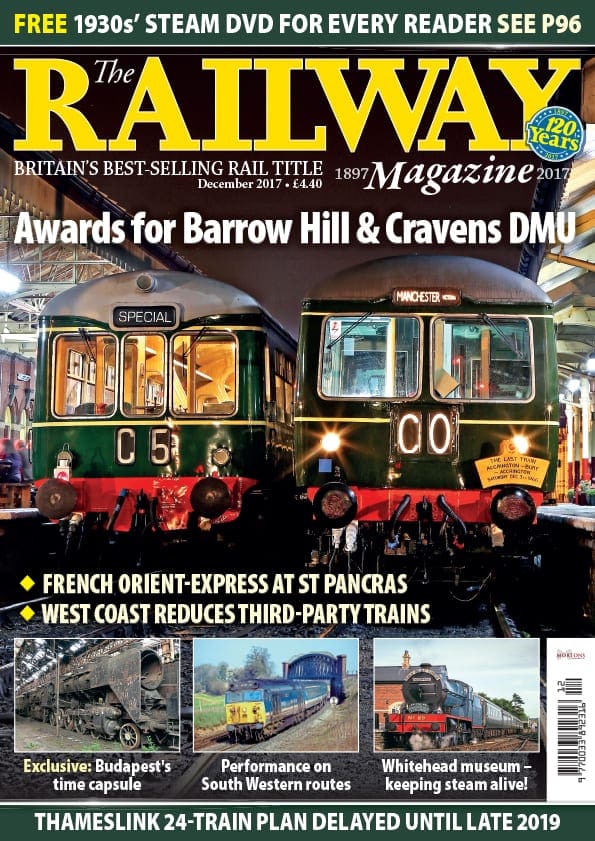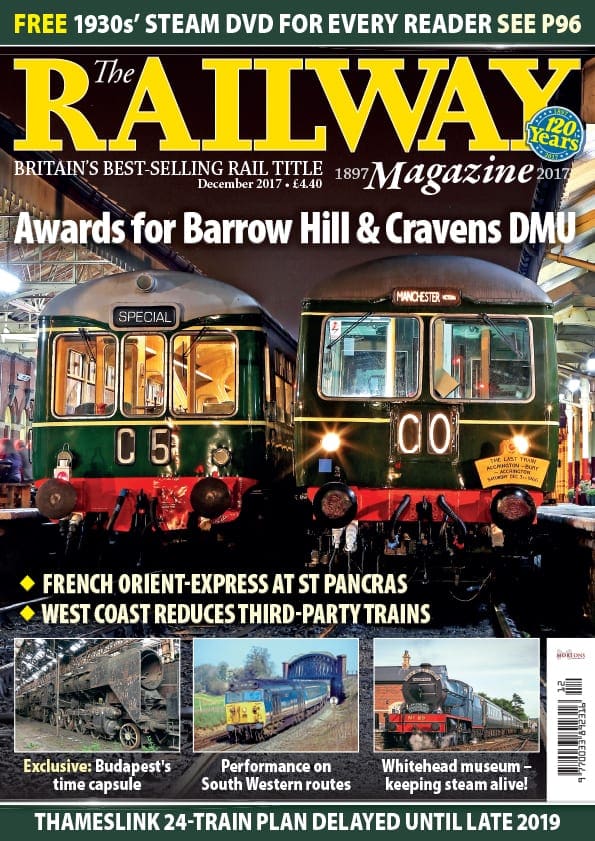 Steam Portfolio
Narrow Gauge
Irish
Network
Network Rail seeks to reduce bridge strikes, new vision for Coventry station, Abbey Wood rebuild complete, London's surface railways to be covered by housing developments?
Classic Traction
Metro
Heritage Trams
Railtours
Railtours Portfolio
World
Traction & Stock
Article continues below...
---
---
BARS puts loco fleet up for sale, Class 385 interiors revealed, GWR adds more Class 800 diagrams, Grand Central HSTs to finish at end of December, £50m refresh for SWR 'Desiros'.
Traction Portfolio
Stock Update
Operations
Freight
Regulars
Multiple Aspects
With Lord Berkeley.
Railways in Parliament
Subscription Offer
Subscribe today to receive your monthly copies of
The Railway Magazine from only £20.
Readers' Platform
Christmas Gift Guide
Panorama
Our monthly gallery of the best railway photography.
From The RM Archives
Find out what The RM was reporting 20, 50 and 100 years ago.
Meetings
Heritage Diary
Details of when Britain's unique collection of heritage railways and railway museums are open.
Christmas Crossword
Features
Successors to South Western Steam
Keith Farr assesses the performance of post-steam traction on former London & South Western lines, from 'Warships' to Class 50s, 4-REPs, and modern Siemens electric units.
Keeping the Steam Alive
As the Railway Preservation Society of Ireland's new visitor centre opens at Whitehead, near Belfast, Gary Boyd-Hope visits to discover how the organisation is maintaining and promoting Ireland's unique railway heritage.
Christmas Ghost Story
Bob Lumb has penned The RM's traditional annual ghost story, featuring a mysterious tale from the Settle-Carlisle Line's legendary Blea Moor tunnel.
Closing the Gender Gap – 2
The second part of Nicola Fox's study focuses on women who have succeeded at the top level of rail industry management.
Hungary's Hidden Time Capsule
Ben Jones gets a rare opportunity to visit a remarkable collection of historic locomotives and rolling stock, stored out of public view in Hungary's capital city.
Three Million Passengers and Counting
Cliff Thomas profiles the Llanberis Lake Railway in North Wales, its origins in the local slate industry, and its development since opening in 1971.
Cruelty of Assumption
A rare passenger's account of the horrific Lewisham accident adds a human dimension to Fraser Pithie's summary of the tragic events on that foggy day in December 1957.
On the cover
COVER: Two beautifully restored BR diesel railcars re-create a scene from 50 years ago at the East Lancashire Railway on November 3. The recently completed Cravens set (right in photo) is to receive the Rail Express prize in February's Heritage Railway Association awards. TOM McATEE
The January 2018 issue of The RM is on sale Janaury 3, 2018 – order your copy now!
Enjoy more of The Railway Magazine reading every month.
Click here
to subscribe.