Headline News
Bombardier and CAF to build new West Midlands trains, GWR Class 800 debut, HS2 could force closure of Toton depot, £48bn funding for Network Rail CP6, Siemens and Alstom to merge, RM Class 50 special hits 100mph, Community Rail founder wins lifetime achievement award.
Track Record
Steam & Heritage
Blue 'King' for Paignton? Llangollen GWR 2-8-0 sold, 'CanPac' re-wheeled, gala success for West Somerset and Great Central, A1 Trust eyes ex-SDR depot building.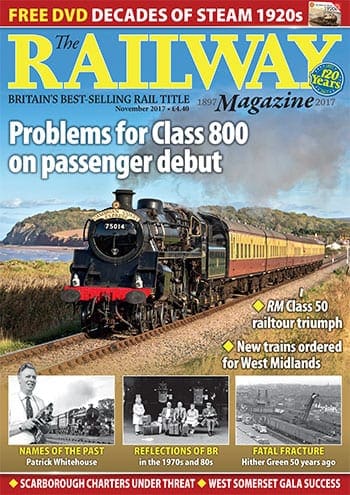 Industrial Steam
Steam Portfolio
Narrow Gauge
Miniature
Network
ECML power supply upgraded for new trains, Forres station relocated, further blockades on Gospel Oak-Barking to complete electrification work.
Classic Traction
Irish News
Metro
Railtours
Freight
World
Article continues below...
---
---
Traction & Stock
Hitachi rolls out first British-built Class 385s for ScotRail, Class 20s on RHTT, more Class 707s delivered, extra Class 221 formed from spare VT/XC vehicles.
Stock Update
Traction Portfolio
Operations
Regulars
Multiple Aspects
With Lord Berkeley.
Railways in Parliament
Readers' Platform
Subscription Offer
Subscribe today to receive your monthly copies of The Railway Magazine from only £20.
Meetings
Christmas Gift Guide
Panorama
Our monthly gallery of the best railway photography.
From The RM Archives
Find out what The RM was reporting 20, 50 and 100 years ago.
Heritage Diary
Details of when Britain's unique collection of heritage railways and railway museums are open.
Prize Crossword and Where Is It?
Features
Fatal Fracture
Fraser Pithie looks back at the Hither Green derailment of November 5, 1967 and the maintenance failures that led to the death of 49 passengers.
Practice & Performance: West Coast Class 50s
John Heaton shares his timing logs from October's 'Caledonian' railtour to Glasgow, and compares them with a selection of historical runs.
Railway Lives: P B Whitehouse
In the latest of his short biographies of well-known railway authors, Robert Humm tells the story of a famous photographer and preservation pioneer.
Completing the Set
An update on the Great Western Society's project to build a replica Hawksworth 'County', and how you can help to complete the family of GWR 4-6-0s.
Reflections of BR
A selection of wonderfully atmospheric and evocative scenes from northern England in the 1970s, captured by the camera of Andy Sparks.
On the cover
COVER: BR 'Standard 4' No. 75014 approaches Blue Anchor on the West Somerset Railway during a rare venture away from its Dartmouth Steam Railway home. DON BISHOP
INSET: Railway Lives: P B Whitehouse.
INSET: Evocative views of 1970s BR.
INSET: Recalling the Hither Green disaster of 1967.
December 2017 issue on sale Wednesday, December 6.
Enjoy more of The Railway Magazine reading every month.
Click here
to subscribe.