The first sod for the Amerton Railway was cut in 1990 in a field alongside a farm east of Stafford. The land it ran on was bought in 2012 by the Staffordshire Narrow Gauge Railway Society, whose members embarked on a number of improvements, as Mark Smithers discovers.
FORMED in 1987, the objectives of the Staffordshire Narrow Gauge Railway Society (SNGRS) were twofold. Namely to restore the former Cliffe Hill Granite Co Bagnall 2ft-gauge 0-4-0ST Isabel (1491 of 1897) to working order – it had latterly been mounted on a plinth in Stafford's Victoria Park – and to construct a suitable railway within the Borough of Stafford upon which the locomotive could operate.
In pursuance of the latter objective, agreement was eventually reached with Amerton Farm, at Stowe-by-Chartley. The first sod was cut on May 26, 1990 by the Mayor of Stafford, and construction began in earnest during the following month. Work was mainly undertaken on Sundays with permanent way having to be sourced from diverse providers, but by Easter 1992 a quarter-mile of track had been laid, along with a three-road 60ft x 30ft shed for Isabel (equipped with stove and workbench), new pointwork (along with a ground frame) and various foot and occupation crossings over the line.
The line had been passed for passenger operation and carried its first revenue-earning train, hauled by Isabel and one carriage, between Amerton station and Top Loop, on July 19, 1992. The official opening took place on March 27 during the following year in the presence of the lady mayor and members of Stafford Council.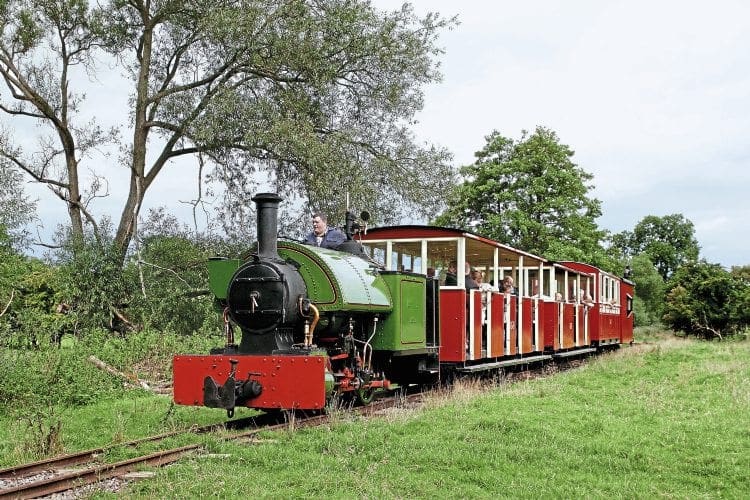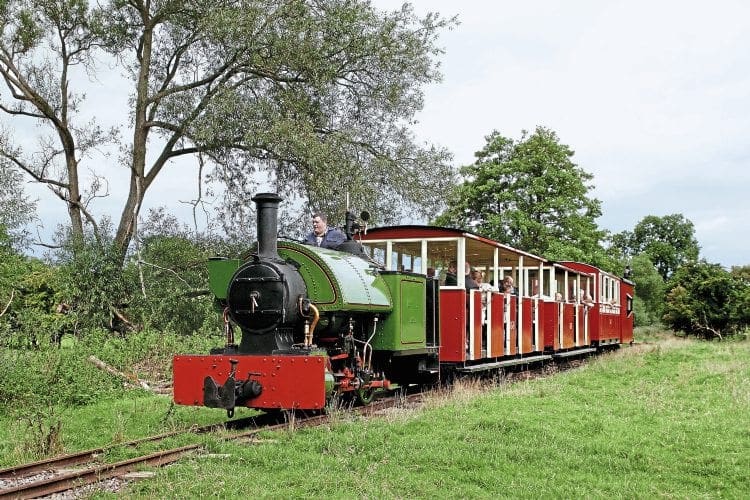 Even during the first season of 'official' public operation, thoughts were turning to extending the running line and to this end a bridge (now bridge No. 1) was constructed over Amerton Brook, but work on the new section of railway was shortly afterwards suspended.
More assets
During the mid-90s, attention was focused on the acquisition of more assets, ranging from locomotives and rolling stock, period lighting facilities for Amerton station (including a Stafford Borough Council gas lamp), an 1880's vintage McKenzie & Holland signal, and the old GNR Chartley station building. This was restored with assistance from members of the Staffordshire Industrial Archaeological Society and currently sits in a 'skew' position relative to Amerton station and the main running line, housing small museum exhibits.
In 1997 there was an upturn in fortunes for the railway with greater security of site tenure in the form of a long-term lease (owing to change of ownership of the farm), and the staging of the highly successful Isabel 100 gala. The impetus was thus provided for revival of the scheme to extend the railway, with a new continuous route being surveyed, built on traditional 'industrial narrow gauge' principles following the contours of the land with as few earthworks as possible.
By the end of the year, work on the construction of bridge No. 2 was under way. Over the next two years or so, further permanent way materials, signalling equipment, brick hardcore (for the line's foundations) and ballast were sourced, construction work continued, and the extended railway (from Top Loop to Chartley Loop) opened on March 26, 2000, with the entire new running line coming into public use in time for the 'Santa Specials' of 2001.
Today, the facilities at Amerton station are extensive. The booking office is built in the style of a Rye & Camber Tramway station building. The carriage shed is 100ft long and can house the three carriages normally in use (Nos. 1, 2 and 5) along with brakevan No. 4. The original shed no longer has to 'double' as the workshop as a construction of a new workshop started in 2006. This building is now in use, a 2,000sq ft steel-framed building equipped with a road-access loading bay, three-phase power with 110V and 240V outputs, compressed air, storage racking and a machine shop, which includes a radial arm drill, two lathes and vertical and horizontal milling machines. There is also an outdoor inspection pit, four feet deep with ramp access and surrounding handrails.
Pièce de résistance
The architectural pièce de résistance for narrow gauge fans arrived in August 2001 in the form of the original North Staffordshire Railway signalbox from Waterhouses, one-time terminus of the Leek & Manifold Valley Light Railway. This now stands next to the original station loop road and the ground frame, which it will one day accommodate. Current signalling practice is two-section token operation, with the handover point being Chartley Loop. When a single train is operating, clockwise running is the normal order of the day, but the token system allows for two-train operation, with trains running in opposite directions on gala days and other special occasions when demonstration freight trains may also operate.
Running in a clockwise direction from Amerton station, a train passes the access loop (currently serving as a headshunt until the required turnout is installed) to the workshops and sheds, climbing at 1-in-100 over two original farm crossings and then onto a left-hand curve, where the gradient increases to 1-in-75.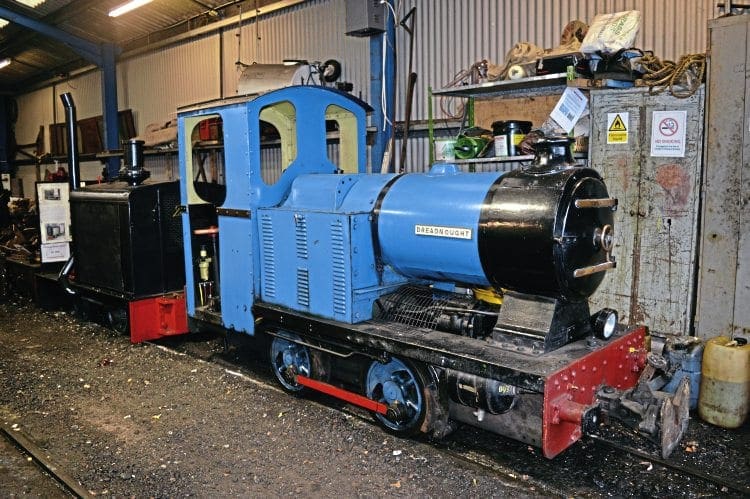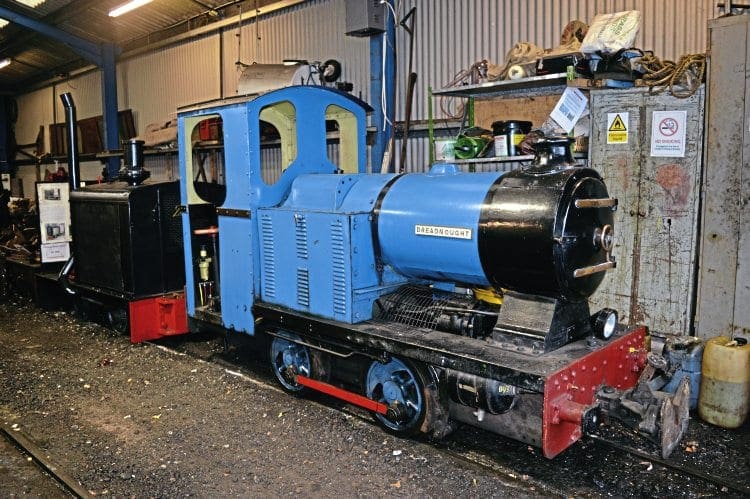 Following this, there is a right-hand curve over the third crossing, and soon the summit of the line is reached before a gentle drop towards the newly-reinstated Top Loop. The main running line then takes left-hand road and continues initially on a straight course over a culvert and skirting a small area of wetland before taking a steeply inclined 'wiggly' route immediately prior to entering the sharp right-hand curve into Chartley Road station.
It then currently continues around the curve into Chartley Road Loop.
Skirting wetland
Article continues below...
---
---
Upon leaving this loop, the line follows the course of Amerton Brook closely, initially along Brook Straight before curving right to pass an occupation crossing and footpath skirting the wetland. It then emerges from the trees to take a left-hand bend and cross the brook on bridge No. 2. Soon afterwards, another farm crossing is passed before a short climb and a descent at 1-in-35 across the brook on bridge No. 1 before taking a final right hand curve (passing the access siding for road transit vehicles) into Amerton station once more.
The part played by the Bagnall 'Bullhead' 0-4-0ST Isabel in the genesis of the Amerton Railway has already been noted and it only remains to give more details of the design and history of this locomotive. The 'Bullhead' (enlarged wrapper pitched below boiler centreline, cylindrical firebox) boiler was introduced into Bagnall's product policy with locomotive (works No. 1416 of 1893), shortly after the arrival of designer E E Baguley from Hawthorn Leslie. Despite earlier assertions that he probably arrived at this design of boiler through the Hawthorn Leslie's marine connections, its closest ancestor appears to be the 'Britannia' firebox, employed by Marshalls of Gainsborough in portable stationary engines, and this may in turn have been copied from a German 'portable' design, as evidenced by at least one surviving example.
Be that as it may, Isabel was supplied from Bagnall's Castle Engine Works on February 9, 1897 to the Cliffe Hill Granite Co of Markfield, Leicestershire. Here, the engine worked alongside other Bagnall products, initially working on the system's 'main line' before being displaced by larger Bagnall 0-4-2Ts, and transferred to shunting work until taken out of service shortly after the end of the Second World War.
Restoration work
During its pre-preservation career, the engine carried no less than four boilers, two of which had conventional fireboxes. It owes its survival to the fact that by March 1952 W G Bagnall Ltd wanted a suitable early locomotive for display at the Castle Engine Works and acquired Isabel for this purpose, with restoration being undertaken by apprentices during the following year.
With the cessation of locomotive production in Stafford, Isabel was moved to Victoria Park (opposite Stafford Station) in 1963, remaining on display there for two decades, with the only major intervening event being further cosmetic work in the Castle Engine Works (the last locomotive to receive attention there) in time for the Queen's Silver Jubilee of 1977.
By the 1980s, the engine was in a sorry state with much of its platework badly corroded and the chimney having collapsed. Following an agreement between the council and SNGRS, Isabel was restored to working order over a three-year period at a council depot in Stafford. The work included renewal of the chimney, saddle tank (to original riveted pattern) and other platework, together with major boiler repairs and the fitting of a Westinghouse brake for working passenger trains.
Isabel arrived at Amerton on October 26, 1991 and has proved to be the railway's flagship locomotive ever since, playing host during its centenary gala weekend (May 17-18, 1997) to five other 'Bullhead' Bagnalls: Peter, Woto, Pixie, Sea Lion, and Armistice. From 1998 onwards, further restoration work has been carried out on the locomotive including further boiler repairs; improvements to the Baguley valve gear; white-metalling all motion bearings; re-shimming the axleboxes; re-boring the cylinders; renewing the pistons and piston rings, and re-aligning the slide bars. At the end of 2009, Isabel was repainted in the appropriate Bagnall lined green livery.
Quarry career
Isabel is not the only Bagnall 'Bullhead' 0-4-0ST locomotive currently to be found on the Amerton Railway. Unlike Isabel, which is a '7in x 12in' unit, No. 1 is a '6in x 9in', 3ft-gauge Mercedes class locomotive (works No. 1889) delivered in 1911 for use at Judkins' quarry, near Nuneaton. Following Baguley's departure in 1901, Bagnall was forced to come up with another design of valve gear for its 'Bullhead' saddle tanks (and others) and hence No. 1 follows the lead set by No. 1730 of 1904 in utilising Bagnall-Price valve gear. Following the closure of the quarry in the early 1950s and a period of storage, No. 1 was bought by M E Engineering Ltd in 1956 and re-sold to British Railways for use at Beeston Sleeper Depot. Sold into preservation in 1962, No. 1 was stored in the open at various locations before being bought as a 'kit of parts' by the Amerton Railway in 2008.
No. 1 was bought with a view to re-gauging to 2ft gauge, but the difficulty is that this would entail a great deal of modification to the chassis, particularly the frame stretchers, in conjunction with replacement of the axles and the remodelling of the distinctive design of smokebox saddle with external steam pipes (the component itself will have to be renewed owing to cracks in the casting), as has had to be undertaken with Woto and Sir Tom.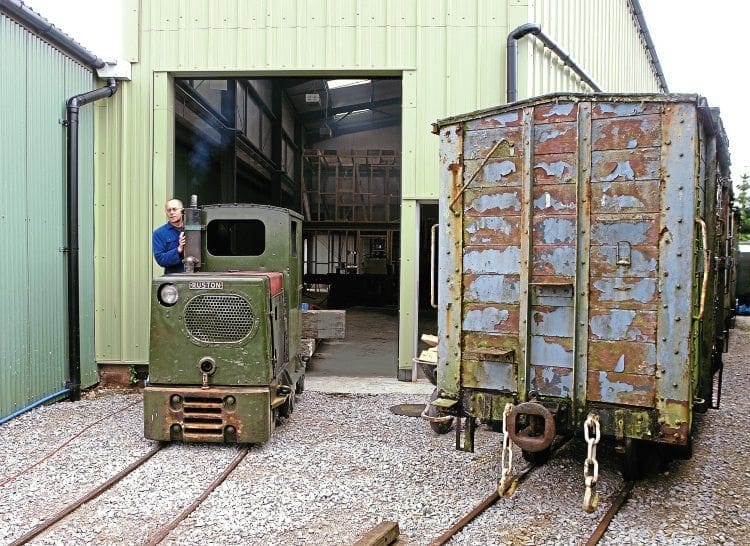 Given that the engine is, so far as is known, unique (at least in the UK), such alteration would be controversial, particularly as it was one of the relatively few narrow gauge steam locomotives employed by British Railways. Fortunately, any major restoration work on No. 1 is likely to be at least a decade away, giving plenty of time for consideration of the issues involved, but the engine is now at least, thankfully, under cover.
The Kerr, Stuart school of narrow gauge steam locomotive design is also represented at Amerton, although Jennie – one of its two resident 'New Type' 'Wren' class 0-4-0STs – was not built until the present century, being Hunslet (Statfold Barn) No. 3905 of 2008. Bought shortly after construction by a member of the railway, No. 3905 (which was originally named Howard) has since seen much use on Sunday passenger services, being well able to handle the four-vehicle trains, while maintaining good economy of coal and water.
On February 28, 2003, Kerr, Stuart-built class member Lorna Doone arrived on long-term loan from Birmingham Science Museum, and with permission for restoration to working order, obtained in 2009. This work started during the following year and is well advanced, with Lorna Doone scheduled to return to service at some point during 2016. Having spent more than three decades in the ownership of Devon County Council, it will be repainted in the appropriate lined green livery.
Overseas locos
The Amerton Railway's only representative steam locomotive from overseas is standard German Army 'Feldbahn' 0-8-0T DFB 526 (Henschel & Son, No. 14019 of 1916). It is a member of a class of locomotives built by 14 manufacturers and which once numbered 2,473 members.
The design evolved from a group of Klien-Lindner 0-8-0T classes built by Krauss, Jung and Orenstein & Koppel for the German military railways in colonial South West Africa (now Namibia) during the Edwardian period. After the Armistice of 1918, DFB 526 found its way to Mozambique, becoming Sena Sugar Estates No. 3 and was still at work in 1981, being imported into England in 1998 and arriving at Amerton on December 21, 1999. Restoration work is now well under way, with many components still being off-site, although the frames and parts of the Klien-Lindner
sleeved-axle 'flexible wheelbase' mechanism are currently in the workshop.
From the point of view of internal combustion locomotives, the English and German design schools are both represented at Amerton, with the best-restored example of the latter being Deutz (works No. 19531 of 1937), a 12hp two-stroke 'OME 117F' class 0-4-0 that worked at a sugar mill in Coucy-le-Château, northern France, before being imported in 1971. It is now in the ownership of Peter and Stephen Bell, and has been at Amerton since October 2009, with extensive restoration to working order undertaken. The design is noteworthy in that one example was constructed under licence by Bagnall (W/N 2506 of 1934) for the Budla Beta Tea Co of Assam, under a pre-Second World War agreement.
'Steam outline'
Among the British internal combustion units on site are two products of E E Baguley of Burton-on-Trent. These 'steam outline' vehicles owed their design to the fact that a group of petrol-driven locomotives, built by two precursor companies, employed a large horizontally mounted cylindrical cooling water tank that could easily be made to look like the boiler of a steam locomotive.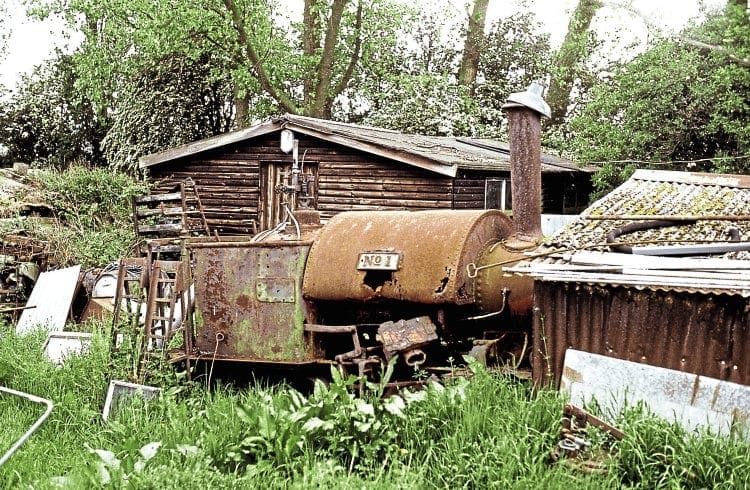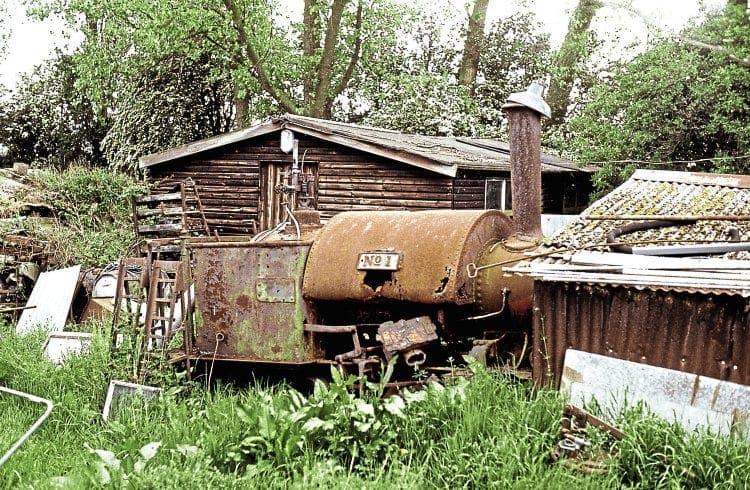 The earliest domestic example of these locomotives, and the only one to retain its original petrol engine (albeit a far-from-ideal 16hp design), is No. 1695 of 1928, originally constructed for Lilleshall Abbey Woodland Railway in Shropshire, but now preserved (after a sojourn at Cadeby Rectory) by Moseley Railway Trust.
The older of the two Amerton locomotives, Golspie, (Baguley No. 2085) was delivered to Trentham Gardens, Staffordshire, in 1935, being one of three Baguley locomotives on the mile-long system there. Golspie lost its original Baguley petrol engine in favour of a Perkins 4.270 diesel of about 60hp (along with being fitted with a new three-speed gearbox) in 1961, and was eventually renamed The Trentham Express before being transferred to Alton Towers, where it was simply stored in the open and never used. It came to Amerton on May 9, 2000, and is currently under restoration. The newer Baguley product is Dreadnought (No. 3024), ordered by R J Lakin of Streatham and delivered in 1939 to Wilson's Pleasure Railway, Allhallows in Kent. Unlike Golspie, Dreadnought's leading coupled axle is driven directly via chains from the gearbox, there being no intermediate jackshaft drive.
In around 1946, Dreadnought was sold to the New Walton Pier Company, Walton-on-the-Naze, Essex and in 1952 its original Ford 24hp petrol engine was replaced by a Lister 24hp FR2, with this in turn being replaced in 1972 by a Lister 18hp SR3, fitted by a garage in Clacton.
After the loss of the pier railway to storm damage in 1978 and two further changes of ownership, Dreadnought finally arrived at Amerton on September 13, 1991. It has been restored to an approximation of its original external appearance, re-entering service in 2000, and has remained in occasional use, particularly on Saturday passenger workings, ever since.
Passenger vehicles
The normal rake of passenger vehicles currently in use consists of three bogie carriages and a four-wheel brakevan. The latter vehicle (No. 4) was constructed entirely by members of the Amerton Railway and entered service in 1994. Coaches 1 & 2 came from Hewitt's Farm, Orpington, Kent with Dreadnought in 1991 and are of Baguley parentage, having apparently stayed with the locomotive throughout their careers.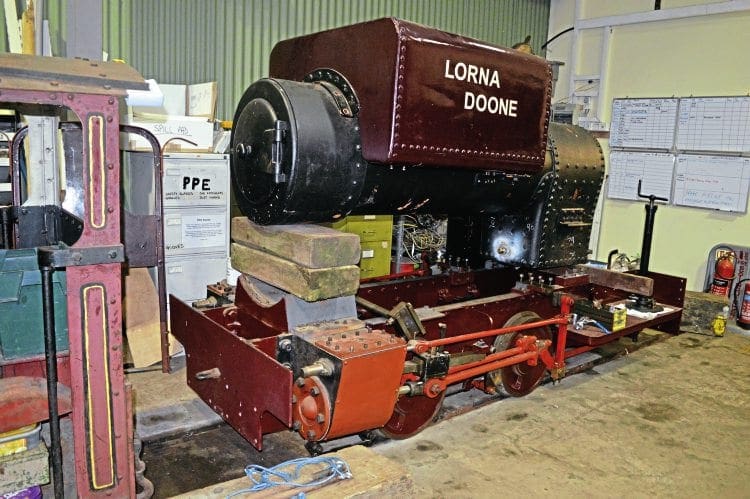 Both were originally fitted with tram-pattern 'reversible' seating but this is now welded up. Their bodies are timber framed, part clad in steel with laminated glass windows in traditional frames. Both are fitted with hand and air brakes: No. 1 (18ft over headstocks) has a
battery-powered air compressor, while No. 2 (16ft long over headstocks and fitted with all-wooden seating and central handbrake position) does not have this latter fitting.
Coach No. 5 was bought from the Welsh Highland Heritage Railway in 1998 and is based on the frames of an ex-RAF Fauld Hudson wagon. This coach has been adapted to suit the needs of less able passengers and entered service at Amerton in June 2002, after being fitted with air brakes only. All of the coaches have received new wheelsets and bearings and are fitted with Allens patent couplings, a variant on the 'chopper' theme.
A third Baguley carriage was acquired with Dreadnought: this was another 16ft vehicle, whose frame has been extended to 18ft 5in long and 5ft wide, and fitted with a new balcony superstructure based on Kerr, Stuart practice. It will be fitted with an air brake only and be No. 3 in the rolling stock series.
Non-passenger rolling stock at Amerton has been obtained from a variety of sources, ranging from acquisitions from other heritage railway venues, such as the Ffestiniog and Llanberis Lake Railways, various collieries and the Ministry of Defence. The individual items range from mine tubs and timber yard trolleys through to ex-RAF and RNAD covered vans. One item of particular note is a ballast hopper wagon constructed on site. This entered service in mid-2013 and has proved to be particularly useful during the recent track replacement programme at Top Loop.
All in all, the Amerton Railway is a popular local attraction (especially with younger patrons), a situation enhanced by the maintenance of a good working relationship with the neighbouring farm (which assists greatly in providing the necessary footfall) and by the fact that with the aid of a mortgage, long-term security has been facilitated with the acquisition by the railway of the land that it stands on.
For a railway largely reliant upon Wednesday and Sunday labour for its upkeep, much has already been achieved and it is only to be hoped that the best is yet to come.  ■
■ I would like to thank Derek Luker, John Strike, David Jones and other members of the Amerton Railway for their help and co-operation during the preparation of this feature.
The Railway Magazine Archive
Access to The Railway Magazine digital archive online, on your computer, tablet, and smartphone. The archive is now complete – with 120 years of back issues available, that's 140,000 pages of your favourite rail news magazine.
The archive is available to subscribers of The Railway Magazine, and can be purchased as an add-on for just £24 per year. Existing subscribers should click the Add Archive button above, or call 01507 529529 – you will need your subscription details to hand. Follow @railwayarchive on Twitter.
Enjoy more of The Railway Magazine reading every month.
Click here
to subscribe.