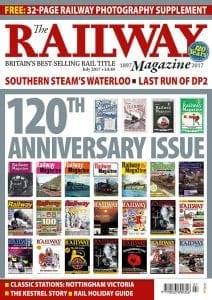 Headline News
Bombardier wins South Western EMU order, Gibb report on Southern crisis finally published, HM Queen christens GWR Class 800, Clun Castle back in one piece, Edinburgh to Glasgow electrification delayed again, West Coast and Southeastern franchise shortlists confirmed, Crossrail Class 345 into service.
Track Record
The Railway Magazine's monthly news digest
Steam & Heritage
LNWR pulls plug on contract work, 'P2' crank axle completed, £1m lottery windfall for NER 'J21', Tornado takes Bodmin by storm, Isle of Wight Ivatt tank steams again, Cornwall moves to Quainton Road.
Industrial Steam
Steam Portfolio
Narrow Gauge
Irish News
Classic Traction
Traction & Stock
DRS Class 88s start work on WCML freight, Vivarail Class 230 main line tests restart, Irish Rail considers new engines for Class 201s, GWR Class 387s to Didcot.
Stock Update
Traction Portfolio
Railtours
Freight
Network
Linear park plan for disused North London Line viaducts, Heathrow loses Crossrail access charges battle, drilling blamed for MML bridge collapse, Market Harborough realignment.
Article continues below...
---
---
World
Miniature
Metro
Operations
Regulars
Multiple Aspects With Lord Berkeley.
Railways in Parliament
All Change
Subscription Offer
Subscribe today to receive your monthly copies of
The Railway Magazine from only £20.
Readers' Platform
From The RM Archives
Find out what The RM was reporting 20, 50 and 100 years ago.
Panorama
Our monthly gallery of the best railway photography.
Heritage Diary
Details of when heritage railways and centres are open.
Meetings
Railway society meetings near you –  all the details.
Prize Crossword and Where Is It?
Features
The Big Bird That Flew Too Far
Fifty years after it was unveiled as the world's most powerful single-engined diesel loco, Kestrel remains a source of fascination for British enthusiasts. Nick Pigott tells the story of the unique 4,000hp prototype in the first of a two-part series.
When Steam Met its Waterloo
The final months of steam operation on the Southern Region's Western Division have become legendary for the high-speed exploits of grimy Bulleid Pacifics. Keith Farr recalls some outstanding performances from the BR steam era.
Nottingham Victoria
Nottingham's cavernous GCR station waved farewell to its final trains in September 1967. Robin Stewart-Smith marks the anniversary with a two-part special, starting with a look at the station from its construction until the outbreak of the Second World War.
Presence of Mind
Fraser Pithie continues his look at serious rail accidents in 1967 with a tale of skill and bravery by railway crews faced with disaster on the East Coast Main Line – and the demise of English Electric prototype DP2.
Rail Holiday Guide 2017
The RM's bi-annual guide to railway holidays in the UK and across the world. From depot visits to luxury land cruises there's something to suit every interest and budget.
Enjoy more of The Railway Magazine reading every month.
Click here
to subscribe.