The incomparable 'Pennsy Class' 'GG-1' passenger locomotives were the apogee of electric traction development in the USA. Robert Humm relates their history and that of the Pennsylvania electric railway network.
In the beginning, electric rail traction in the United States was confined to low-voltage streetcars and small industrial freight operations.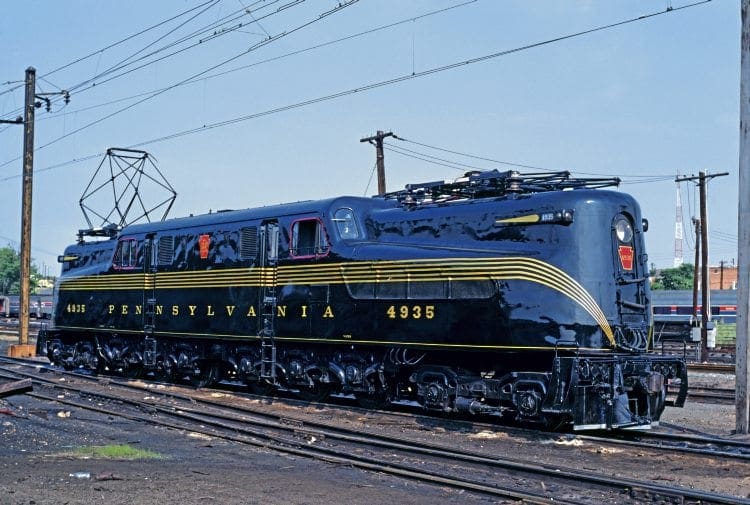 The first main line electrification was the Baltimore & Ohio's three-mile long Howard Street Tunnel route in Baltimore, opened in July 1895. For the first time this demonstrated that electric traction was capable of meeting the demands of heavy duty main line railroading at a lower operating cost than steam power.
Yet, despite all the advantages, the huge infrastructure costs meant that electrification was restricted to the wealthiest railroads or those with severe operating conditions. A unified main line electric network failed to develop in North America in the way it did in many parts of Europe. Subsequent developments in diesel and tunnel ventilation technology led to the abandonment by the late 20th century of all long-distance electric railways apart from the North East Corridor between Washington and Boston.
In the eastern states the New York Central and the Pennsylvania were bitter rivals for the vast and lucrative New York to Chicago traffic. On the passenger side the NYC, though a slightly smaller company, had the advantage of a passenger station right in mid-town Manhattan. Its baroque Grand Central Station, opened in 1871, was shortly to be replaced by the even more magnificent Grand Central Terminal. The new station would be all-electric, a decision forced upon the NYC by legislation but one that nevertheless would provide a further competitive edge and a valuable sales weapon.
By contrast the Pennsylvania Rail Road (PRR) had no proper New York City terminus at all. For decades it had been stuck at the grim Exchange Place station on the Jersey City waterfront on the west side of the Hudson River. Passengers were then obliged to take one of the cross-river ferries to lower Manhattan, a journey that could add between 15 and 60 minutes to the destination.
Read more in the April issue of The RM – on sale now!
Article continues below...
Advert

Enjoy more of The Railway Magazine reading every month.
Click here
to subscribe.