Kee Klamp guardrail fittings and BoxBolt fixing solutions have been installed along a new railway line to provide safety for pedestrians, drivers and maintenance teams accessing electrical boxes along the train track.
This installation, which saw Kee Systems provide the safety products, forms part of an £89 million project to improve commuter times into London from Bicester and Oxford.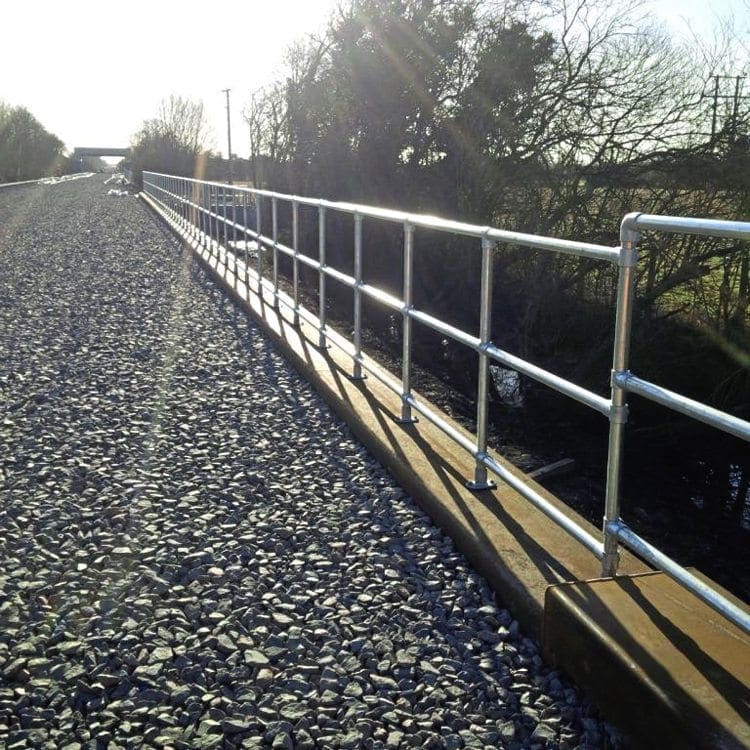 Network Rail unveiled a joint scheme with leading integrated support services company, Carillion Plc, and Stowe-based multi-disciplinary contracting firm, Buckingham Group, to deliver the design and construction of the East West Railway route. Completed in December 2016, the project saw the refurbishment and installation of the new railway line to increase local connectivity and improve journey times into London. Working in collaboration with Carillion Buckingham JV, Kee Systems supplied 8000 metres of Kee Klamp fittings and 10,000 units of BoxBolt. These systems were installed to prevent pedestrian and vehicles from straying into off limit areas and to provide safe access to maintenance teams on either side of the railway line.
The installation of Kee Systems products successfully met Network Rail's design requirement for 1250mm high guardrail achieving a 400Nm design load for the project. A variety of fixing methods were deployed throughout the project, with majority being fixed using BoxBolt onto steel capping beams. All the holes had to be drilled with a magnetic drill to fix BoxBolt. The project also involved the installation of 56 units of Kee Klamp culvert headwalls, using a 114-8 off-set design to help accommodate the varying angles on each individual headwall.
"This was a large project requiring detailed logistical planning and scheduling to deliver the project on-time," says Barry Mullen, project manager for Carillion Buckingham JV. "We chose Kee Klamp fittings as they can be installed using a standard hex key, making it quick and easy to install. Kee Systems succeeded in delivering the project on-time and on budget, which resulted in an extremely satisfied client."
The Kee Klamp range offers outstanding versatility and is suited to a range of guardrail applications. Manufactured from galvanised cast iron, the Kee Klamp system securely joins structural steel tube into almost any conceivable configuration across a variety of angles. Designed with ease and speed of installation in mind, the components completely eliminate the need for hot works on site, resulting in significant cost and time savings. Neither specialist labour nor tools are required as Kee Klamp fittings can be installed using a standard hex key, with each fitting incorporating an internal set screw to lock the respective fitting safely and securely onto the tube. Complying with BS EN 1562 & BS EN 1563, the Kee Klamp fittings are TÜV certified for strength, manufacturing quality and consistency.
Article continues below...
Advert
The BoxBolt range is the blind fixing solution for connecting into hollow sections or where access is restricted to one side only. This system provides an economical solution to making blind connections when compared with traditional methods such as welding or bolting through. Featuring a hexagonal head design that helps installation with a standard wrench, BoxBolt is suitable for use with rectangular square and even circular hollow sections. The range is available in three finishes zinc plated for the less aggressive environments, hot dip galvanized for the more aggressive environments, and stainless steel for the most demanding of applications. The system eliminates complicated fabrications such as welding internal nuts or providing internal stiffeners to reduce crushing from tightening. BoxBolt is approved by Lloyds Register and also DIBt (Deutsches Institut fur Bautechnik) and complies with the design requirements to Euro code 3 and DIN 18800.
Article continues below...
Advert
Enjoy more of The Railway Magazine reading every month.
Click here
to subscribe.