800 Fowler, Stanier, Fairburn and Riddles 2-6-4Ts were built for the LMS and BR between 1927 and 1956. Keith Farr looks at performances of these Class 4 mixed traffic locomotives.
IN THE January issue we followed the progress of a Fairburn 2-6-4T piloting an ailing 'Britannia' from Oxenholme to Shap Summit. But how did these efficient tank locos fare when solo? The answer lay in a perusal of the Railway Performance Society's electronic archive.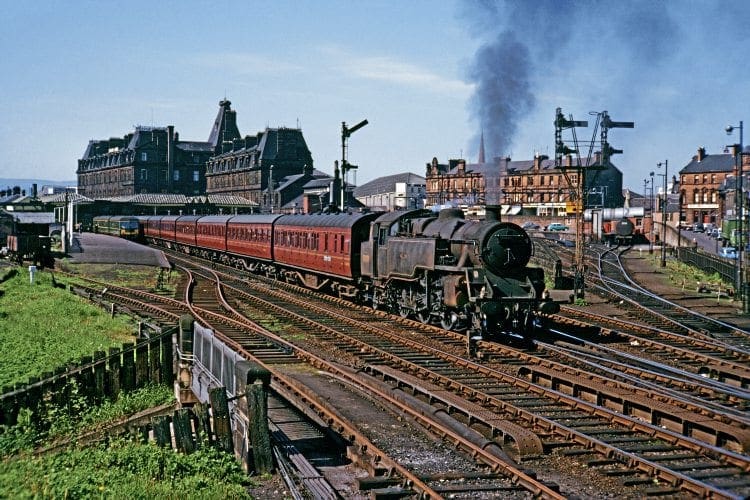 First, though, a spot of history. In the 1920s, the newly-formed LMS needed a modern, powerful tank loco and George Hughes, chief mechanical engineer from the 1923 Grouping, was proposing a completely new 2-6-4T design based on the planned Horwich Class 5 Mogul. But the LMS motive power department at that time was dominated by Midland Railway thinking, with Derby rolling out '4F' 0-6-0 'Big Goods' (sic!) and 4-4-0s, all with short-travel valves, tortuous steampipes and inadequate
axle-boxes.
The new 2-6-4Ts might have been similarly ill-equipped had Hughes's successor as CME, Sir Henry Fowler, not been influenced by one E L Diamond, who advocated the use of long-lap, long-travel valves to minimise the throttling of steam on its admission to, and exit from, the cylinders. Fowler immediately instructed his chief draughtsman, Herbert Chambers, to incorporate these improvements in the proposed 2-6-4T (see Panel A for principal dimensions).
The result was one of Derby's finest: an elegant free-steaming loco with a penchant for speed and with excellent riding qualities whether travelling forwards or backwards. Despite the partial break-away from Derby practice, standard features included the GA8S boiler used on the '3P' 4-4-0s, and sidetanks, cab and bunker, based on those of the Midland 0-6-4T.
The new 2-6-4T also had scoops for picking up water at speed with the loco travelling in either direction. No fewer than 125 of the class were built between 1927 and 1934, 50 of them under the aegis of W A Stanier, CME from 1932, who gave the later examples commodious
side-window cabs.
Article continues below...
Advert
Read more in the March issue of The RM – out now!
Enjoy more of The Railway Magazine reading every month.
Click here
to subscribe.