FOR the third time in eight weeks, the bridge carrying the Leicester to Nuneaton line over the A5 at Hinckley has been hit by an oversized HGV.
Such incidents cause inevitable delays, and the roads around Hinckley and Nuneaton become gridlocked for hours. Incidents are costing individuals and businesses money, missed appointments, missed flights, missed funerals and more.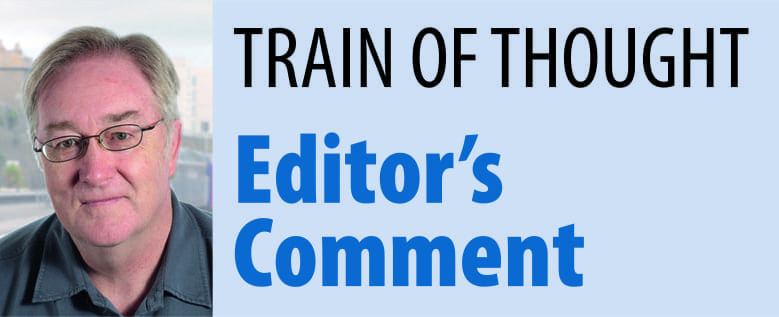 It happens all over the country almost on a daily basis.
While it is a legal requirement that the maximum height of the vehicle is displayed in
the cab, using an adjustable indicator, the use of a satellite navigation system specifically for HGVs, displaying bridge heights and road widths is not mandatory – and this is where many of the problems occur. We've all seen the pictures where an articulated HGV gets stuck because the road is narrower or a bend is impossible to make because the driver is using a car 'sat nav'.
There is a shortage of HGV drivers and many companies use agency staff, and an industry insider tells me the training of some of these drivers is questionable. Worse still, some of
the 'offenders' work for nationally known hauliers and logistics companies that should know better.
Network Rail says that in 32% of bridge strikes, the driver did not know the vehicle height. Unbelievable!
As we closed for press I was still waiting for an answer to a Freedom of Information request sent on January 27 to my local police force about the number of prosecutions that stem from such incidents.
Lucikly, we've had no derailment or other major railway incidents as a result of a bridge strike, but given the rising number of bridge hits, I fear it may be just around the corner.
Action on simpler ticketing – but is it enough?
DESPITE past promises from industry over making fares more simple, the way rail fares on some
long-distance routes are calculated is to change from May as part of a trial, and will provide a 'best value end-to-end fare'. The aim is to avoid the messy process of passengers splitting their journey.
In addition, the Rail Delivery Group says that the much-loathed ticket vending machines – which have attracted their own criticism – will be reprogrammed to be more user friendly and offer better information in respect of peak and off-peak travel.
Overdue it may be, but some view it as merely scratching the surface. The RM believes that train operators need to be far more open about their peak and off-peak times, which can be complex and vary from company to company – and can penalise passengers.
Example 1: Virgin Trains, where the first permitted off-peak arrival into Euston from Glasgow and Carlisle is at 10.13, yet from Liverpool it's 11.59 – some difference and benefiting passengers travelling further.
Example 2: An anytime return fare on the 08.52 CrossCountry service from Peterborough to Birmingham costs £84.90. But from Oakham, catching the same train, the fare is £43.20 – almost half price, but having travelled a third of the journey!
And why can't we use these ticket reforms to eliminate the stupidity of an off-peak return costing 10 or 50p more than the single fare?
Only time will tell if any level of reform has the desired effect of making fares genuinely cheaper or the process is more akin to re-arranging the deck chairs on the Titanic.
Article continues below...
---
---
Steady as you go
FEBRUARY marks the annual announcement of circulation figures, and I am pleased to report that The RM has maintained its market leadership for the 10th consecutive year – it is still almost 7,000 copies ahead of it's nearest rival.
In a fluctuating market, our subscriptions are up by 2%, maintaining a steady pace as readers take advantage of our great offers.
It remains for me to thank all readers for their continued support during the last 12 months.
Free DVD
WITH this issue, readers should also get a DVD about the Life and Times of the
Class 50.
If yours is missing or you have difficulty playing it, please call Customer Services on 01507 529529, which will do its best to source a replacement
copy.
Chris Milner, Editor
Enjoy more of The Railway Magazine reading every month.
Click here
to subscribe.