This week we hear how vandals have damaged train coaches at Mid-Norfolk Railway, plus we take a look at one Network Rail team donating PPE to support NHS workers during the COVID-19 pandemic. Here's this week's roundup:
Mid-Norfolk Railway 'devastated' after vandals damage train coaches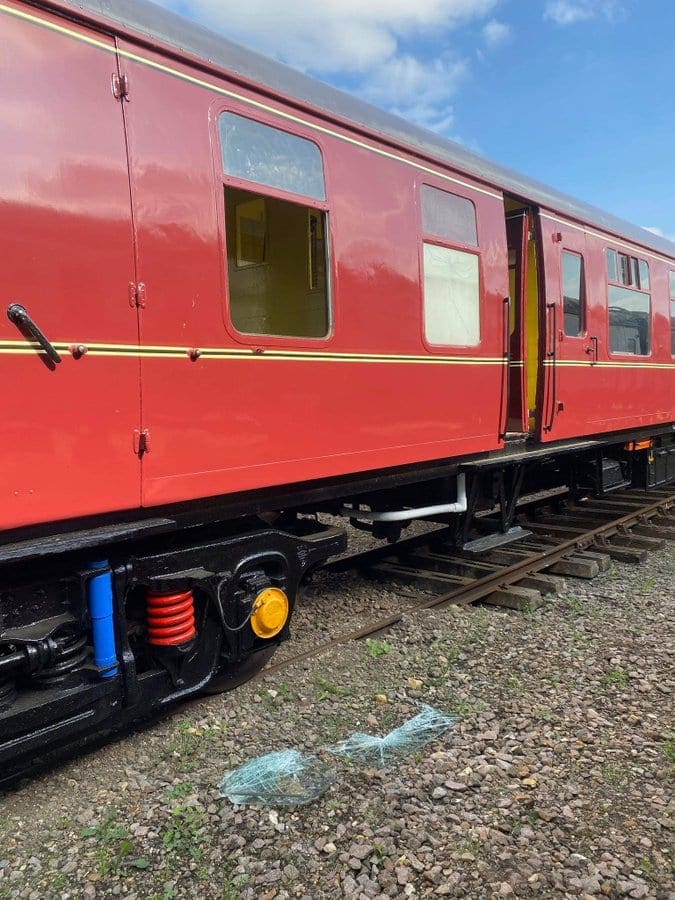 A number of train coaches have been damaged after vandals targeted Mid-Norfolk Railway – including a brake coach the railway had spent £45,000 restoring.
Vandals broke into the grounds of the Mid-Norfolk Railway in Dereham some time between Friday 1 May and Monday 4 May.
They went on to smash several railway carriage windows, and a seasonal display was also damaged, resulting in extensive, high value damages. See the full story and the police appeal here.
Churnet Valley Railway hit £11k milestone in emergency appeal
Churnet Valley Railway has announced that the line's coach appeal has surpassed the £11,000 landmark over the course of the weekend.
The railway appealed for £17,000 to cover the purchase and transport cost of three railway coaches that are all to eventually be restored for the expansion of services to Leek.
The railway acknowledges it is a difficult time for many people during the COVID-19 pandemic, which makes reaching this milestone "even more wonderful". Read the full story here.
Network Rail workers in North East donate PPE to support NHS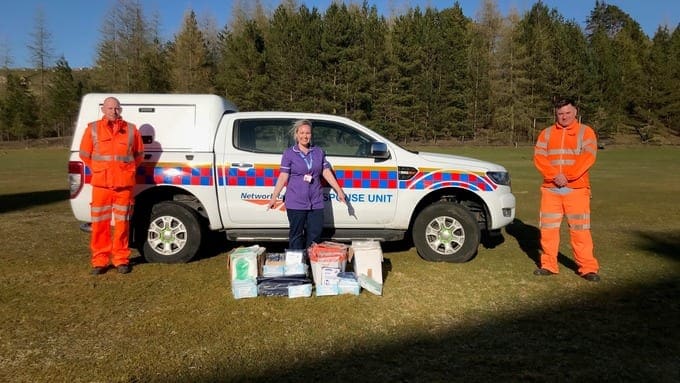 Network Rail workers in the North East are supporting the NHS during the COVID-19 crisis by donating spare personal protective equipment (PPE) to staff at Hexham General Hospital in Northumberland.
Members of Network Rail's Operations team in Newcastle have an important role to play in keeping the railway operating safely and efficiently, so people who cannot work from home, such as doctors and nurses, can use the railway to get to their jobs.
It is also essential that food, medical supplies and fuel can continue to be transported across the country via freight services. Read the full story here.
Ravenglass & Eskdale Railway to host virtual gala this weekend
For everybody, Bank Holiday plans will have dramatically changed, but rail enthusiasts can still enjoy the sights and sounds of steam and diesel engines, as a live video on social media.
Ravenglass and Eskdale Railway are hosting their Armchair Steam and Diesel Gala weekend from Friday 8 May, boasting three days of celebration, quizzes and entertainment.
The virtual gala will feature the planned guest engines Southern Maid from the Romney, Hythe & Dymchurch Railway and Sian from Kirklees Light Railway. Read the full story here.
Severn Valley Railway lights up Kidderminster station for NHS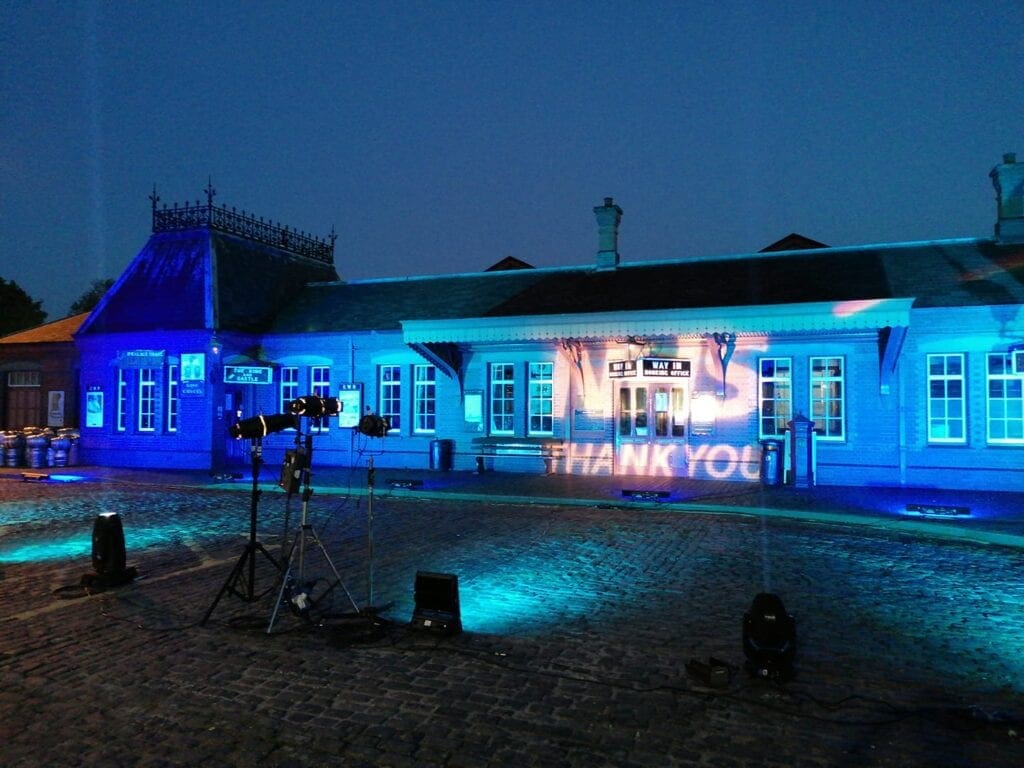 Severn Valley Railway (SVR) has lit up its flagship station with a spectacular light show to give thanks to NHS workers during the COVID-19 pandemic. 
Working with local lighting experts Betalite, the heritage railway lit the station up on Monday 4 May as a tribute to frontline staff. The show opened with the instantly recognisable NHS blue then transformed through the full rainbow of colours.
Article continues below...
---
---
A small team from Betalite and the SVR were on hand to live record the event, which was streamed to thousands of fans on Facebook and Instagram. SVR will repeat the impressive performance for two more shows starting at 8.50pm on Wednesday 5 and Thursday 6 May. Read the full story here.
Latest service updates
The message to everyone else is continue to stay at home this bank holiday, don't travel, save lives.

The number of people using Tube and rail services has fallen dramatically by around 95% and the number of people using buses by around 85%. This is important to stop the spread of coronavirus.

It is vital that everyone continues not to travel unless their journey is essential, and does not return to the transport network. 

Our staff are working hard to support the NHS and protect all Londoners. Please help them and continue to follow the instructions not to travel for as long as it takes to defeat coronavirus. 

Stay at home. Don't travel. Save lives.
London Underground and TfL Rail
From Saturday 9 May, Piccadilly and TfL Rail stations at Heathrow Terminal 4 will close temporarily and all services will only run to Heathrow Terminal 1,2,3&5 stations (Piccadilly line) or Heathrow Terminals 2&3 and 5 stations (TfL Rail).

This is because all flights will operate from Heathrow Terminals 2 and 5 only. Visit Heathrow's website or contact your airline to ensure you travel to the correct terminal.

See the latest status updates on London Underground, including a map of closures.
London Overground
Network Rail is carrying out works which will affect the following London Overground services:

On Sunday 10 May, there will be no service between:New Cross Gate and Crystal Palace/West Croydon. Rail replacement buses will runCamden Road and Stratford after 21:45. Rail replacement buses will run. For Caledonian Road & Barnsbury, use local bus route 274 to/from Camden Road or walk to/from Highbury & IslingtonHighbury & Islington and Dalston Junction after 22:00. Rail replacement buses will run. Alternatively, use local bus route 30 between these stationsSee an overview of planned track closures for the next six months.

See the latest status updates on London Overground, DLR, TfL Rail and Trams, including a map of closures and information about rail replacement buses.
Buses and roads
Running a reduced service on all bus routes. Due to the following works, some buses may be diverted or stop short of their normal destination. Make sure you check before you travel.
Shoreditch – Until 30 September 2020, Shoreditch High Street will have a contra-flow reducing the width of the carriageway in both directions between Holywell Lane and New Yards Inn. This is due to Shoreditch Village development works.
London Bridge – Until 31 October 2020, London Bridge is closed to general traffic (except buses, licensed taxis, motorcyclists and cyclists). Diversions are in place and there are changes to the junction either side of the bridge. Please take extra care when driving while all users, including pedestrians, get used to the new layout.
Drivers using Blackfriars Bridge or Tower Bridge should expect queues while crossing the river. Travel outside of peak times and use alternative river crossings including Vauxhall, Westminster and Lambeth bridges where possible for an easier journey. This is for essential maintenance works being carried out by the City of London Corporation. Please visit the London Bridge works page for more information.
Check whether your bus is affected.
Enjoy more of The Railway Magazine reading every month.
Click here
to subscribe.