AT A time where stories of industrial relations' disputes are headline news, it is rare to find a topic that the unions, rail industry and stakeholders all agree upon.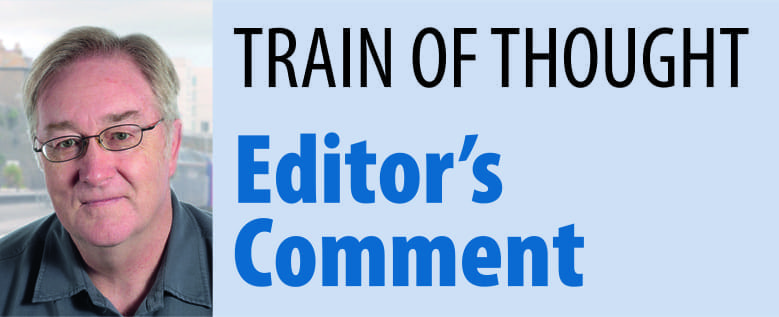 The British Transport Police (BTP) does a superb job and is widely recognised for its specialist knowledge of railways, the underground network and tram systems. Its officers understand the industry's safety culture and operation. They know the hotspots and are considered part of the 'railway family'.
Around 95% of funding for the force comes jointly from the train operating companies – Network Rail and London Underground – yet the Scottish Government is hell bent on wanting to merge the BTP north of the border with Police Scotland as part of its ongoing devolution plans.
The rail unions and Police Federation are – quite rightly – very much against the plan, as are the respective train operating companies, which operate both local and Anglo-Scottish services.
There are genuine concerns that officers who currently police the railway will be dragged away to non-railway duties leaving the network diluted and under resourced, a potential haven for opportunistic thieves as well as a target for terrorists.
Conversely, a Police Scotland officer being the first responder to a major railway incident could be facing unnecessary risks because they are unfamiliar with railway safety protocol.
The net result of what would be a complex and expensive merger is that expertise will be lost and there is no advantage to be gained by it.
BTP Deputy Chief Constable Adrian Hanstock said: "If it's not broken, what are we trying to fix?" He is absolutely right and I support his view.
Let's hope that MSPs in Holyrood also realise it's a bad idea and drop it.
Treating the disabled as second-class customers
THERE are times when I wonder if passengers in wheelchairs or who have other disabilities are really being made as welcome as they should be by the railway industry.
Some years ago Paralympian Baroness Tanni Grey-Thompson had to crawl off a train after no one was on hand to help with her wheelchair, though assistance had been booked in advance.
Last month, another British Paralympian, Anne Wafula Strike, was left humiliated and embarrassed because there was no functioning accessible toilet on a CrossCountry Nuneaton to Stansted service. Apparently, train crew suggested she got off the train at the next station, use the disabled toilet and wait an hour for the next train!
Apart from being extremely patronising, it was hardly the right solution, not even an offer of the train waiting a few minutes for a toilet stop.
It also turned out there were no staff at Harlow to help her off the train after such a nightmare journey. So zero points to two train operators for a complete lack of customer service.
There have been many cases where disabled passengers have faced problems with trains – luggage and shopping stowed in the wheelchair space on carriages; passengers with booked tickets and reservations being refused boarding because of overcrowding and no wheelchair space; finding reserved seats occupied by able-bodied passengers who refuse to move; new trains being built with no accessible toilet; stations with no step free access; and allegations of unhelpful staff.
Article continues below...
---
---
The power of social media means such incidents are broadcast widely and rapidly, and perception of a normally caring rail industry declines.
The Office of Rail and Road is responsible for ensuring train and station operators have policies and practices in place to protect the interests of older and disabled passengers and to empower passengers to make journeys with confidence. But how well is it policing and enforcing these policies?
Just why train operators are treating disadvantaged passengers in this way is unclear, but they are treading a fine line and risking prosecution. Which leads to another vital point. How will disabled passengers in wheelchairs be able to conduct their travel when the service is driver-only operated?
There are growing suggestions that there will be an increase in DOO operation in future franchise awards. Although there is a 'passenger assist' system to book help in advance, the lack of a second person on a train or despatch/station staff on hand for the full station opening hours will take away the spontaneity as well as the encouragement for passengers with disabilities to travel when they want to in the same way able-bodied people can.
This second-class treatment of passengers with disabilities has to stop.
CHRIS MILNER, Editor
Enjoy more of The Railway Magazine reading every month.
Click here
to subscribe.