Peckett 0-6-0ST Ackton Hall No. 3 has led something of a nomadic existence in preservation, moving from home to home but never getting the chance to turn a wheel in anger…until now that is. Gary Boyd-Hope looks at the plans of new owners, the Foxfield Railway, to return the loco to steam as part of a pre-NCB era train.
If ever a steam locomotive deserved the opportunity to undergo a full restoration to working order, then Ackton Hall No. 3 is it.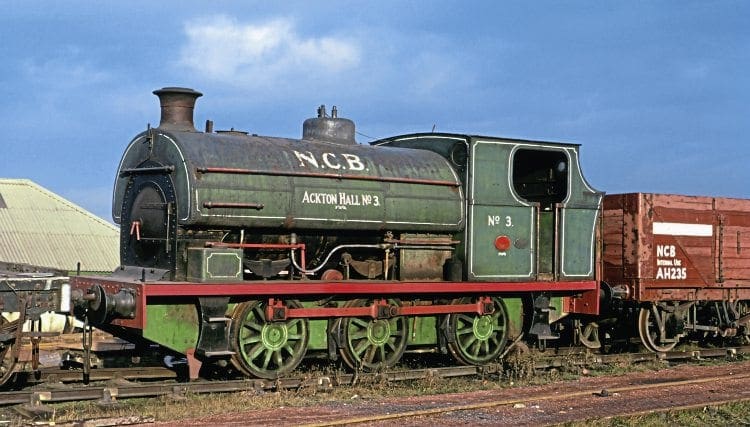 You could probably say the same about a multitude of locos that have yet to run in preservation, but for this 16in-cylindered Peckett, its arrival at the Foxfield Railway in July last year was surely a case of 'fourth time lucky'.
Works number 1567 emerged from Peckett's Atlas Locomotive Works in June 1920 as the 39th member of Peckett's 'X2' class of 0-6-0STs, and was delivered new to Featherstone & Hemsworth Collieries in West Yorkshire. The Bristol-based manufacturer built 52 of the class in total, often in pairs, the first in 1906 and the last in 1940. They could be found serving industries across the UK, from as far afield as Northumberland and Pembrokeshire, to Lancashire and Kent. Two examples even found their way to far-flung Shanghai.
No. 1567 spent its entire working career at Featherstone, becoming No. 3 in the Ackton Hall Colliery fleet. The nationalisation of the UK coal mining industry saw the loco absorbed into the new National Coal Board from January 1, 1947, but the Peckett soldiered on, thanks largely to the colliery manager, who is understood to have treated the loco as a sort of colliery pet. Thus Ackton Hall No. 3 continued in service alongside much-later-built Hunslet products, dating from the 1940s and 1950s.
A major firebox repair was completed even as late as the 1960s, but this was not wholly a success and by early 1971 Ackton Hall No. 3 was lying out of use. However, fortune was to smile on the loco and thoughts turned to its possible preservation.
Article continues below...
Advert
Read more in the December issue of The RM
Enjoy more of The Railway Magazine reading every month.
Click here
to subscribe.