For three days in September, steam locomotives were given responsibility for heavy goods trains in Germany, including a 550-ton steel train bound for the French capital. Plandampf is alive again, but for how much longer?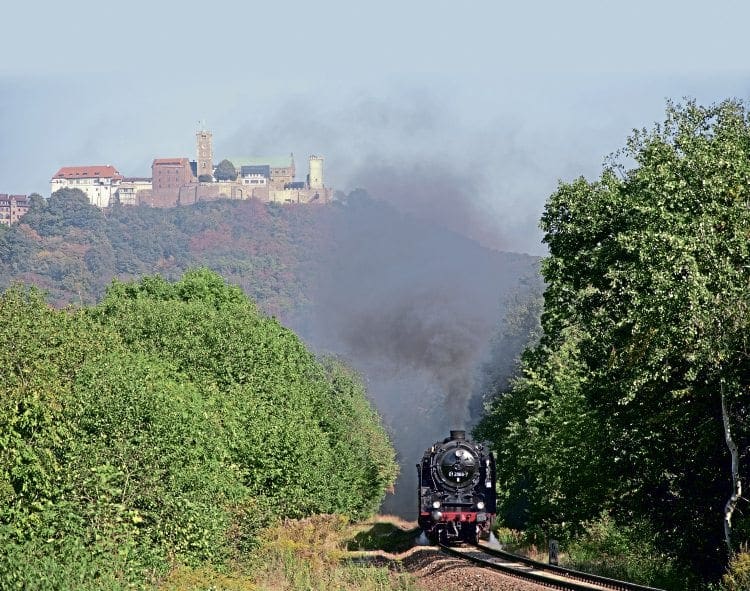 "Here I stand, I can do no other."
Those were the immortal, defiant words of Papal rebel Martin Luther, who was sheltered in the iconic Wartburg castle, Thuringia, Germany, between 1521 and 1522, as his Protestant revolution began to grip central Europe.
His most famous quotation came to mind, half a millennium later, stood as I was, on September 15, in the shadow of the monumental structures that make-up the 1067-built Wartburg, together with a mass of railway photographers, who were greeted by a crescendo of noise being emitted from an '01' Prussian Pacific as it roared to the top of the 1-in-50 climb to Förtha tunnel.
It was one of those memorable moments that had lured around 250 enthusiasts, including many from Britain, to dig deep into their pockets (some £300 each) in order to put some of the sparkle – and grit – back into the former East German, Deutsche Reichsbahn on lines that are traditionally the dominion of diesels.
Where else on earth would hardened 'gricers' rather be? With 22 loco-hauled main line trains to 'go at', steam enthusiasts can 'do no other'…
Article continues below...
Advert
Read more in October's edition of The RM
Enjoy more of The Railway Magazine reading every month.
Click here
to subscribe.