THERE was plenty of warning of the snow and freezing temperatures that the storm dubbed the 'Beast from the East' (and its successor a couple of weeks later) was to bring to Britain.
No matter how Network Rail and the train operators planned for the worst, there were some areas of the country where services could simply not operate because of the power of the winter weather.
Greater Anglia's planned rundown of services came in for unfair criticism after the worst of the storm didn't hit quite as expected. A case of damned if you do and damned if you don't?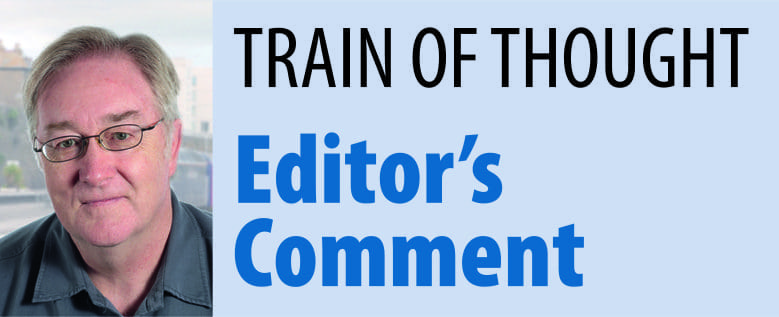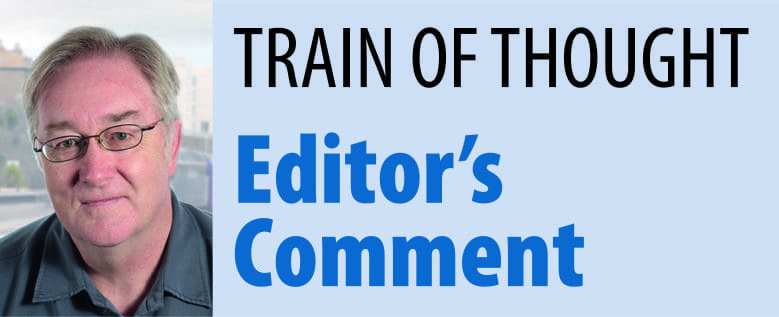 ScotRail had a torrid time, particularly in the central belt, with snow more than 40-45cm deep in places. This resulted in both the East and West Coast Main Lines being closed to all trains for several days – a situation I can not previously recall in my time with The RM.
The Settle & Carlisle was also closed, as were many branch lines. Sleeper services were cancelled, thousands of services were disrupted, and some East Coast expresses arrived in London between five and six hours late as staff battled through awful conditions. Passengers were marooned on trains overnight near Christchurch, too.
Throughout both winter storms, the 'railway family' worked incredibly hard to clear tracks and points of snow and ice, remove fallen trees, operate ghost services to keep lines open, clear snow and ice platforms, work extra hours to devise temporary timetables, and also be there for passengers.
Incredibly, and in spite of repeated advice for 'essential travel only', some passengers who did chance it, had the audacity to complain when their trains were cancelled or terminated short of intended destinations. There was no appreciation staff might have been out of hours or it was not safe for them to travel to work either – nor a comprehension by passengers of what 'essential' meant.
Even when the thaw came Network Rail and train operators were facing an uphill battle to reopen lines and repair the many trains where snow had damaged electrical components.
Thousands of staff worked beyond the call of duty, from which emerged many heart-warming tales of acts of kindness by train company employees to the passengers.
It truly epitomised the British spirit.
Serious problems on the railways
IT'S frustrating to heap praise for staff 'going the extra mile' in one breath yet pour criticism on it in another.
However, in the past month, some news stories to have made the headlines were possibly avoidable:
■ Delays to the electrification to Blackpool
■ A major problem with the driver's windscreen
on Class 385 EMUs, which could well mean
a front-end redesign and more delays in the class entering service
■ A section of rail left fouling a main line and struck by a passenger train
Article continues below...
---
---
■ Track or points that have damaged trains, forcing safety checks
■ Passengers walking past open ticket gates at a major station and getting on the track to stage a mass political protest
■ A communications failure which led to the
self-evacuation of passengers, marooned on a number of trains in south-east London, on to live third rail lines
■ The mad scramble by millions of 26-30 year olds to get their hands on an allocation of just 10,000 railcards, which crashed the website.
Some of the above incidents might not have happened with better planning and communication protocols, but let's not overlook the fact that in several of the above incidents, lives have been put at unnecessary risk.
'The job's a good 'un', as they say
ON GOOD Friday, the Gloucestershire Warwickshire Railway extended its passenger services to Broadway, one of the key tourist hotspots in the Cotswolds.
For volunteers and staff it is the culmination of many years of effort, both in physical and financial terms, and with the reconstruction of the buildings at Broadway in GWR style, it rates as one of preservation's more remarkable achievements, considering less than 40 years ago there was no track at all between Broadway and Cheltenham.
With a near 14-mile long line in one of the most attractive parts of England, this extension will enhance the railway's appeal, cementing its place in the 'Premier League' of heritage tourist railways.
In short, it's a job very well done.
CHRIS MILNER, Editor
Enjoy more of The Railway Magazine reading every month.
Click here
to subscribe.