By Ben Jones
FEBRUARY 8 saw the first two completed Class 802 bi-mode trains unveiled at the Hitachi Rail Europe (HRE) plant in Tuscany.
Five-car AT300s Nos. 802003 and 802004 (T4/T5) are the first of 33 trains being built in Pistoia to replace Great Western Railway (GWR) InterCity 125s on the West of England route.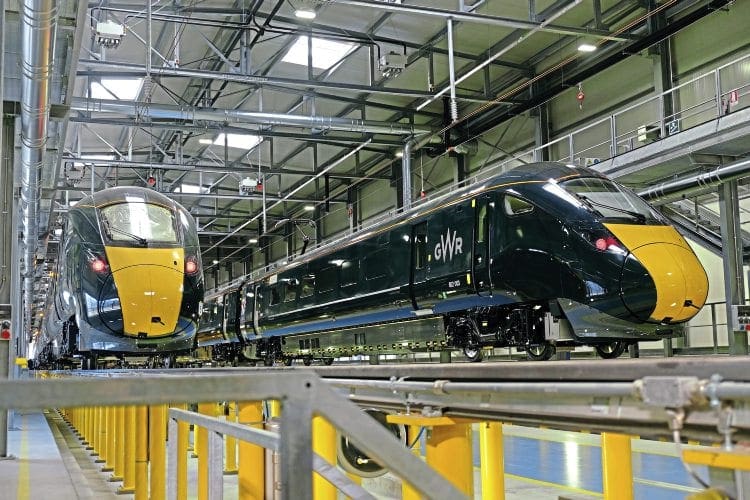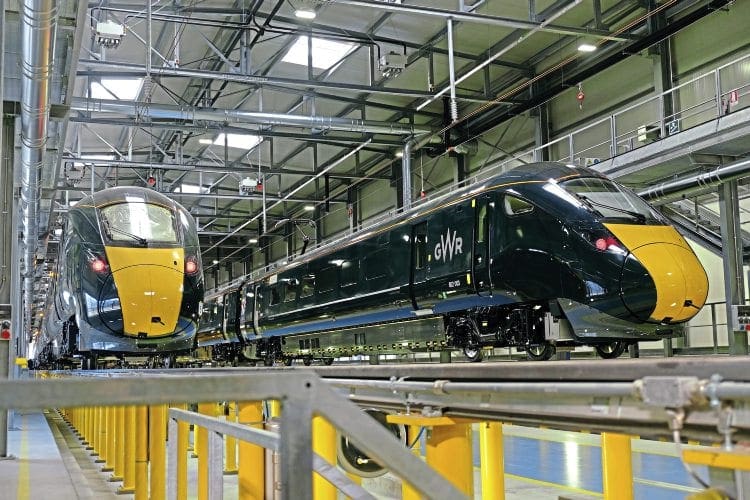 A total of 22 five-car '802/0s' and 14 nine-car '802/1s' have been ordered, financed by Eversholt Rail, with modifications to cater for the longer journeys to Devon and Cornwall and greater use on diesel power over hillier routes.
Three Japanese-built pre-series trains (T1-T3) have been on test in the UK since 2017.
Nos. 802003/004 were set to leave Pistoia in late-February for the six-day journey to the UK. Hitachi expects to deliver one train every 12-14 days, with the last due in January 2019.
RailAdventure, the German operator specialising in the delivery of new trains, will haul the new trains through Austria, Germany and France to Calais. GB Railfreight will move the trains through the Channel Tunnel and in the UK.
Five-car sets will be delivered in pairs, with the nine-car '802/1s' travelling solo.
The tight delivery schedule calls for all 36 trains to be in traffic by March 2019, with the sets expected to make their passenger debut on GWR's 07.30 Paddington-Penzance on July 16.
An option for a further seven nine-car Class 802/2s was taken up in August 2016 after it became clear more bi-mode trains would be needed to support the
Class 800 fleet on fast trains to Oxford and Bedwyn, following the curtailment of Network Rail's GW main line electrification programme.
Read more in March's issue of The RM – on sale now!
Enjoy more of The Railway Magazine reading every month.
Click here
to subscribe.