Headline News
Nottingham station damaged in arson attack, Mallaig line blocked by landslide at Glenfinnan, GWR 'County' 4-4-0 replica to be built at Gloucs-Warks, Thameslink contract 'not value for money', NR moves quickly after Carillion collapse, TfN strategic plan unveiled.
Track Record
66 Steam & Heritage
S&D '7F' to move to North Norfolk, Dunrobin needs new driving wheels, two 'Modified Halls' for West Somerset gala, new middle cylinder cast for 'A2' Blue Peter.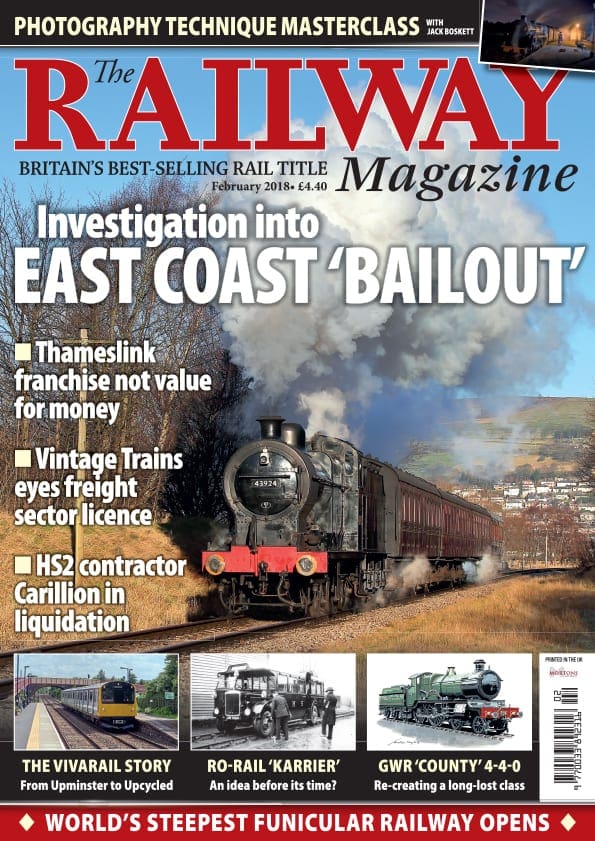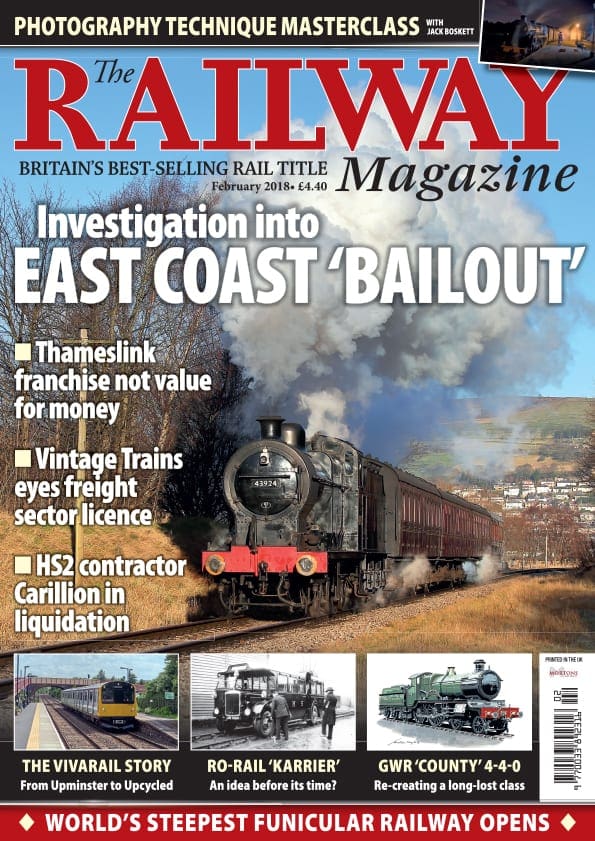 71 Industrial
72 Steam Portfolio
75 Irish
76 Narrow Gauge
78 Heritage Trams
80 Metro
82 Network
Huge Christmas and new year engineering works delivered successfully, Grayling backs mid-Cheshire reopening, Ashford International modified for e320s.
84 Railtours
88 Classic Traction
92 World
95 Freight
Article continues below...
---
---
96 Traction & Stock
First Mk5 overnight stock arrives in Scotland, DRS sells more Class 20s, Class 88s on nuclear traffic.
99 Stock Update
100 Traction Portfolio
103 Operations
Regulars
12 Multiple Aspects
With Lord Berkeley.
12 Railways in Parliament
20 Subscription Offer
Subscribe today to receive your monthly copies of
The Railway Magazine from only £20.
58 Readers' Platform
60 Panorama

Our regular gallery of the best railway photography.
64 From The RM Archives
Find out what The RM was reporting 20, 50 and 100 years ago.
108 Meetings
110 Heritage Diary
Details of when Britain's unique collection of heritage railways and railway museums are open.
122 Crossword & Where Is It?
On the cover
COVER: Former Midland Railway '4F' 0-6-0 No. 43924 climbs away from Keighley on
January 7 with a KWVR service to Oxenhope. The loco was the first to leave Barry 50 years ago, destined for the Yorkshire branch line, which also marks the 50th anniversary of
re-opening this year. ANDREW BELL
INSET 1: Vivarail's 'new' train solution INSET 2: Ro-rail: An unfulfilled idea
INSET 2: Ro-rail: An unfulfilled idea
INSET 3: Re-creating a 'County' 4-4-0
Features
14 Re-creating the Rough Rider
As a new group takes on the project to build a replica GWR 'County' 4-4-0, Gary Boyd-Hope explains how they plan to achieve their goal and bring back another long-lost class.
22 Ro-Railers: Ahead of their time?
Vehicles capable of working on both rail and road were tested prior to the Second World War, but didn't catch on. Alan Dale wonders if the idea was too advanced for the technology of the time.
28 From Ukraine With Love
Risking detention and a possible international incident, Mark Darby visited eastern Europe in 2017 to photograph powerful ex-Soviet diesels. Find out how he and his companions fared.
34 From Shanghai to Shenfield
John Heaton draws together a diverse collection of Practice & Performance logs, embracing the Shanghai Maglev, Class 345s and a recent main line outing with a 'Deltic'.
42 Crossrail Update
With the core tunnels under central London due to open in December, Keith Fender visits Crossrail for an update on how construction of the £14.8billion railway is progressing.
46 From Upminster to Upcycled
Ben Jones discovers how Vivarail is transforming redundant District Line trains into 'upcycled' new trains for the main line – and testing new forms of propulsion to replace polluting diesels.
The next issue of The RM is on sale March 7 – order your copy now!
Enjoy more of The Railway Magazine reading every month.
Click here
to subscribe.