THE Government's announcement it is to trial 'platooning', with as many as three wirelessly connected HGVs travelling in close convoy – with all acceleration, braking and steering controlled by a driver in the lead vehicle – has worrying overtones.
While dubbed as a trial – and history shows 'trials' tend to become permanent – one of the key concerns will be safety.
If the driver is incapacitated will there be a 'dead man's' device, as there is on a train, to bring the convoy to a controlled halt?
What happens if a truck has a blow-out?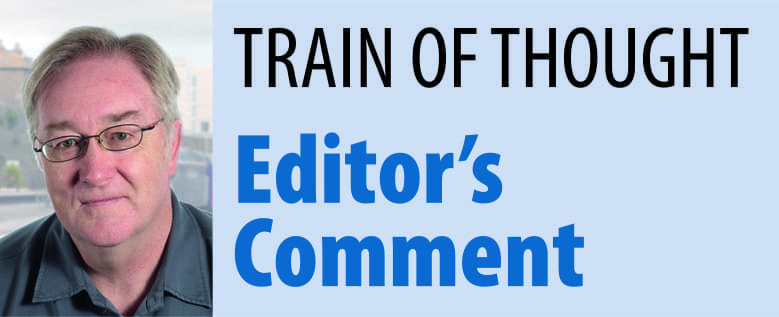 What is the likelihood of the second and third trucks (being in close convoy) piling into the back of the first in the event of an accident, making a collision far more serious?
What is to stop someone hacking the wireless connection between the trucks. Each lorry will have a driver, so where exactly are the savings and benefits?
Most of us have seen one HGV trying to overtake another on an incline when the speed difference is
1mph, so goodness knows what platooning will do to motorway congestion.
Platooning is fine for trekking across miles of uninhabited desert in Australia or interstate journeys in the USA, but not for the busy motorways of the UK.
The Road Haulage Association, AA and RAC have already expressed concerns.
While there are many safety questions that remain unanswered, the development is a real kick in the teeth for the rail freight industry from a Government that should do far more to support it.
Less than 12 months ago, the Department for Transport cut freight facilities grants by £4million, yet it is prepared to spend more than twice that amount on a crazy trial, rather than inject money into rail freight.
What really angers me is not only is the DfT giving this crackpot idea airtime, it tries to con us by adding the usual spin by saying it will decrease fuel consumption, reduce congestion, improve air quality and reduce emissions.
Isn't that exactly what putting freight on rail will do – or have I missed something?
Passengers still being priced off the network
THE recent 3.6% fare rise announcement has shocked many daily commuters – the type of passenger that is a captive market for the railway – who have no option but to travel to work by rail. Add on the cost of parking – which at some stations is £14 a day or more – and large proportions of the population who want to use rail daily are being priced off the network.
The latest rises will also act as a disincentive to promote leisure travel too, but operators will also feel the squeeze if passenger numbers decline in the light of rises.
Article continues below...
---
---
It's also getting tiring for passengers with the rail industry trotting out the same old mantra – that the money from fare rises will improve the railway, make journeys better and boost the economy. But when?
Some parts of the network are still starved of decent trains and passenger capacity.
In Wales, with unit cascading and electrification plans in disarray, there is no replacement on the horizon for the worn out 'Pacers'.
On CrossCountry, passengers are 'sardined' in ridiculously sized trains on a daily basis, with no hope of extra carriages, and plans for new trains to replace 40-year-old HSTs on the Midland Main Line are in limbo until the new franchisee is chosen in two years' time. At that time the introduction of new MML trains will still be a minimum of a year away.
If rail is to continue to thrive, prosper and grow as we all want it to, let's see some genuine investment in these 'Cinderella' services.
Farewell to SWT
DURING August, the operator of the South West Trains franchise was changed, renamed and rebranded.
Stagecoach Group's SWT was the first of the franchised railways to begin operation under the Conservative's rail Privatisation plan. Their first train ran on February 4, 1996, and during its 21-year tenure of the franchise, SWT embarked on an ambitious programme of new and refurbished trains, station and other passenger enhancements, opening up new services and introducing some striking liveries – plus reusing Waterloo International for domestic services after it lay abandoned for a decade.
With First Group and MTR taking over in a quiet transition, more new trains are planned, with faster journey times and additional trains on Sundays. However, its first few days operating South Western Railway was marred by visible protests at London Waterloo by rail unions wanting to retain guards on trains – sadly a hint of industrial issues ahead?
SWT staff and managers deserve a vote of thanks for 21 years of serving the public on what was always a difficult railway to run, covering the busiest section of the railway network.
Chris Milner, Editor
Enjoy more of The Railway Magazine reading every month.
Click here
to subscribe.