FOR those of us working within the rail industry, it was no surprise that the Government backtracked and abandoned key electrification schemes, preferring instead to employ bi-mode trains. The signs have been pointing to such a decision for months.
It was all a question of timing – which unsurprisingly came on the eve of the Parliamentary summer recess, the Department for Transport hoping that the bad news would be lost in a melee of more positive stories about HS2.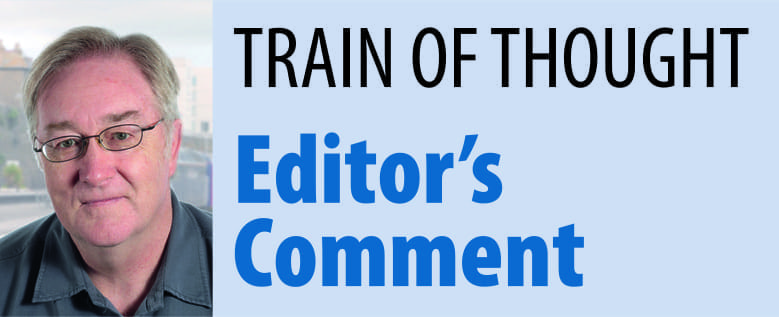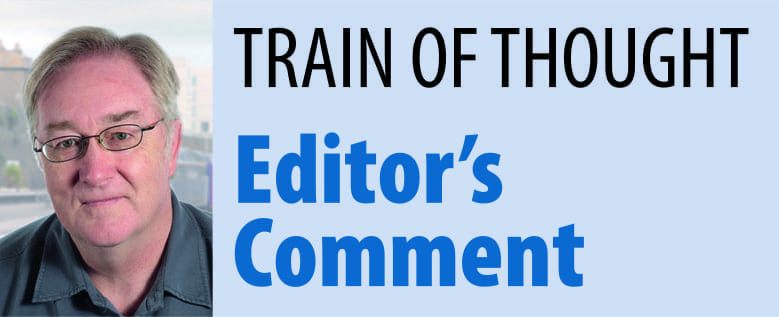 Electrification of lines was heralded five years ago as part of a £38 billion plan tagged the "biggest investment in rail since Victorian times", with upgrading and electrification of the Midland Main Line (MML – often dubbed the 'Cinderella Line'), the GWR route to Swansea and TransPennine along with other smaller schemes. There was a feeling that the industry was at last modernising, moving forward and reducing its reliance on polluting diesel fuel.
Fast forward several years and it's all gone pear-shaped in a very big way. Massive cost overruns, poor project management of the Great Western scheme, with its intrusive, over-engineered masts, has turned the DfT against electrification. Even the TransPennine electrification scheme is unlikely to go ahead in its full form, delivering a blow to the so-called Northern Powerhouse.
While there was some clever spin in the wording of the DfT's press releases axing these schemes – trying to convince us that bi-mode is the best thing since sliced bread – there's simply no disguising the fact that the decision represents an opportunity missed.
It's like the opportunity that was not grasped when there was a chance to develop an additional car for the Voyager/Meridian fleet with a pantograph, creating electro-diesel trains at a fraction of the cost of a new fleet of bi-mode trains. More crucially, it would have helped to solve some of the overcrowding issues that have never been properly addressed, particularly on CrossCountry.
Costs for all kinds of rail projects have soared, it seems those controlling the purse strings throw more money at a problem before finally admitting defeat. That's money that could have been better used elsewhere on the network and to me, represents another missed opportunity.
With the DfT committing large parts of the network to bi-mode trains for the next 30 years, these trains cost more to manufacture, have no proven reliability (yet), are heavier so have slower acceleration than a comparable electric train, can't match HST schedules and will still pollute the environment.
So has any real progress actually been made?
Worrying growth of vandalism at heritage lines
A sad, growing and worrying factor within the heritage movement is that of the vandalism of priceless locomotives and rolling stock.
At the end of July, the North Yorkshire Moors Railway's LNER teak set was badly vandalised – one carriage could be out of traffic for the rest of the year (see page 9).
It's a mindless act which destroys the hours of painstaking work undertaken by dedicated volunteers that will cost time and money to repair – and the railway will lose more money while the set is being repaired.
The NYMR is not alone in such attacks. Swindon & Cricklade, the Middleton Railway, Caledonian Railway, Barry Heritage Centre, Gwili, Chinnor & Princes Risborough and many more have suffered arson and vandal attacks, as well as the theft of components for locomotives or carriages and other equipment.
There's no easy answer as it's impossible to lock away every vehicle or provide onsite security or other countermeasures, as this soaks up money needed for restoring and repairing the damaged vehicles. Plus it diverts funds from other projects – a real Catch-22 situation.
Though there are appeals for donations after such attacks, if those responsible are ever brought to justice, it's usually a paltry slap on the wrist with community service.
Article continues below...
---
---
Sadly, it's the railway and their supporters, such as Railway Magazine readers, who bear the cost of repairs.
HS2 takes a big step forward
WITH the announcement of the full confirmed route for HS2 and the award of construction contracts worth £6.6 billion during July, the news has – unsurprisingly – reignited the whole debate about the line, the route, the costs and the benefits.
There have been many myths and half-truths circulated by those both for and against the project, even outright scaremongering from so-called experts and newspaper journalists. However, the rail industry has not been especially adept in defending itself nor promoting any benefits of the project as regards capacity, so these myths and lies tend to morph into 'fact' over time.
Predictions some years ago that video- and tele-conferencing would reduce the need for travel by train as more people would work from home, or had no need to leave their office, have simply not materialised. Several 'blue chip' employers have moved out of London, creating a workforce which has to travel to their office by rail.
Coupled with which, there are vast home building projects taking place in Buckinghamshire, Bedfordshire, Northamptonshire and even into Warwickshire which will eventually lead to an even greater influx of passengers wanting to use rail as they escape the London life for something more relaxed in the shires.
Whatever your views about HS2, the rapid upward growth of passenger numbers year-on-year for the past decade means doing nothing is no longer an option.
The fact is that the West Coast Main Line doesn't have the capacity for more stopping passenger trains or more freight. Trying to plan 100-125mph passenger trains around freight with a 60 or 75mph maximum speed is fraught with difficulty. And, when the infrastructure cannot easily cater for trains longer than 12-carriages, just what is the answer?
While I admit to having mixed feelings about HS2 – primarily over whether it can be successfully achieved for the £55 billion price tag – there is no easy alternative solution, no quick upgrade to the WCML and no double-deck option for the existing route operators.
HS2 looks likely to be a bitter pill that many will have to swallow in the name of progress.
Chris Milner, Editor
Enjoy more of The Railway Magazine reading every month.
Click here
to subscribe.