Headline News
Government cancels three electrification schemes in favour of bi-mode trains, £6.6bn HS2 contracts awarded and Phase 2b routes confirmed, Vandals attack NYMR Gresley teak set, Two new high-speed lines open in France, Mail Rail museum launch, Electric Railway Museum to close in October.
Track Record

Steam & Heritage
Southern steam galas draw huge crowds, Gwili extension open, first train on Alnwick branch for almost 50 years, Bluebell SECR O1 back in traffic.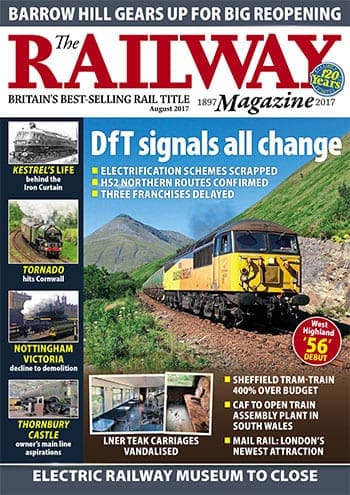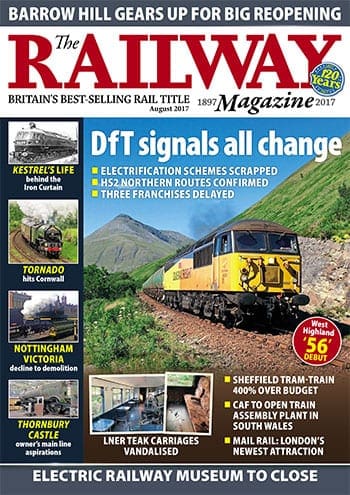 Industrial Steam
Steam Portfolio
Narrow Gauge
Heritage Trams
Metro
Irish
Freight
Traction & Stock
CAF starts work on Northern Class 331 EMUs, new look for ROG '47', SWT Class 707 deliveries suspended, Class 319 'Flex' bi-modes for Northern and Arriva Trains Wales.
Stock Update
Traction Portfolio
Railtours
Network
Derby set for £200m rebuild in 2018, PM opens new EMU sidings at Maidenhead, Waterloo closures in August, GCR Catesby Tunnel to become aerodynamics facility.
Classic Traction
Article continues below...
---
---
Operations
World
Regulars
Multiple Aspects
With Lord Berkeley.
Railways in Parliament
Subscription Offer
Subscribe today to receive your monthly copies of
The Railway Magazine from only £20.
Readers' Platform
Meetings
Railway society meetings near you – all the details.
Panorama
Our monthly gallery of the best railway photography.
From The RM Archives
Find out what The RM was reporting 20, 50 and 100 years ago.
Heritage Diary
Details of when Britain's unique collection of heritage railways and railway museums are open.
Prize Crossword and Where Is It?
Features
The Big Bird That Flew Too Far – Part 2
Robert Humm completes the story of the unique 4,000hp Hawker Siddeley diesel prototype with a fascinating insight into its export behind the Iron Curtain to the Soviet Union and the mystery surrounding its demise.
Electrics, Diesels and Electro-Diesels
John Heaton continues his Caledonian Sleeper experience with a journey from Aberdeen to Edinburgh in the cab of a re-engineered GBRf Class 73/9.
Nottingham Victoria – Part 2
Nottingham waved farewell to its Great Central station in September 1967. Robin Stewart-Smith looks back at the final two decades of its life, and the steady decline in status from GCR showpiece to unstaffed halt.
Restoring Thornbury Castle
Gary Boyd-Hope talks to Jonathan Jones-Pratt about his plans for the unrestored BR-built 'Castle' and his other locomotive, Kinlet Hall, which is currently being restored at Tyseley.
Rebirth of the Corris Railway
In the latest of The RM's studies of 'Lazarus Lines', Cliff Thomas visits a famous Welsh narrow gauge railway, that first saw use by steam in 1878 and is being resurrected almost seven decades after it was closed by British Railways.
Tornado hits Cornwall
In a Practice & Performance special, Keith Farr rides behind A1 No. 60163 Tornado on an epic 305-mile journey from London to Penzance that also marked the first visit of the class to Cornwall.
On the cover
COVER: Fuel oil traffic returned to the West Highland Line in July on a trial basis, hauled by Colas
Class 56s – the first time the Type 5s have been seen on the route. No. 56302 passes County March summit with the southbound empties to Grangemouth on July 24. JAMIE McEWEN
Enjoy more of The Railway Magazine reading every month.
Click here
to subscribe.