October 1986: Martin Bairstow describes railway developments in Greater Manchester which have so far fallen short of bridging the gap between north and south.

ONE of the legacies left by the early railway builders was the failure in many cities to bring all lines into a common terminus. Often tracks from different directions stopped short of the city centre leaving through passengers to walk from one station to another. When the Manchester & Leeds Railway opened in 1839-41, it started from Oldham Road Station about 11/4 miles to the east of the Liverpool & Manchester Railway terminus at Liverpool Road. Fortunately this east—west barrier was breached as early as 1844 when the two railways were brought together at Victoria Station.
When trains began to arrive in Manchester from the south and from the Woodhead route in the early 1840s they were accommodated at the fore-runner of todays Piccadilly Station. Despite the subsequent construction. mainly for freight. of the South Junction Line (Piccadilly to Ordsall Lane) and the Miles Platting to Ashburys branch. there has never been any effective communication between Piccadilly and Victoria Stations.
The practical effects of this omission include the virtual exclusion of towns north of Manchester. such as Bolton. Bury, Oldham and Rochdale. from the "InterCity" network. A local train to Victoria. then having to allow at least thirty minutes to cross the city by bus. is a poor start to a journey no matter how attractive the main-line services may be once Piccadilly is reached.
Until recently. the services operating from Victoria appeared to monopolise the most run-down classes of diesel multipleunit. Only the Bury line is electrified on the unique 1,200V d.c. side—contact third rail. In contrast Piccadilly services are largely electrified at 25,000V a.c. and even enjoy better-appointed d.m.us on other routes. The north side has the greater number of run-down unstaffed intermediate stations while Victoria itself has not been fully repaired from bomb damage sustained during the second world war. Although Piccadilly is certainly superior to Victoria in practically every respect, the fundamental problem is that neither of them penetrates the city centre.
Greater Manchester was one of four conurbations chosen to be bestowed with a Passenger Transport Executive under the Transport Act 1968 and the PTE was in existence for some five years before the creation of the Greater Manchester County Council in 1974. With slightly different boundaries and rejoicing in the name of South East Lancashire & North East Cheshire the old PTE was responsible for the "Picc-Vic" scheme.
This involved a double—track tunnel electrified at 25,000 Volts leaving the Stockport line near Ardwick and passing through lowlevel platforms at Piccadilly. through three stations in the town centre. then underneath Victoria before surfacing on the Bury line which was to be converted to a.c. electrification. The former route from Radcliffe to Bolton was also to be incorporated into the project. During a period when the Government approved parallel schemes in Liverpool. Newcastle and Glasgow. Manchester was very disappointed to have finance for the "Picc-Vic" project refused in 1973. It would have been completed in 1978.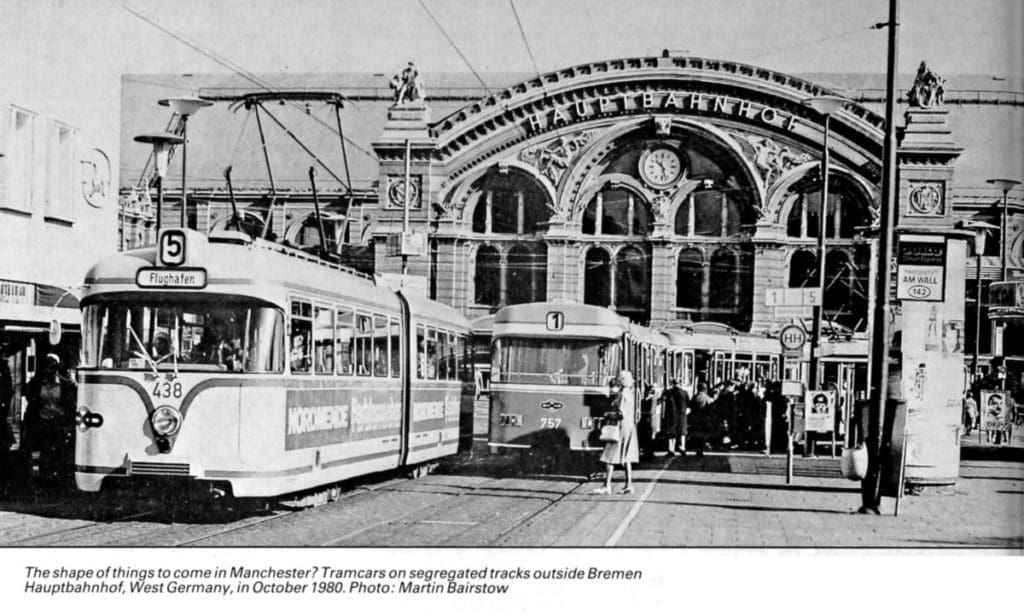 Instead. by the late 1970s. the "Picc-Vic" scheme had been first postponed and then abandoned. leaving BR and the PTE to come up with a cheaper alternative in the form of the Castlefield curve. Linking Deansgate and Salford this would have offered the desired connection between Piccadilly and Victoria but would go round rather than through the city centre and for that reason was opposed by Manchester City Council which wanted rail access into the commercial and shopping centres. BR also had reservations about the Castlefield proposal because of the capacity of the double-track "South Junction" line between Piccadilly and Deansgate. The idea died.
Having placed "Picc-Vic" as the central feature of its railway development plans Greater Manchester PTE found itself subject to planning blight. There was talk of closures. Oldham-Rochdale. Manchester-Wigan via Atherton. and Guide Bridge-Romiley (lslyde loop) services appeared vulnerable. Only Oldham-Rochdale has gone through the TUCC machinery but that was rescued in 1972 by a "temporary" PTE grant. Despite threats to withdraw this support. particularly after the "Picc-Vic" fiasco. the line is still in operation and has seen developments.
Piecemeal improvements to local rail services have happened throughout the PTE era. In 1971 the off—peak frequency on the Manchester-Altrincham line was increased from three to four trains per hour to coincide with the conversion of this. Manchester's busiest suburban line. from d.c. to a.c. electrification. A bus-rail interchange was opened at Altrincham in 1976.
Then 1977 saw a doubling of frequency on the Manchester—Glossop—Hadfield service which was then still d.c. operated as part of the former Woodhead route but which has since been converted to a.c. A station at Hattersley was brought into use in 1978 to serve new housing. This was quite expensive to build being situated in a deep cutting. The previous year a station had opened at Brinnington on the New Mills line.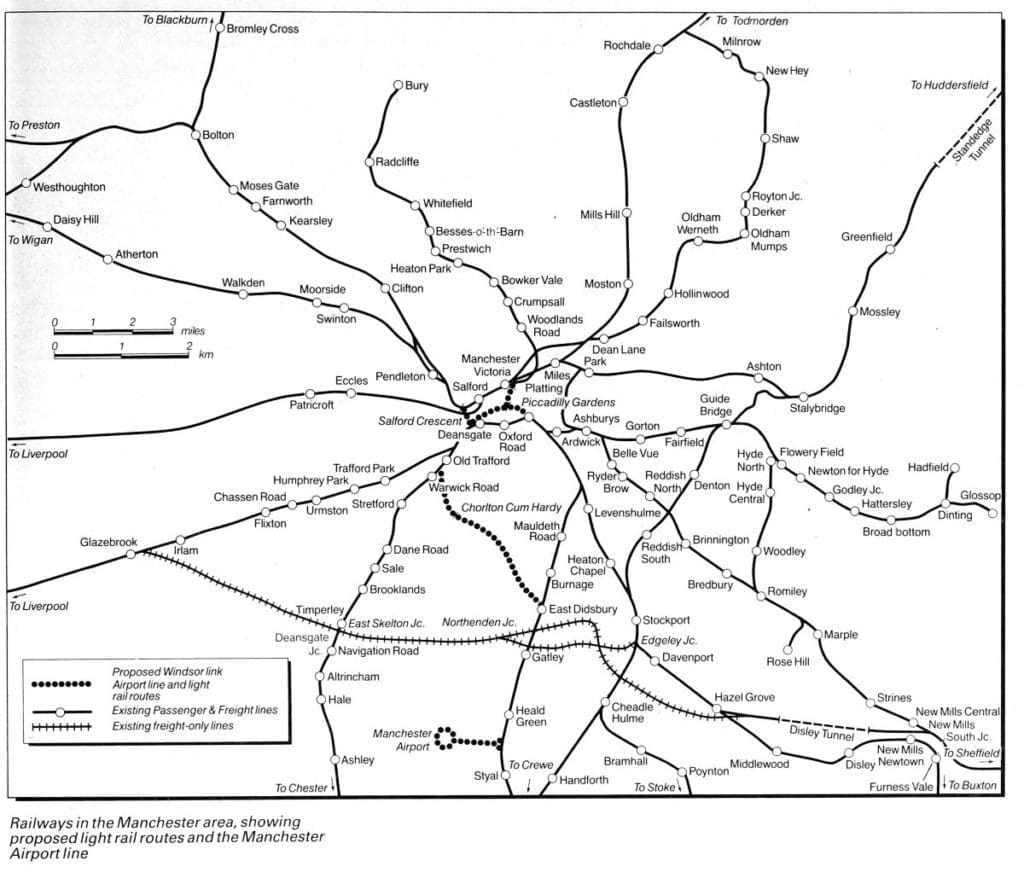 The year 1979 saw the introduction of a local service between Manchester and Rochdale to supplement the trains running to Leeds via the Calder Valley and also a half-hourly service between Manchester and Shaw.
A further bus-rail interchange was opened at Bury in 1980 when the railway was diverted from the former Bolton Street Station to a new island platform beneath the bus station.
In 1981 electrification was extended from Stockport to Hazel Grove giving that town a through service to Oxford Road and Altrincham although a casualty of that investment was a reduction in the diesel service beyond Hazel Grove to Whaley Bridge.
In 1981 Greater Manchester PTE announced proposals to build eight wooden-platform unstaffed stations on existing lines. Those at Humphrey Park. Mills Hill. Derker. Smithy Bridge. Flowery Field and Ryder Brow were opened by the end of 1985. Smithy Bridge is on the site of an earlier station closed in 1960 while Mills Hill had previously booked its last passenger as long ago as 1842. Then, as now. it was the nearest point of the railway to Middleton which lost its own branch line in 1964. Further new stations are planned.
A new generation of diesel multiple-unit entered service on the Manchester- Oldham/Rochdale service in September 1985 in the form of the class "142″ fourwheel sets. These are essentially a widebodied variant of the "141" version introduced in West Yorkshire in 1984. They have 122 seats (against 94 on the class "141″) which is fractionally more than the classic d.m.us which they are replacing. Especially by contrast with their immediate predecessors based at Newton Heath depot. the new trains are cleaner, vibrate less and have better acceleration. They ride well on continuous-welded track but bounce on crossings and rail joints.
Further class "142" units. mostly painted in Greater Manchester orange livery, took over the Manchester—Rose Hill/New Mills operation in March 1986. Within the next two or three years. all "classic" d.m.us are to be replaced by "14X" four-wheelers on local workings or by "15X" class "sprinter" units on medium-distance services. This, together with service improvements and the additional stations. will combine to make the Manchester railway network a brighter affair than previously. However, they will do nothing to connect the two networks to the north and south.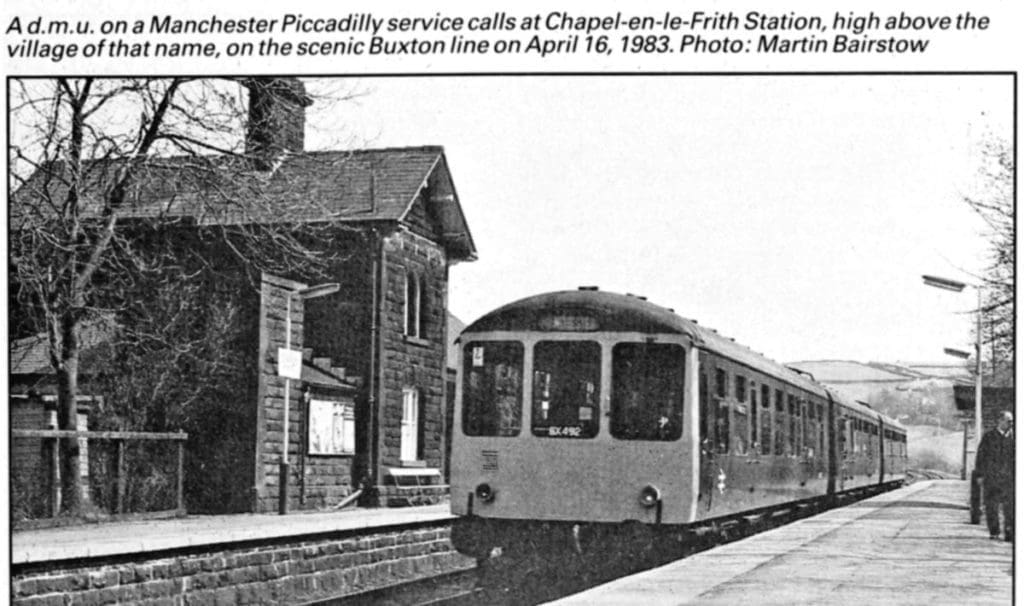 Current thinking on that subject is twofold. Main-line services would be concentrated on Piccadilly Station while some local lines would be converted into a cross-city light railway system.
The Hazel Grove chord. opened in May 1986. is a first stage in the rerouting of a number of main-line trains. Courtesy of a new single-track connection to the east of Hazel Grove Station and to the reopening to passengers of the line through Disley Tunnel. most Sheffield—Manchester expresses have been rerouted via Stockport. a traffic centre in its own right and a useful interchange point. They have also been extended to Liverpool via Warrington and improved to a regular hourly interval.
In 1988. the "Windsor Link". a new halfmile double-track connection. will open between Deansgate and a new station at Salford Crescent. This will permit trains to Bolton. Blackpool. Blackburn and Wigan to start from Piccadilly rather than Victoria Station. and will probably result in through workings from Buxton to Blackpool using "Sprinter" sets.
It had been hoped that Manchester- Blackpool electrification would be authorised but this had been refused by the Government despite offers of financial assistance from Greater Manchester and Lancashire County Councils and despite a plan to save cost by arranging for trains to coast through the 295—yard twin Farnworth Tunnels where the clearance necessary for 25kV electrification would have involved major expenditure. This refusal will perpetuate locomotive changes at Preston on both London—Blackpool and Manchester- Scotland trains and will prevent the full potential of the "Windsor Link" from being realised. With electrification trains to Blackpool would have run through from Stoke or other points on the electrified network south of Manchester.
To complete the transfer of InterCity traffic from Victoria to Piccadilly. it is envisaged that the "Trans—Pennine" services from the Huddersfield route to Liverpool and North Wales will travel via Stalybridge. Guide Bridge. Piccadilly and Deansgate. This would leave only the Bury electrics. the Oldham and Rochdale services and trains to Bradford via the Calder Valley using Victoria. The latter would run through to Salford Crescent to connect with trains from Piccadilly via the Windsor Link.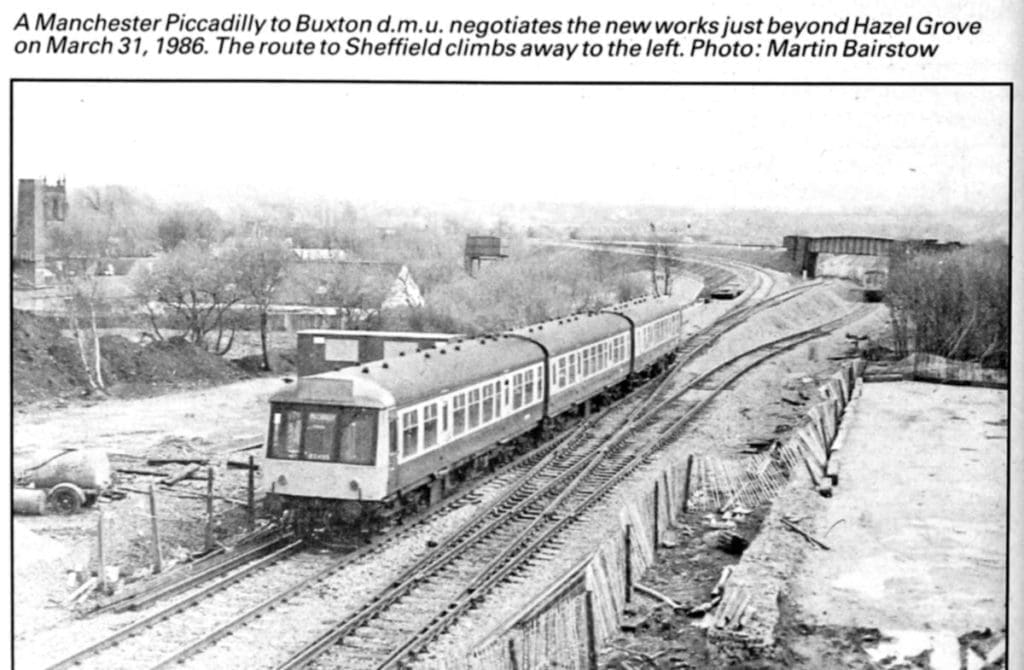 It would. however. impose considerable strain on the "South Junction" line between Piccadilly and Deansgate. To help alleviate this. it has been suggested that the hourly d.m.us from Chester via Altrincham might approach Piccadilly by the present freight only link between Navigation Road and Stockport. increasing the range of services and connectional opportunities at Stockport. Further relief of the South Junction line would have to await transfer of the Altrincham electrics to the proposed light railway system.
The light railway would cross the city centre at street level largely on segregated tracks through the pedestrian precincts. This is very much a continental solution for bringing the rail service direct into the central area. A basic off-peak timetable would offer a ten-minute frequency on all routes (twenty minutes between Oldham Mumps and Rochdale). enhanced at peak hours. Overhead electric supply would be at 1,500V d.c. (750V in the city centre) and the trains would be able to use either street level or normal railway station platforms.
It is envisaged that two-car articulated trains would operate between Bury and Rose Hill/Marple. between Rochdale. Oldham and East Didsbury using a stretch of the former Midland main line out of Manchester Central closed in 1967. and from Altrincham to Glossop/Hadfield.
Rail links to major international airports are vital because potential railway passengers literally drop out of the sky without cars and. in many cases. wish to travel long distances. Apart from Gatwick. airports tend not to be alongside existing railways and it is (or ought to be) a priority that any railway development plans should include airport links.
Manchester's airport. Ringway. is the most important in the North of England and BR is preparing a submission to the Government for funds to construct a loop from the Styal line. electrified at 25kV.
Fares policy in Greater Manchester has been described as "moderate". Though lower than national BR levels. fares are nothing like as cheap as those in certain other Metropolitan Counties. An annual "Saver" ticket valid on both trains and buses in Greater Manchester and at one or two stations just beyond costs between £250 and £380 according to the zones. The equivalent in West Yorkshire costs £180). In South Yorkshire abolition of the County Council caused a 2 '/2-fold fare increase from April 1 but there was no immediate change in Manchester. There is no Greater Manchester equivalent to the West Yorkshire "Day Rover" which is issued to children at 50p and which has turned local (and InterCity) trains there into a playground. There is however a "Peak Wayfarer" ticket at £275 with reduction for families giving a days bus and rail travel through Greater Manchester and much of Derbyshirc and Cheshire.
Greater Manchester is one of the PTEs which has favoured investment rather than ultra-cheap fares.