September 1984: West Midlands report recommends light rail network for England's second-largest conurbation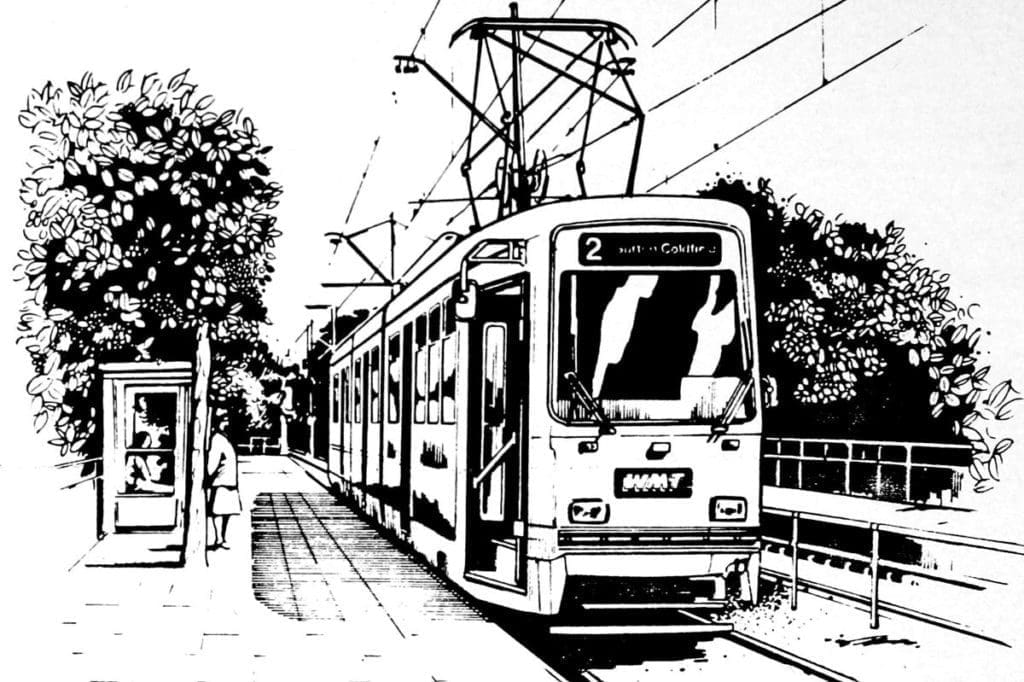 Detailed proposals for an eventual ten-line network of light rail routes to serve the West Midlands were unveiled in Birmingham on June 20 by West Midlands County Council and the West Midlands Passenger Transport Executive in a joint report which emphasises that decisions are now needed on the shape of future public transport in England's second-largest conurbation.
An initial package costed at £266m includes
a 33½-mile four-line light rail route serving suburbs to the north and east of Birmingham and modernisation of the local rail routes to Solihull and Shirley in the south, with new lightweight d.m.us and the extension across Birmingham of these routes from Moor Street to Snow Hill via the existing disused Snow Hill Tunnel.
The four light rail transit routes would be paired to serve two new cross-city tunnels. The east-west tunnel, from Five Ways to Gosta Green, would link at Aston with a converted rail line to Sutton Coldfield and Blake Street (on the present line to Lichfield City). From Gosta Green there would also be a new line, following highway alignments, to Chelmsley Wood Shopping Centre, from where it could be extended to the National Exhibition Centre.
Second new tunnel would be a south to north one, starting at New Street and running to Snow Hill from where there would be two light rail routes. One would follow highway alignments to Perry Barr, Kingstanding and Sutton Oak, with a branch from Perry Barr to Sundial Lane (which could be extended to Walsall at a future date). The other route would run roadside from Snow Hill to West Bromwich and Carters Green.
Vehicles proposed for the light rail system are similar in many respects to the Duwag single-deck tramcars currently operating in Hanover, West Germany. They are double-articulated double-ended eight-axle tramcars, electrically powered, with current collection from an overhead catenary. Vehicles would be 88ft. 7in. (27m) long and 8 ft. 23/8in. (2.5m) wide. Each car would have seats for 64 passengers, with standing capacity for a further 86. They would have a maximum speed of 50 m.p.h. (80 km/h) and would be one-person operated, the driver issuing tickets as they board to those passengers who did not already have travelpasses or pre-bought discounted tickets. They could be driven "on sight" or subjected to a simple block signalling system (a signalled system has been assumed in calculating costs). For the initial network, 85 vehicles would be required.
Article continues below…
Advert
Track for the light rail vehicles would be standard-gauge and generally segregated from other traffic at surface level. Desirable width of right-of-way for double-track would be about 23 ft. (7-Om), with a minimum of 19 ft. 4 in. (5-9m). Most stops would be kerbed islands with shelters and low-level platforms but there would be more elaborate "stations" at interchanges.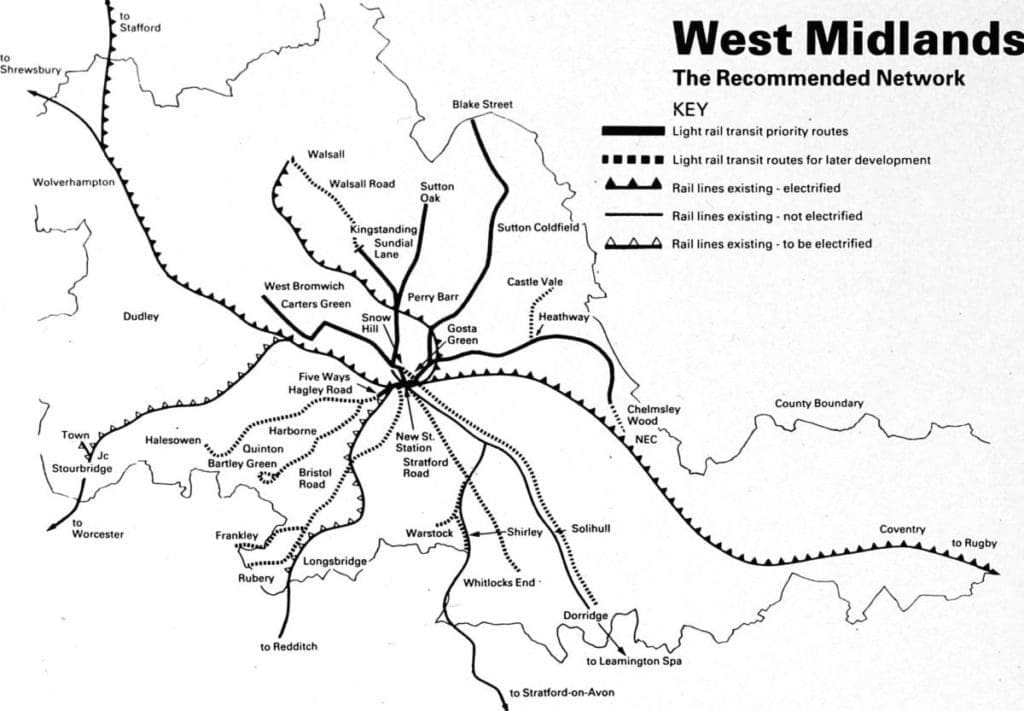 Second stage of the plan would involve electrification of the rail routes from New Street to Longbridge and from New Street to Stourbridge Junction and Town and light rail extensions from Five Ways to Halesowen and Bartley Green; from New Street along the Bristol Road to Frankley and Rubery; from New Street down the Stratford Road to Shirley and Warstock and from Snow Hill to Solihull and Dorridge; also extension of the initial route to Sundial Lane to Walsall and extending the Chelmsley Wood line to the National Exhibition Centre, with a branch from Heathway to Castle Vale. The estimated capital cost of this second stage would be a further £300m.
Assuming the scheme is approved, and finance available for its implementation, the earliest possible opening date of the first line would be 1989. An Act of Parliament would be required and detail design work would have to start immediately. The initial network could be completed in total by 1997, which would require an annual construction programme of £22m per year, over a 12-year period.
Article continues below…
Advert