We have received payment for the content in this article. Learn more.
In October 1974 Ffestiniog Travel ran its very first escorted rail tour – the destination was Switzerland, and the purpose was to ride its majestic Alpine railways. It proved a very popular choice as the company escorted 70 people on not one but two inaugural tours that year! Fifty years on, Switzerland continues to be one of its most popular rail tour destinations and to mark the milestone 50th Anniversary year in 2024, Ffestiniog Travel will be running a special celebratory tour to the Swiss Alps – complete with original tour leaders Liz Turner and company founder Alan Heywood!
This is one of many new rail holidays the independent tour operator will be offering in 2024 as it introduces 14 new tours to its escorted holiday programme. A preview of all the new itineraries and some firm favourites is available in the company's online Pre-brochure https://www.ffestiniogtravel.com/information/brochure which provides an 'at a glance' glimpse of the rail holidays that the train tour specialist will run next year. They include three new tours of Switzerland, two around Scotland and visits to New Zealand, North America, South America, Slovenia, Romania, Belgium, Austria and even Yorkshire!
Popular tours to India, Germany, Norway, Jordan and Mallorca are also included. Online bookings are already being taken for 2023 Christmas and winter tours at www.ffestiniogtravel.com.
An 8-day Christmas Market tour to Stralsund priced from £1,345pp departs 30 November 2023 and heads to the Baltic coast resort to enjoy its festive Christmas markets with journeys on some nearby steam railways including the Molli train and Rasender Roland on the island Rügen.
The annual Christmas & New Year in Switzerland 13-day tour, priced from £3,450pp, departs 22 December 2023 and takes travellers on a festive holiday in a wonderful winter wonderland setting including journeys on the Bernina and Glacier Express trains. This is followed by more rail journeys through snow-capped mountains and white-covered Alpine scenery on a Snow on the Alps 10-day tour departing 13 February 2024 priced from £2,650pp.
A captivating Northern Lights tour departing 19 February 2024 and priced from £3,590, takes you on an unforgettable rail tour through Norway's stunning winter landscapes and crosses the Arctic Circle to catch the natural light show phenomena, Aurora Borealis.
Long-haul plane and train tours in early 2024 include an epic tour of New Zealand – a 27-day odyssey that takes in the 'must see' highlights of the North and South islands and includes spectacular rail journeys. Departing 9 February 2024 this holiday of a lifetime costs from £8,750pp.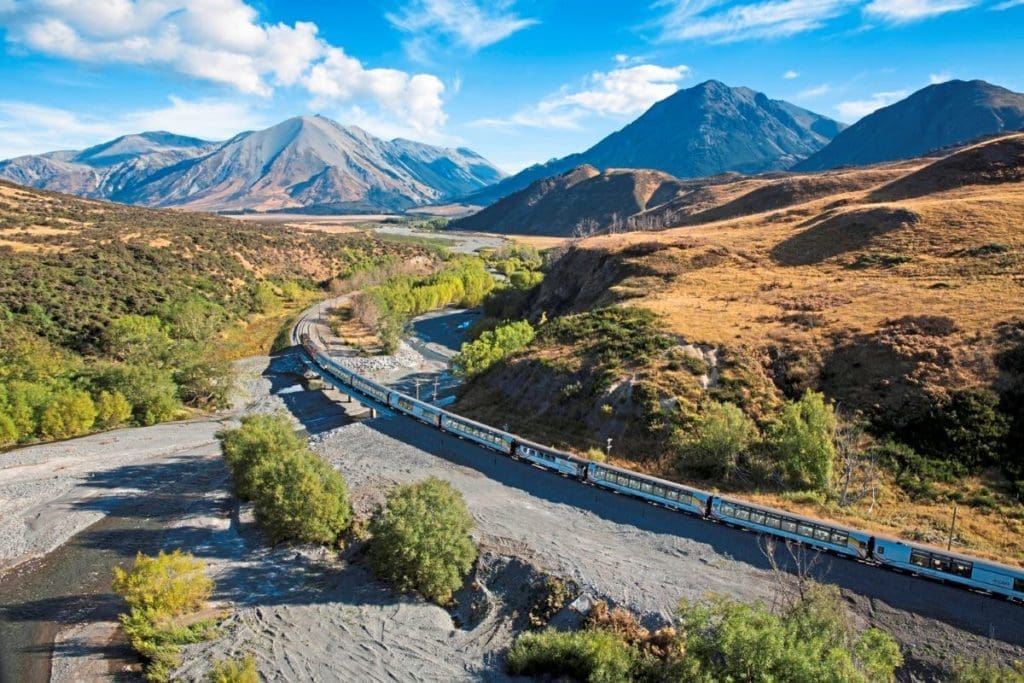 There are two options to visit South East Asia in early 2024 with the annual and popular Indian Hill Railways tour departing 11 February 2024. Spend 19 days seeing some of India's iconic landmarks and riding the magnificent Darjeeling, Kalka Shimla and Nilgiri Railways, priced from £6,850pp. Or, experience some of the world's finest rail journeys on board Sri Lanka's Viceroy Special train. Departing 16 March 2024, this 12-day tour priced from £6,040pp is steeped in history, culture and breathtaking scenery. Ffestiniog Travel's General Manager Maria Cook comments; "2024 is an important year for us and we wanted to mark it by introducing lots of new tours alongside some of our most popular rail holidays to inspire our regular travellers and new customers to continue exploring the world by train with us. We look forward to an exciting year of travel!"