In Practice & Performance, John Heaton FCILT looks at how trains lose and gain time, but also how slack operating can result in late running even on easy schedules.
STREAMLINED Gresley 'A4' No. 60028 Walter K. Whigham stands resplendently at the head of the nine-coach 'Talisman' in King's Cross station one September afternoon in 1958, ready to depart on the non-stop run to Newcastle and booked to average more than 60mph. Just one more detail completes a perfect picture – the legendary Bill Hoole is sitting in the driver's seat. Few scenes could be more evocative of the final years of East Coast Main Line steam than the prospect that Hugh Gould encountered as he boarded the train.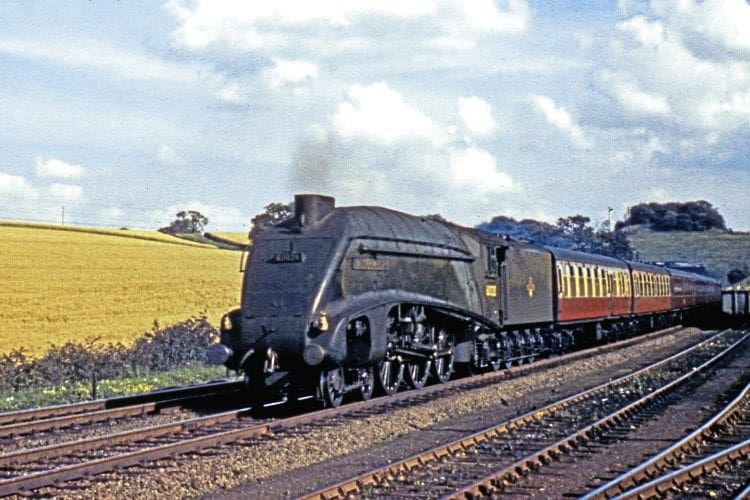 There are two reasons for choosing to start with the epic run shown in Table 1. First, it is a fascinating discovery but, second, it clearly demonstrates the perennial problem of train planning and how excess time should be dissipated. Retired senior railway officer Hugh has kindly allowed the Railway Performance Society (RPS) to copy his extensive collection of notebooks into its charitable trust electronic archive, a facility that is available even to non-members wishing to preserve their collections.
The 'Talisman' made a sure-footed and determined start, taking Potter's Bar summit at 60mph before observing a 20mph temporary speed restriction (tsr), which failed to prevent Hitchin being passed 2min early. The racing ground to Biggleswade then produced 90mph until signals and another tsr ruined the chance to assess driver Hoole's climb from Huntingdon to Milepost 62. A speed of 79mph through Holme presaged another signal check before threading the old Peterborough layout at 15mph. These delays had converted the early running into a deficit of 8min.
Acceleration to 72mph at Tallington, dropping to 70mph at Essendine, permitted an assault on Stoke Bank that resulted in 73mph at the summit. Bill and Walter now had the bit between their teeth and flew through Grantham at 91mph, Hugh timing 94mph to Claypole, and rattling over the Newark diamond crossings. Despite another 20mph tsr, Retford was passed 1min early in 132min for the 139miles.
Read more in the April issue of The RM – on sale now!
Article continues below...
Advert

Enjoy more of The Railway Magazine reading every month.
Click here
to subscribe.