Mark Smithers visits the Tanfield Railway, with its origins rooted in the 17th century and a focus on north eastern-built industrial steam locomotives.
TUCKED away in a rural part of north-east England, just a few miles distant from Gateshead, is an important part of our railway preservation scene, some of whose attractions have tended to be overlooked by commentators over the years.
The history of the original Tanfield Railway goes back to the era of the horse-drawn timber-railed wagonway, or 'Tyneside road', an entity once essential in Northumberland and County Durham for the conveyance of coal from the pits to staithes on the River Tyne, from where it could be shipped to any required destination.
The earliest part of the wagonway was opened in 1647, near Lobley Hill, on the outskirts of Gateshead, although its route is not part of the surviving portion. The oldest surviving section links Sunniside with Causey, where a branch line to Dawson's Drift once passed over the historic single-span Causey Arch (constructed between 1725 and 1727). This section was originally opened in 1725, while the remaining part of the line from Causey to East Tanfield was opened with steel-railed permanent way in 1839, the rest of the system being re-laid to follow suit at around this time.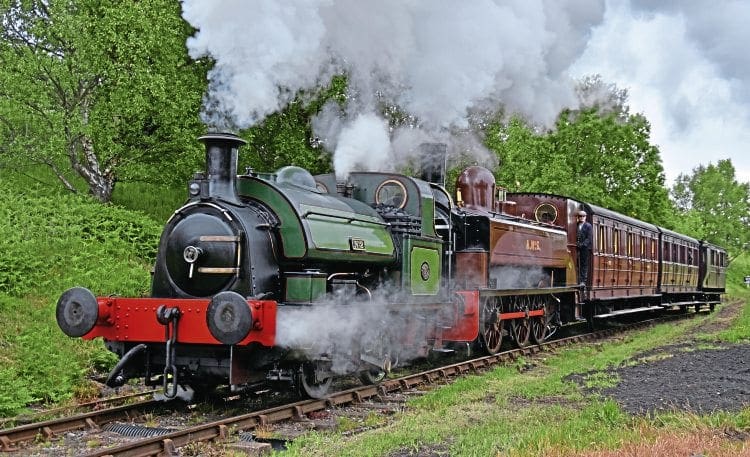 Locomotive haulage did not come into play until 1881 when the railway was taken over by the North Eastern Railway (NER) as its branch from Redheugh. The branch was worked by locomotives stabled at Bowes Bridge MPD (regarded as a sub-shed of Gateshead), whose turntable pit can still be seen between Sunniside and Marley Hill. It was closed following the closure of East Tanfield colliery in 1964.
By the late 1960s, it had become apparent that while operational railway preservation was very much alive on the Middleton Railway and the Keighley & Worth Valley Railway, it was a very different story north of Yorkshire. In 1970, the 1854-built Marley Hill engine shed, situated next to the Tanfield branch, but in reality connected to the Bowes Railway, near to where it crossed the latter, was closed and acquired by Beamish Museum as a store for its railway items. An independent group of enthusiasts came to an agreement with the museum whereby they worked on restoring the Beamish locomotives and kept some of their own on site as well. Some work was carried out on the NER 'C' class 0-6-0 (later BR No. 65033 and now at Shildon), while another Beamish locomotive – 0-4-0ST Malleable No.5 – was the first engine to steam at Marley Hill in the preservation era.
Unique 'industrial'
It was a very appropriate occurrence as Malleable No. 5, credited to Stockton Ironworks around 1900, and considerably renewed above footplate level in the
post-war era, appears from close examination of its chassis design to be a rebuild of an earlier machine, possibly of Joicey origin – in all a unique and classic North East 'industrial', now to be found at Beamish, but sadly long out of operation. By 1977 a northward-facing connecting spur had been laid onto the Tanfield line itself and the first passenger trains were run between Marley Hill and Bowes Bridge, about half way to Sunniside, which was reached in 1982.
Reconstruction of the southern part of the line could only begin when the partly demolished Gibraltar Bridge over the line at Andrews House had been completed. Once this had been accomplished, track laying between the new station at Andrews House and Causey was completed allowing a public opening in 1992.
East Tanfield, the site of a former colliery, was reached the following year although public operation to this destination only began with the completion of a platform in 1997.
Fine example
As is to be expected, there is a marked bias in the exhibit collection policy towards items that have a connection to the Tyneside area, and from the locomotive point of view, the industrial builders Robert Stephenson and Hawthorns, its constituents, particularly Hawthorn Leslie, and the long-defunct Black, Hawthorn & Co are well represented. The three on-site products of the latter concern deserve special consideration: Wellington (266/1873) is a fine example of the manufacturer's standard 12in x 19in 0-4-0ST with 3ft 2in driving wheels, which was originally supplied to the contractor
Walter Scott.
Following sale to Holwell Iron Co of Melton Mowbray, Leicestershire, Wellington was renamed Holwell No. 3 and transferred in 1895 to the company's South Witham limeworks, and by 1918 the engine was transferred to Stanton Ironworks, which had taken over the Holwell undertaking. Under Stanton ownership, Holwell No. 3 certainly moved around, but another change of ownership came in August 1946 with sale to Bowne & Shaw, Wirksworth Ironstone Quarries in Derbyshire, where, latterly under successors-in-title Tarmac Roadstone, the engine remained in revenue-earning service until the 1970's, eventually arriving at Marley Hill in November 1977.
Peculiar extension
Despite having undergone four rebuilds by this stage, and sporting a peculiar extension to the right hand side of the cab (giving a total of six spectacle glasses!), it was possible to undertake a convincing restoration of Wellington as an operational entity, emphasising original features such as the 'wrap over' cab, the tank profile and the 'double boss' wheel centres of a different pattern to that employed by Manning, Wardle. Prior to a seven-and-a-half-year display period at Beamish beginning in July 1998, Wellington saw much use on passenger, demonstration freight and permanent way duties, but the engine is currently stored in the five-road shed at Marley Hill, where extensive work will be required for it to run under its own steam again.
An earlier example of the same basic design, Alexandra, became GWR No. 1341 and was only withdrawn after eight decades of service in 1946. Although latterly fitted with an '850' or '2021' pattern upper cab, this locomotive retained its early pattern angular saddle tank to the end, in contrast to the more typical pattern found on Wellington.
Article continues below...
---
---
Currently keeping Wellington company in the same building is younger sister City of Aberdeen, (912/1887), with 12in x 18in cylinders and 2ft 11in wheels. This engine spent its entire commercial working life on the railway system associated with Aberdeen Gasworks, initially in the ownership of the city's corporation, then the Scottish Gas Board from May 1949 and British Gas from December 1972, before transfer to the Scottish Railway Preservation Society's Falkirk depot in July 1977, moving to Bo'ness by the end of the 1980s.
City of Aberdeen has been based on the Tanfield Railway since May 2006 and unlike Wellington has a barrel-mounted dome and tramway-pattern skirts over the motion. Two very similar locomotives (Nos. 1073-3 of 1892) once saw service on the Swansea & Mumbles Railway.
Iberian Peninsular
The third member of the 19th century Gateshead-built trio is Escucha. This was built as a 640mm-gauge 0-4-0ST with 20in wheels and 6in x10in cylinders in 1883 (Black, Hawthorn No. 748) and supplied to the agents Richardson & Son of Swansea for export under the name Portugueza, almost certainly for a Portuguese customer. The engine spent its last seven decades or so on the Iberian Peninsular in the ownership of Minas Ferrocarril de Utrillas, in Spain, where it had been re-gauged to 600mm and fitted with a cab and auxiliary side tanks, finally coming to the Tanfield Railway in April 1984.
Currently, the chassis components of this privately owned locomotive are sadly locked away in a small stone annexe to the three-road shed, while other components that would need to be replaced are to be found in Marley Hill yard. Although extensive restoration work on Escucha is necessary (the front bufferbeam, for instance, has been heavily 'butchered', while a new boiler, smokebox and superstructure platework would be necessary), the locomotive is of vital historical importance as it is a direct descendant of Black, Hawthorn's early challenge (as documented by Engineering magazine's coverage of works No. 258 of 1873, a 2ft-gauge 0-4-2ST for Linz Colliery, in its September 18, 1874 issue) to Hunslet and Manning, Wardle in the market place for outside framed 'mainstream' narrow gauge locomotives.
Although there is no working
2ft-gauge railway at Marley Hill, the recent establishment of a railway of this gauge at the Beamish Museum suggests a clear argument for operation of a restored Escucha on the Beamish system, where it would make an ideal companion for Hunslet-built Edward Sholto. Given the fact that other (standard gauge) Tanfield-based locomotives have seen use at Beamish such a move would appear to have much to commend it and provide an incentive for the restoration and public operation of an important and unique piece of British narrow gauge locomotive history.
At present, there are three operational steam locomotives on the Tanfield Railway, the oldest of which is handsome inside cylinder 0-6-0T Twizell. This engine (No. 2730) was built by Robert Stephenson & Co (with 17in x 24in cylinders and 4ft wheels) in 1891 for James Joicey & Co's Beamish Railway, passing successively into the ownership of Lambton, Hetton & Joicey Collieries Ltd in 1924 and the National Coal Board in 1947.
Most of the engine's revenue-earning career was spent on the Beamish Railway prior to its closure in 1966, with the last seven years being spent on the Morrison Busty system at Annfield Plain, prior to acquisition by Beamish Museum and storage at Marley Hill in 1972. After spending the period from October 1977 to March 1995 on static display at Beamish, Twizell returned to Marley Hill on long-term loan to the Tanfield Railway, finally re-entering service in 2010.
Most photogenic
Twizell is probably the most photogenic of the currently operational locomotives and looks impressive heading a train of 19th century carriages. By way of contrast, the other two currently workable steam locomotives are more typical industrial units: outside cylindered 0-4-0STs built by Hawthorn Leslie and Robert Stephenson & Hawthorns. The former, works No. 2859 of 1911, with 12in x 18in cylinders and 3ft 0½in wheels, was originally delivered to Keighley Gas Works, where it was numbered 2 and was sold to George Cohen & Sons, nearly three decades later.
During the early stages of the Second World War, the engine re-appeared in Ministry of Supply ownership at Royal Ordnance Factory, Dumfries, moving to Powfoot Factory, Annan in the mid-1950s, where by coincidence the number 2 was once again carried. Latterly owned by Nobel Explosives at the same site, No. 2 came to Marley Hill in June 1976, returning to working order during the 1980s.
New firebox
From 1997 until 2009, apart from a
six-month period of display at Shildon, starting in July 2005, No. 2 was stored in the five-road shed until another restoration to working order was undertaken, which involved the fitting of a new firebox. This was completed in February 2013 and No. 2 re-entered service during the following month.
The other currently operational steam locomotive is Robert Stephenson & Hawthorns (7409/1948) Sir Cecil A. Cochrane. This 0-4-0ST, with 3ft 1in coupled wheels and 12in x 20in cylinders, spent all of its revenue-earning career at Redheugh gas works, Gateshead until bought by the Stephenson & Hawthorns Locomotive Trust on June 26, 1971, and stored at NCB Backworth sheds until moved to Marley Hill in August 1975. Apart from a short period on loan to Beamish in August and September 2010, Sir Cecil A. Cochrane has been in almost continuous service on the Tanfield system since its arrival, being punctuated only by the necessary overhauls, which have included the fitting of a new Winson Engineering-built all- welded boiler in 1998 and a re-tube in 2011.
Although the five-road shed performs a useful function in providing further covered storage for static locomotives such as
ex-Pallion Shipyard 0-4-0CT Hendon (RSH 7007 of 1940), 0-6-0ST Glasshoughton No. 3 (Hawthorn Leslie 3575 of 1933) and 0-6-0 diesel-mechanical Bromborough No. 2 (RSH 7746 of 1954), there is not currently sufficient covered accommodation for all of the Tanfield Railway's extensive collection of locomotives and rolling stock, and several items are stored in the open in Marley Hill Yard.
These include 1884-built 0-4-0ST Enterprise, the only surviving UK-based locomotive built by R & W Hawthorn prior to the formation of Hawthorn Leslie. Other items currently to be found in the yard include E Borrows 0-4-0WT (37 of 1898), latterly Wallsend Slipway No. 3, one of four surviving locomotives built to a similar basic design and the only 19th century representative among them. By way of contrast, the last steam locomotive built for the Tasmanian Government Railways, M10 (RSH 7430 of 1951), was repatriated and arrived on site on July 3, 1992.
The current operational carriage stock consists entirely of four-wheeled vehicles, ranging from classic 19th century examples from the GNR, NER and Manchester, Sheffield & Lincoln Railway, to four modern bodies mounted on van chassis (two ex-LNER of Pickering manufacture and two built at Swindon, one by the GWR and one by BR). Other carriages, mainly of non-bogie 19th century design and built for constituent companies of the LNER, are to be found for the most part in Marley Hill Yard, and some of these are under restoration for future use on the railway.
Recent work on the infrastructure of the railway has concentrated on completing the new East Tanfield station building, upon which work began in 2012, while future plans (subject to the necessary resources becoming available) include further development at East Tanfield and Marley Hill, along with a possible extension of the track along the former Bowes Railway formation to Byermoor.
Enjoy more of The Railway Magazine reading every month.
Click here
to subscribe.