Jonathan Beaumont and Barry Carse
THE picturesque single-track through route that meandered south-west from Limerick to Tralee from 1880 until 1975, is still considered a loss to the Republic of Ireland's railway network over 40 years after it ceased to be.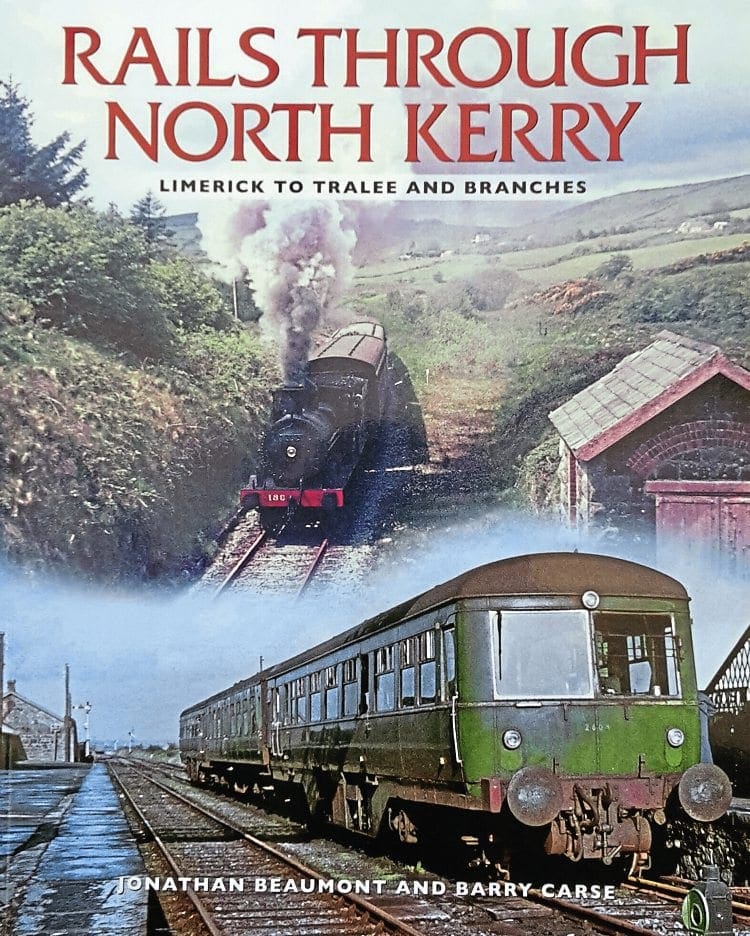 Known by railwaymen as the 'North Kerry' line, even though more of the route actually lay in Co Limerick than Co Kerry, the line ran through some of the spectacular scenery that this corner or Ireland is well-known for.
Branches from the main line served destinations such as Foynes, Fenit and Castleisland, with a new one serving the cement factory at Castlemungret, near Limerick, opening as late as 1957.
Like many lines in such sparsely populated areas, it was freight that provided the life-blood for the 'North Kerry' for much of its existence. The line carried oil, shale and sugar beet traffic as well as the cement workings, with freight outlasting the passenger services by around 12 years.
This book is a pictorial tribute of the 'North Kerry', largely featuring the photography of Barry Carse, taken during the final years of the route in the early 1970s. Each chapter follows a section of the line working towards Tralee from Limerick, with the branches also getting chapters of their own. It concludes with recollections of the weed-spraying trains and also a look at the post-closure scene; large sections of the line now serve as the Great Southern Trail 'greenway'. Track plans are also provided.
Photography is lavish and predominantly in colour, with three images generally being provided on each double-page spread, together with highly detailed captions. The photos themselves are of a high quality (plenty of Metro-Vick 'A' and 'C' classes), and superbly reproduced; each scene seemingly offers a railway modeller's delight!
Overall it's another fine addition to Colourpoint's growing back catalogue and anyone who enjoyed Messrs Beaumont and Carse's previous volume, Rails Through The West, will undoubtedly enjoy this book too.
Colourpoint Books, Colourpoint House, Jubilee Business Park, 21 Jubilee Road, Newtownards BT23 4YH; Softback; 144pp; 260x210mm; ISBN: 978-1-7807-3105-6; £16.
 The Allocation History of BR Diesel & Electrics – final update
Compiled by Roger Harris
THIS long-running series comes to an end with Roger Harris' final update of the 'third and final' edition of his BR diesel and electric locomotive allocation history.
A remarkable work of reference for the modern traction historian, the series provides a complete history of every non-steam locomotive delivered to, tested or inherited by BR and its privatised successors and Eurotunnel since 1948.
To get the full story, the budding locomotive historian needs each part (of which there are several), but this final update brings the story up to the author's cut-off date of mid-2016.
Contents include comprehensive records of reallocations, storage and withdrawals, renumbering, namings, sales and deliveries of new locomotives since the last parts were published in 2006.
More than 150 pages, the author has compiled an enormous amount of data about changes to the main line and preserved locomotive fleet over the last decade, right down to the name of the ships that delivered new Class 66s, 68s and 70s.
Article continues below...
---
---
Other information includes storage points and dates, locomotive exports – a much more common occurrence over the last decade – details of unclassified shunters used on the Network Rail system or at TOC depots and a previously unpublished list of Class 66/68/70 Builders'/Lot numbers.
This is a veritable mine of information for anyone with an interest in the history, operation and disposal of British diesel and electric locomotives and an essential conclusion for those who have followed the series since 2002. (BJ)
The Allocation History of BR Diesels & Electrics: Third & Final Edition Update, Classes 01-99 & unclassified locos, Roger Harris, £21.50, from: Roger Harris, 63 Carol Avenue, Cherry Orchard, Bromsgrove, Worcs., B61 8RW
Read more reviews in February's issue of The RM – out now!
Enjoy more of The Railway Magazine reading every month.
Click here
to subscribe.