THE Model Railway Exhibition was again held this year at the Central Hall, Westminster, from April 23 to April 27, and attracted a large and continuous attendance. Rather more attention had been paid in many cases, particularly on the L.N.E.R. stand, to the writing-up of the exhibits, from which it is to be hoped that instruction was successfully combined with admiration. Stewards, in numbers as the hosts of Midian, "prowled and prowled around" as in former years, but many who have in the past trembled to disturb their calm serenity with the questions of ignorance were no doubt bolder in studying the less formidable printed word.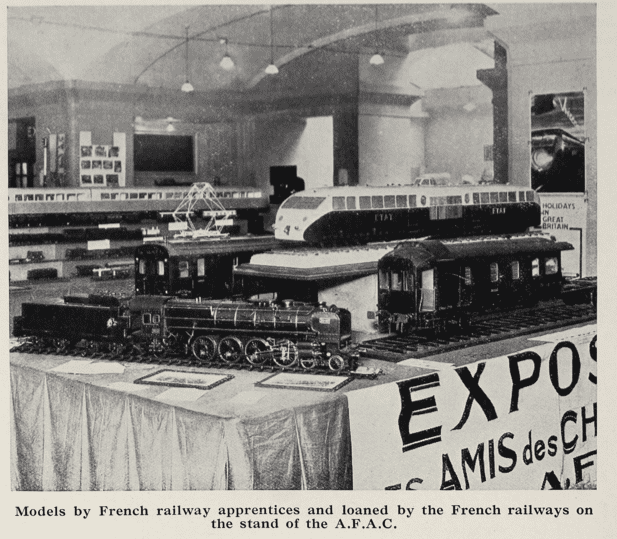 Members' work included the usually high proportion of G.W.R. models, among which Sir Francis Layland Barratt showed a new 0-gauge City of Truro, placed in juxtaposition with the Duke of Connaught by Major W. L. Sparkes, which appeared last year. A model of the "Cheltenham Flyer" with six coaches completely fitted internally and hauled by Windsor Castle was shown by Mr. L. R. Ellis.
For his supervision of the L.N.E.R. exhibits, Mr. G. Y. Hemingway earned a special mention from the judges, and himself contributed a most interesting and well documented display of old G.C.R. four— and six-wheel rolling stock, together with a Sacré 2-2-2 locomotive by Mr. L. Forrest.
Among the L.M.S.R. and Southern Railway models may be mentioned Mr. A. F. Buck's 00-gauge Royal Scot and train, Mr. E. Walker's L.N.W. 2-2-2 Tornado, Mr. N. Reid's "Baby Scot," and Mr. H. C. Raindle's 4—coach internally fitted Atlantic Coast express and "Lord Nelson" class locomotive. Southern Railway electric rolling stock was well represented. Mr. G. P. Keen, President of the Model Railway Club, and Mr. W. F. P. Kelly showed some of their excellently detailed models of Continental prototypes, and the Association Francaise des Amis des Chemins de fer again arranged an exhibit of locomotives, rolling stock, signalling and permanent-way of the highest quality, including large -scale models by French railway apprentices.
In the track layout section the Maybank Railway continued its mythical operations, and a 00-gauge train-ferry terminus for transocean traffic shown by Mr. A. F. Inglefield aroused much interest. Mr. H. Brooker exhibited a 00-gauge portable layout, measuring 6 ft. X 6 ft.-extended and folding to 6 ft. X 3 ft. for conveyance.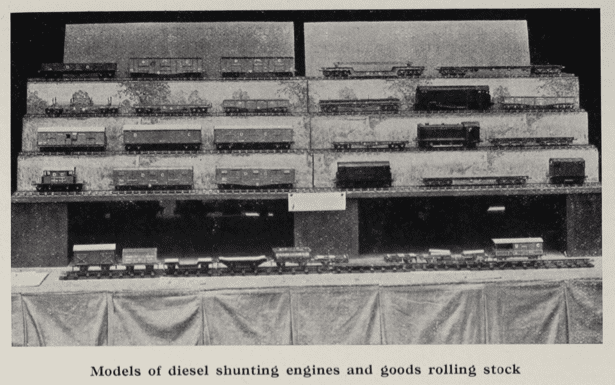 The British railways showed a representative collection of publicity literature, and models of the Princess Royal, an L.M.S.R. first class saloon coach, a "Lord Nelson" locomotive, and an L.N.E.R. camping coach, both in section to show the interior arrangements and as it would appear in a typical site. A passenger carrying track was operated by the Society of Model and Experimental Engineers, on which Cosmo Bonsor did strenuous service after a life of 36 years and a total haul of over 150,000 passengers.
Of the model firms, Bassett-Lowke Limited showed a gauge 1 "Royal Scot" of the type which worked the model railway on the Post Office stand at the Wireless Exhibition last year. This is a standard production, and is obtainable with clockwork or electric mechanism. An experimental l—gauge " Lord Nelson," with a coal—fired water-tube boiler, was an interesting feature. Additions to the range of models of Bonds o' Euston Road were a terminus, a wayside station, and several rustic buildings to heighten scenic effect. Walkers and Holtzappfel exhibited a 12-lever frame for electric signalling, which can be adapted to produce both interlocking and train-control effects. The same firm had a working layout with small radius curves in a space 7 ft. X 3 ft. 8 in. G. Kennion & Co. showed castings and parts, and a newcomer, S. W. Pearce, of North Cheam, displayed a signal cabin with complete lock and block mechanism and working instruments.
THE RAILWAY MAGAZINE was on View with its associated publications, and other technical papers and books were represented by Percival Marshall & Co. Ltd.
The archive is available to subscribers of The Railway Magazine, and can be purchased as an add-on from just £6. Not a subscriber? No problem…. Just click here to see the latest offers. Existing subscribers purchase the archive here or by calling our customer service team on 01507 529529.
Enjoy more of The Railway Magazine reading every month.
Click here
to subscribe.